Wainwright leads way as Cards extend Central lead
Righty pitches into seventh inning, drives in three runs in 16th win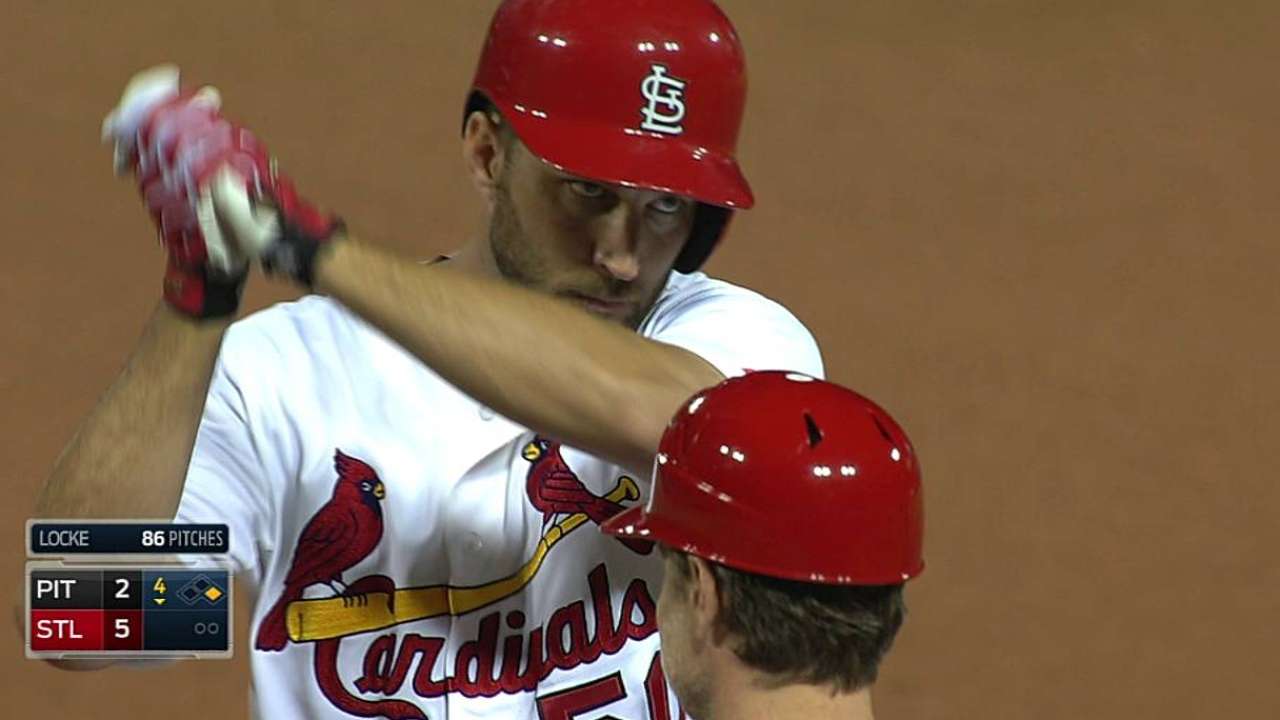 ST. LOUIS -- Hopeful of finding solace in September, Adam Wainwright ended up buoyed by his own bat as he put a bumpy last month in the rearview mirror to help the Cardinals pad their National League Central cushion.
Wainwright drove home nearly as many runs (three) as he allowed (four) on Tuesday night, a good-enough method to engender some positive personal momentum, which he did in the Cardinals' 6-4 win over the Pirates in front of 43,693 at Busch Stadium.
Since dropping four in a row, the Cardinals have reeled off four consecutive wins to move two games in front of the Brewers, losers of seven straight. Pittsburgh fell four back in the three-team division race.
"Seemingly there is something added to each and every game down the stretch," Wainwright said. "We know these games are very important. We know we can control our own destiny now."
Wainwright, along with fill-in starters Daniel Descalso and Peter Bourjos, provided a bottom-of-the-order boost on a night when several typically complementary players stepped up. Descalso and Bourjos each scored twice, while recently recalled Randal Grichuk saved a run with his glove amid his three-hit night.
Seth Maness later covered two innings in the 'pen so that Pat Neshek could delay his entrance until the ninth. With closer Trevor Rosenthal unavailable, Neshek notched the save.
"It seems like everybody that gets an opportunity is coming through right now," Bourjos said. "I think we've had that here and there throughout the year, and then it would get broken up, either by the All-Star break or a day off. Right now, we have a long stretch of games. Hopefully we just ride this momentum and keep playing good baseball."
Wainwright keyed the Cardinals' two-run second by working an eight-pitch at-bat for a groundout that drove Descalso home and moved Bourjos into position to score on a sacrifice fly. Both Bourjos and Descalso came home together on Wainwright's two-run single in the fourth, a hit that knocked Pirates starter Jeff Locke from the game.
"There are usually two or three games a year that you can swing if you provide something offensively at the plate," said Wainwright, now 12-for-59 at the plate. "Tonight was one of those nights where the guys did a great job of getting on base in front of me, and I just made a couple good swings."
Locke was undone by walks, of which he issued five. He worked around bases-loaded trouble in the first, but the last three batters he walked would score on the RBI hits from Wainwright and Bourjos.
"Didn't haves any command, fell behind everybody, got them in counts where either they got their pitch to hit or could just take it," Locke said. "They were really in the driver's seat the whole time."
Wainwright's second hit since the All-Star break gave him his first three-RBI game since July 2010 and put the Cardinals ahead, 5-2. The club would need every bit of that cushion as the Pirates became the first team in more than four years to go deep three times off Wainwright.
The first two -- solo shots by Russell Martin and Jordy Mercer in the second and third, respectively -- provided the Pirates with short-lived leads. The last one traveled an estimated 441 feet off Starling Marte's bat and ended Wainwright's night. That blast followed the walk Wainwright issued to Ike Davis to open the seventh.
The Pirates have homered in eight straight games against the Cardinals, hitting 13 total during that span.
Wainwright's outing was soiled by the long ball, but there were also positives to be gleaned. The other four hits he allowed were singles, and none of those batters advanced past first. Wainwright recorded 12 ground-ball outs and threw fewer than 20 pitches in each of his six full innings.
"You can look at the three balls in the middle of the plate that got out, but I think most of the time I was much better tonight than I had been," Wainwright said. "That's what I am going to take from this start going forward. It was a much more quality game today than it has been. It's a similar line, but much better stuff, much different stuff."
"I agree with him. I think he's close," manager Mike Matheny added. "And for us to be able to put him out there, not have his real good stuff and come out of here with a win is a real good night."
Wainwright (16-9) enjoyed some defensive help behind him, no play more impressive than the diving catch Grichuk made to end the fifth.
"I definitely thought I got a pretty good jump on it," Grichuk said. "The instincts took over and I got to lay out and make the catch."
The Pirates were not as crisp in the field, and it cost them. The Cardinals added a seventh-inning insurance run when outfielder Andrew McCutchen couldn't cut off Jhonny Peralta's hit to center, resulting in a double, and John Axford uncorked a wild pitch with Peralta on third.
Neshek closed the win with a three-up, three-down ninth.
"I feel like we're really about to take off," Bourjos said. "A lot is starting to turn."
Jenifer Langosch is a reporter for MLB.com. Read her blog, By Gosh, It's Langosch, and follow her on Twitter @LangoschMLB. This story was not subject to the approval of Major League Baseball or its clubs.