Marlins' playoff push slowed by Mets' bats
Stanton reaches 100-RBI mark, Yelich has three hits in loss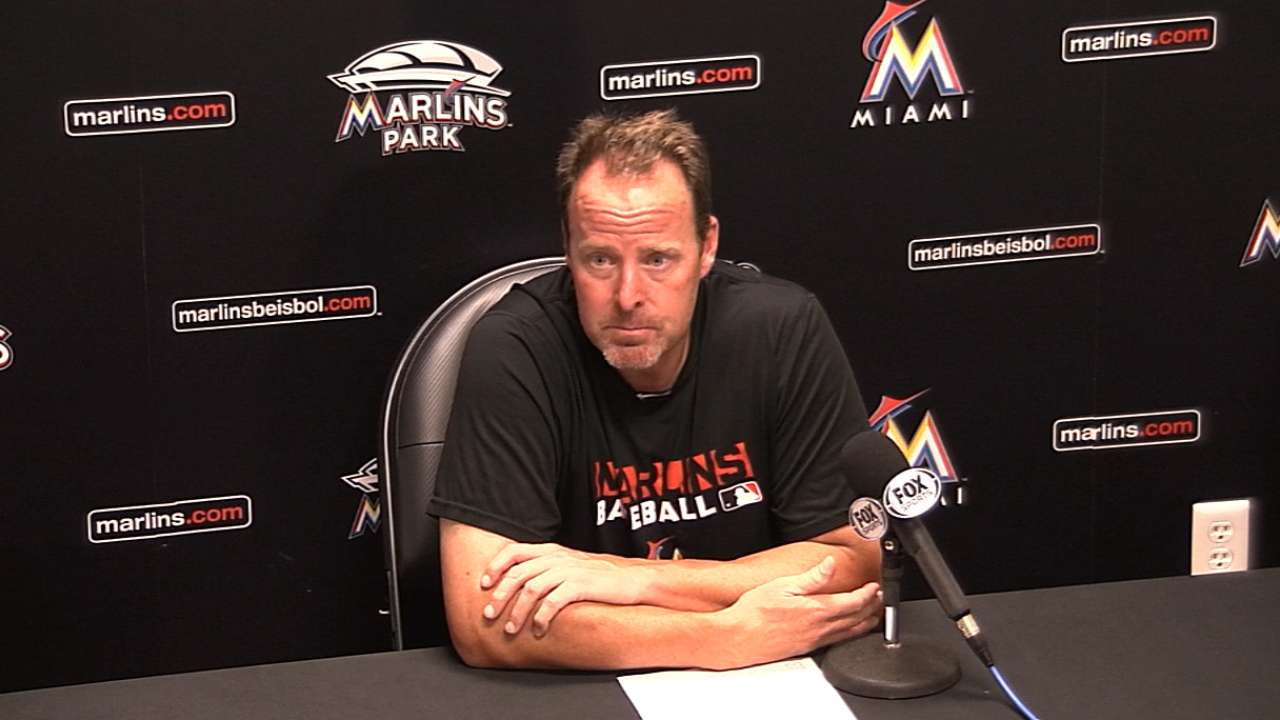 MIAMI -- Giancarlo Stanton provided the power with a two-run homer, and Christian Yelich stayed hot with three hits, but the Marlins were unable to slow down the Mets. Whatever momentum Miami gained at the plate was erased by what took place on the mound.
David Wright drove in three runs and Juan Lagares collected four hits in the Mets' 8-6 victory on Tuesday night at Marlins Park.
The Marlins tagged Mets lefty Jonathan Niese for six runs on 10 hits in six innings. It wasn't enough.
Miami starter Brad Penny labored through three innings, giving up four runs on seven hits. And in the fourth inning, New York tacked on three runs off Anthony DeSclafani.
"To go down 4-0 in the second inning, that makes it tough," Miami manager Mike Redmond said. "But we battled back and made Niese work. He had to work hard for it. That's two nights in a row we didn't get a lot out of our starters. We had to use a lot of bullpen guys. That's definitely a concern. We're trying to win the game. We're in must-win games."
The Marlins, seeking a hot streak to propel themselves squarely in the National League Wild Card race, have been unable to win as many as two in a row since they ran off three straight Aug. 16-19. They remain 5 1/2 games behind the Brewers for the second Wild Card spot, with Milwaukee losing to the Cubs Tuesday.
"I had to battle," Niese said. "It was one of those games where it just seemed like everyone at the plate was hitting it where no one was at."
If the Marlins are to get on a roll, the starters must set the tone.
But in the first two games against New York, the Miami bullpen has logged 12 2/3 innings, with Henderson Alvarez lifted after 2 1/3 innings due to a left oblique strain in the opener and Penny's short outing Tuesday.
"When you leave the ball up, you're going to give up hits," Penny said. "That's what happened tonight. It stinks going out there and giving those runs up early. It doesn't give your team a chance to win."
On a night they were playing catchup, Stanton became just the second player in Marlins history to belt at least 35 home runs and knock in 100 runs. In 1996, Gary Sheffield delivered 42 homers and drove in 120.
The last Marlins player to drive in 100 was Dan Uggla (105) in 2010.
"To see the way he's playing in crunch-time has been fun," Redmond said. "For him to be able to put together good at-bats, and get big hits, you see the difference in our lineup when he's hitting."
Miami trimmed a four-run deficit with three runs in the third inning, all coming with two outs. Yelich doubled and scored on Donovan Solano's infield single, combined with Wright's throwing error. Stanton provided the big blast, a two-run homer that landed on the home run sculpture in center.
New York scored three off DeSclafani in the fourth on run-scoring singles by Lagares and Lucas Duda. Wright had an RBI double in the inning.
Wright now has 16 RBIs on the season off Miami pitching, his tops against any opponent.
Miami responded with two runs off Niese in the fourth. Pinch-hitter Reed Johnson lifted a sacrifice fly, and Yelich had a two-out RBI single.
The offenses kept threatening, and the Marlins were hurt by not being able to log enough shutdown innings.
Miami has dropped six of seven to the Mets, but can claim the series with a win on Wednesday.
"Forget about this one and move on to tomorrow," catcher Jarrod Saltalamacchia said. "As soon as you get urgent and start to get a little panicky, that's when stuff happens. I think this team has done that all year long, where we haven't panicked. No matter if it's eighth inning, ninth inning, down by three or four. I think you'll see a team bounce back tomorrow. That's what we're going to focus on."
Joe Frisaro is a reporter for MLB.com. He writes a blog, called The Fish Pond. Follow him on Twitter @JoeFrisaro. This story was not subject to the approval of Major League Baseball or its clubs.