Lagares, Wright break out in Mets' win
Center fielder has first four-hit game; third baseman has three RBIs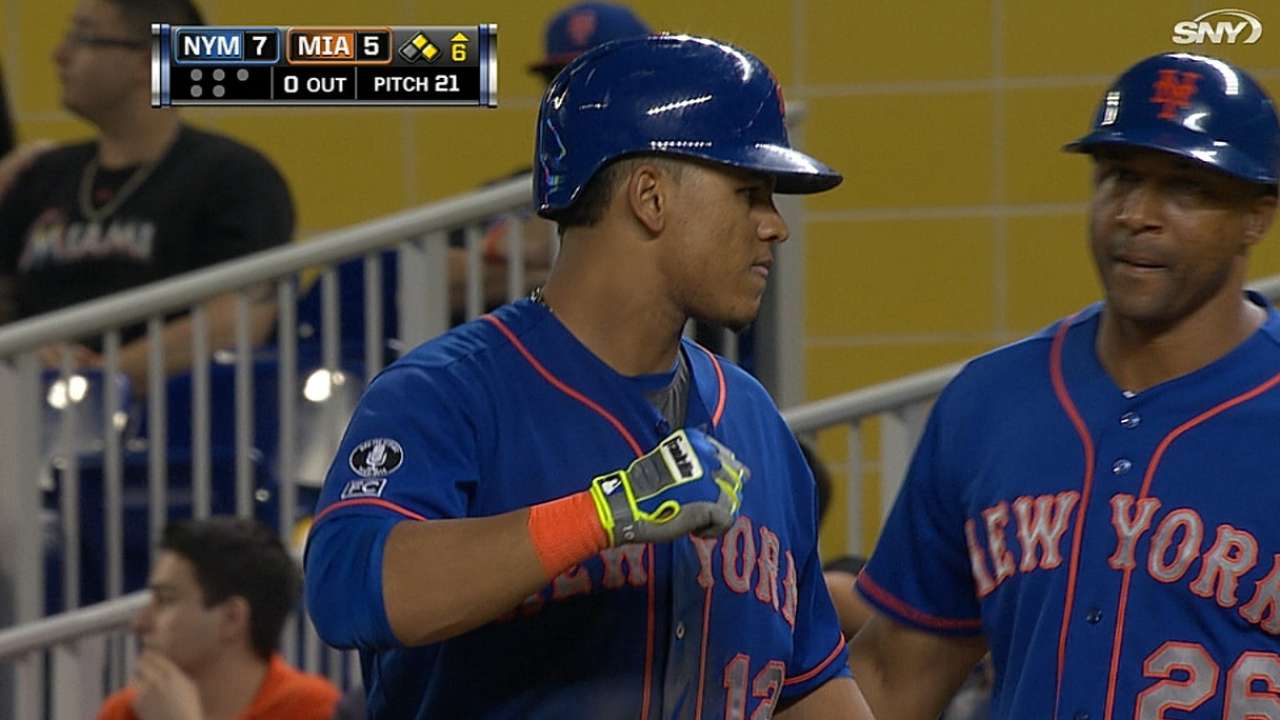 MIAMI -- It was always offensive production that was going to define Juan Lagares' future as a big league regular. A revelation last year, Lagares' defense has never come into question. But general manager Sandy Alderson insisted last winter that Lagares meet a minimum offensive threshold to survive, going as far as to siphon his playing time off to Chris Young, Eric Young Jr. and others.
Four hits, two RBIs, three runs scored and two stolen bases may not satisfy such doubts for good. But it was the type of night that Lagares needed to continue establishing himself with a month left in the season. And it was the type of night the Mets were thrilled to accept, combining it with David Wright's breakout in an 8-6 win over the Marlins at Marlins Park.
"I think you're seeing the beginning of the making of a really good player," Wright said of Lagares.
Back to batting leadoff nearly every day, Lagares singled and scored in the first inning and doubled home a run in the second, sparking the Mets' attack against Marlins starter Brad Penny. He then singled, stole second and scored in the fourth inning, singled again in the sixth, and walked and stole another base in the eighth. The effort raised his batting average eight points, to .282, pushing his OPS back up to .710.
"That's an amazing game," Lagares said. "Especially because we got the win and I had a four-hit game. … It's exciting."
It also created plenty of opportunities for those behind him, including Wright, who had gone a career-high 84 consecutive plate appearances without an extra-base hit. The third baseman snapped that with a double in the second inning, after singling home a run in the first. Then, in a nod to his sport's fickleness, he doubled yet again in the fourth. Wright added a sacrifice fly in the sixth inning to cap his first three-RBI day of the season.
"It's nice to feel dangerous at the plate," Wright said. "I know the feeling that I have up there, and it's nice to feel comfortable and nice to feel dangerous."
It was enough -- but barely enough -- offense for Mets starter Jon Niese, whose six runs in six innings bloated his ERA to 4.97 since the All-Star break. Niese's main problem was Marlins outfielder Giancarlo Stanton, who smashed a two-run homer to dead center field in the third inning and doubled in the fifth. The left-hander also gave up RBI singles to Donovan Solano and Christian Yelich, a sac fly to Reed Johnson and a run-scoring groundout to Garrett Jones.
"He had to work for it," Marlins manager Mike Redmond said.
"I had to battle," Niese agreed. "It was one of those games where it just seemed like everyone at the plate was hitting it where no one was at."
On many nights, that might have been enough to sink the Mets -- particularly considering Curtis Granderson's deepening funk, which he extended to 0-for-18 with an 0-for-5 night. But with Lagares' career game sparking them, the Mets were able to overcome all that.
It was exactly the type of thing Lagares needed heading into yet another winter of uncertainty. Though the 25-year-old's future with the franchise remains plenty safe, the Mets still aren't entirely sure what they have in Lagares. They know he is a Gold Glove-caliber outfielder with formidable raw hitting skills. But the Mets aren't sure if he possesses the on-base ability to lead off regularly, and are encouraging him to steal more bases to supplement it.
A strong September would allow Lagares to head into the offseason with a hammerlock on center field. Already, he is trending in that direction, batting .381 with two home runs, 10 RBIs and only five strikeouts -- always a key area for him -- over his last 11 games.
"When he's getting balls to hit, you've seen what he can do with them," Mets manager Terry Collins said. "He hits balls hard -- hard. But because he's made a career of going outside the zone and still getting hits, you've got to rein it in up here. I think he's doing that and you're seeing results."
Anthony DiComo is a reporter for MLB.com. Follow him on Twitter @AnthonyDicomo. This story was not subject to the approval of Major League Baseball or its clubs.