Posey finds MVP form in stunning comeback
Four-RBI night helps Giants score 11 unanswered runs vs. Rox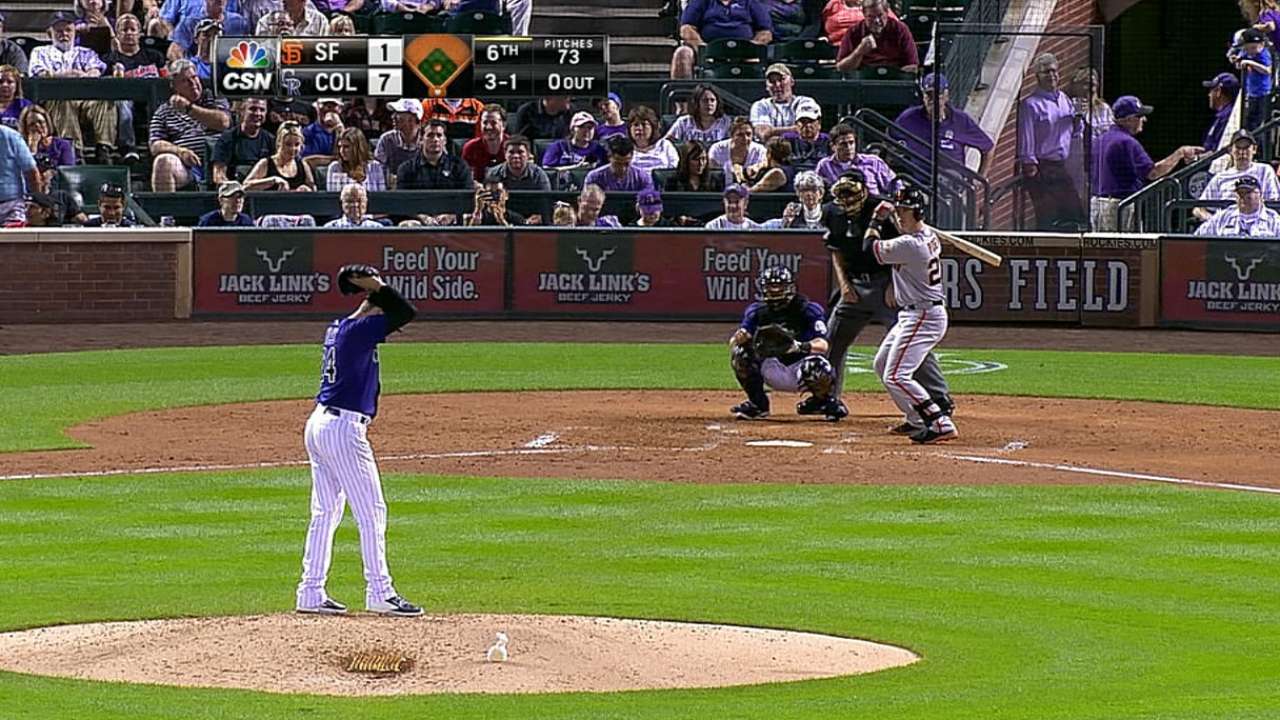 DENVER -- The Giants have regained their conviction that they should win each game, which was evident Tuesday night as they dissolved a six-run deficit to defeat the Colorado Rockies, 12-7.
That attitude isn't all that links these Giants to their recent postseason bids. They're also benefiting from Buster Posey's full-blown offensive surge, which accompanied their drive to October in 2012.
Posey, the National League's Most Valuable Player that year, has spent the last three weeks duplicating the hitting binge he sustained following the 2012 All-Star break. He continued his sweet swinging in the Giants' latest triumph, going 3-for-5 with a home run and four RBIs to help erase the 6-0 bulge Colorado built through three innings.
In 2012's second half, Posey built his case for MVP consideration by hitting .385 with 14 home runs, 60 RBIs and a 1.102 OPS (on-base plus slugging percentage) in 71 games.
In 17 games since Aug. 13, Posey is batting .408 with six doubles, two triples, six home runs and 19 RBIs. His OPS in that span is a stratospheric 1.192. Not coincidentally, the Giants are 11-6 in this stretch.
"He's got one MVP [Award]," Giants manager Bruce Bochy said. "You know the guy can flat-out hit. He's starting to do some things we know he can do."
Posey, who frequently limits discussions of his own hitting to "putting a good swing on the ball," indicated that the heightened competition of the stretch drive toward the postseason has elevated his game.
"This time of year is fun because you can see the playoffs on the horizon," said Posey, whose overall batting average (.302) has exceeded .300 for the first time since May 11. "And you really have to focus on coming out and trying to win each day."
The Giants' seventh victory in eight games brought the goal of reaching the postseason nearer to their grasp. Their perch atop the NL Wild Card standings became more secure as their closest rivals -- Milwaukee, Atlanta and Pittsburgh -- each lost. San Francisco remained two games behind first-place Los Angeles in the NL West race.
Another Giants trip to the postseason surely would enhance Posey's candidacy for another MVP nod. In this year of widespread parity in terms of team and individual performances, no clear-cut favorite for the award exists. Since the Giants' success and Posey's prowess tend to accompany each other, he'll probably receive strong support for the award if the ballclub remains on course for the postseason.
Along those lines, Posey's feats will fall flat if the Giants do the same.
"It only works if other guys are doing their thing," Bochy said.
That's precisely how the Giants overcame the Rockies on Tuesday. They amassed five extra-base hits in a six-run seventh inning, marking the second time this season they've erased a deficit that large. They also did so at Pittsburgh on May 5, when they won 11-10 in 13 innings after erasing an 8-2 Pirates edge.
As Colorado established and widened its lead against San Francisco starter Yusmeiro Petit, thoughts of Monday, when the Giants squandered a 7-2 bulge in a 10-9 loss, were inescapable.
"That's the beauty of this park," Bochy said. "It's easier to come back here than anyplace else."
Pinch-hitter Adam Duvall's fifth-inning RBI single began San Francisco's rally, which continued in the sixth as Posey homered leading off and rookie catcher Andrew Susac, who recorded his third three-RBI game, added a two-run homer.
"Susac's homer was huge because it put us within striking distance," Posey said.
Angel Pagan's one-out walk launched the Giants' big seventh, which continued with Joe Panik's opposite-field double to left. That finished Colorado starter Jordan Lyles. Posey's double off reliever Matt Belisle (4-7) scored Pagan and Panik, narrowing the difference to 7-6.
Pablo Sandoval popped out, but the third out continued to elude Colorado. Hunter Pence singled home Posey and scored on Gregor Blanco's double. Susac drove an RBI double to right-center field that chased Belisle and preceded Brandon Crawford's triple off Nick Masset.
The Giants added another pair of runs in the eighth inning as Posey lined an RBI double, then scored when center fielder Drew Stubbs muffed Pence's catchable fly ball.
In a game that featured 19 runs and 26 hits, the pitching star was George Kontos (4-0), whose 1 2/3 scoreless innings began a 4 2/3-inning scoreless stretch from San Francisco's bullpen.
"Boch handed me the ball and he goes, 'Hold us here and we'll get you a win,' " Kontos recalled. "We came inside and he said, 'I told you!'"
Chris Haft is a reporter for MLB.com. Read his blog, Haft-Baked Ideas, and follow him on Twitter at @sfgiantsbeat. This story was not subject to the approval of Major League Baseball or its clubs.