Rockies get paid back by Giants' late rally
Lyles, Belisle unable to hold six-run lead in seventh inning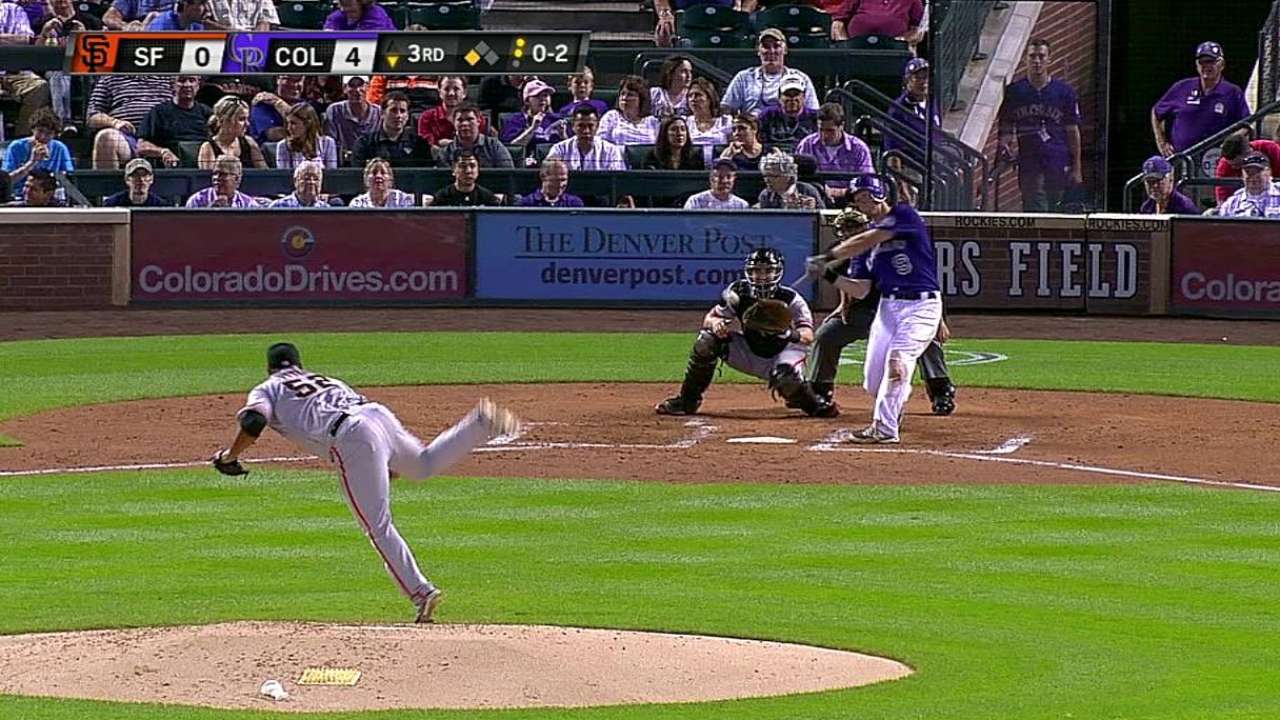 DENVER -- Revenge may be a dish best served cold, but it's also a dish that never seems to be in short supply in the spacious confines of Coors Field.
One night after the Rockies rallied for a five-run comeback, the Giants returned the favor by climbing out of a six-run sixth-inning hole to score 11 unanswered runs and saddle Colorado with a stunning 12-7 loss on Tuesday.
"It's a bad loss; an ugly game," manager Walt Weiss said. "Two different games really."
The Giants got back into it with nine runs across innings six and seven, totaling seven extra-base hits in those frames alone.
"I don't know how Walt does it," Giants manager Bruce Bochy said. "It's just a different game here. Tough start for us being down like that, but that's the beauty of this park, it is easier to come back here than anywhere else. The guys did a great job of not getting down, battling back."
The Rockies built leads of 6-0 and 7-1 before right-hander Jordan Lyles gave up homers to Buster Posey and Andrew Susac in the sixth.
"When I gave up a homer to Posey, I fell behind, but I'm not going to walk him there with a six-run lead," Lyles said. "I left it down the middle and he put it in the seats. And I just didn't make a good pitch to Susac. I had a chance to put him away. ... I just left one over the plate and he hit it a long way."
It was clear Lyles was running out of steam when he left in the seventh inning, but he was still in line for the victory, with the Rockies up, 7-4, when he departed with two on and one out.
"Our bullpen was thin tonight," said Weiss, whose club played 12 1/2 innings of baseball on Monday. "We were trying to squeeze one more out of Jordan, but he went about as long as he could. He was starting to look tired in that seventh."
Matt Belisle relieved Lyles, and Posey greeted him with a two-run double. Clinging on to a 7-6 lead, Belisle managed to get one out before a Hunter Pence single tied the game.
And that's when it got extra ugly.
Back-to-back, two-out doubles from Gregor Blanco and Susac gave the Giants a 9-7 lead. Then Brandon Crawford got in on the action by registering his 10th triple of the season against the newly inserted Nick Masset, putting the Giants up three before the bleeding ended.
In the eighth, a sloppy series of plays allowed the Giants to plate two more. Posey got his fourth RBI of the evening on another double. Drew Stubbs' error on a routine pop fly in center then brought home Posey with two outs.
"I think the ball to Drew came out like a knuckle ball," Weiss said. "The ball was knuckling on him. But it's always tough when innings get extended."
The Rockies built their 6-0 cushion by scoring in two-run bursts with two outs.
Corey Dickerson's opposite-field double in the first brought home Charlie Blackmon and Stubbs to get the party started.
After Giants right-hander Yusmeiro Petit retired the first two of the third, the Rockies got two on before Josh Rutledge outran his helmet and cleared the bases with a triple to center. DJ LeMahieu then appeared to break it open with a homer to left on an 0-2 count.
Adam Duvall's pinch-hit single put the Giants on the board before Dickerson reestablished the Rockies' six-run lead with an RBI single of his own. One night after leaving the game early due to dizziness, Dickerson finished 2-for-2 with two walks and three RBIs.
Cody Ulm is an associate reporter for MLB.com. This story was not subject to the approval of Major League Baseball or its clubs.