Blue Jays recharge power game to sink Rays
Reyes hits decisive homer in fourth to help Dickey earn his 11th win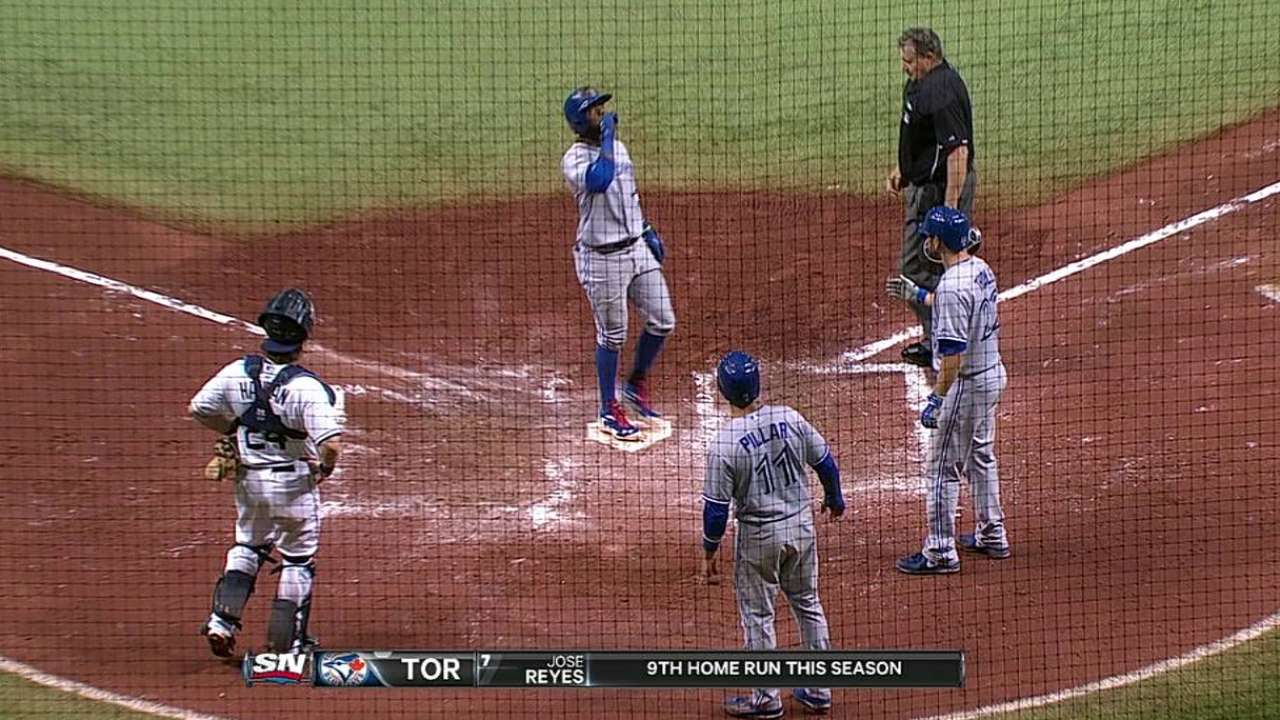 ST. PETERSBURG -- If the Blue Jays want to have any hope at all of re-entering the mix for a spot in the postseason, they'll have to hit like they did in May.
Toronto had the best offense in baseball for that month and a high number of home runs was the main reason. The lineup went quiet after that point, but a pair of recent games has the club hoping another hot streak is around the corner.
Jose Reyes, Danny Valencia and Dioner Navarro each homered as the Blue Jays dominated with the long ball for a second consecutive game en route to an 8-2 victory over the Rays on Tuesday night at Tropicana Field.
"We've been playing pretty good baseball lately and we started to score some runs these last couple of days, and home runs come into play," said Blue Jays manager John Gibbons, whose team remained 5 1/2 games back of Detroit for the second American League Wild Card. "Three Sunday, three tonight, that's a big part of who we are."
The Blue Jays were on the verge of finishing August with the fewest home runs of any team until the lineup got hot on the final day of the month. Melky Cabrera, Jose Bautista and Edwin Encarnacion each went deep in a 4-3 victory over the Yankees to keep Toronto out of the basement in that category.
The production continued into the series opener vs. Tampa Bay. Valencia homered in the second, Reyes hit the decisive blow in the fourth and Navarro added a pair of runs in the eighth with his 11th home run of the year. It's the type of quick-strike offense that has been missing for far too long from what should be a powerful lineup.
Toronto has been saying for most of this season that home runs can come in bunches. In May, the Blue Jays had 48 -- compared to 18 in August -- so they can only hope this is the beginning of another trend.
"We hope we heat up," Gibbons said. "You know, August was a lean month for us, but we figure that's over with now. We're not going to think about that so we'll see how we play this [month]."
Valencia got things started in the second inning with a solo shot to left. It was his fourth of the year and second since joining the Blue Jays in late July. That was just the beginning of what turned into a rough night for Rays right-hander Jeremy Hellickson.
Toronto added another run in the third on an RBI single by Jose Bautista -- whose home run streak was halted after five consecutive games -- and then chased Hellickson from the game in the fourth. Kevin Pillar and Josh Thole hit a pair of back-to-back singles, while Reyes delivered the big blow with a three-run shot to right field. That was the end of the line for Hellickson, who was pulled after allowing all five of those runs on eight hits over 3 1/3 innings.
The home runs continued in the eighth. Navarro's pinch-hit, two-run shot followed an RBI triple by September callup Ryan Goins. Navarro's last two home runs have come against his former Rays team.
"A lot of it was poorly located pitches at the wrong time," Rays manager Joe Maddon said. "Pretty much that's what it came down to."
R.A. Dickey picked up his 11th win of the season after allowing two runs on two hits and three walks. His only difficulty came in the second when he allowed a one-out single and then walked a batter before hitting another. That loaded the bases for Ryan Hanigan, who hit a bloop RBI single before outfielder Kevin Kiermaier added a sacrifice fly.
Toronto's knuckleballer cruised the rest of the way and has now allowed three runs or fewer in four of his past five starts. During a 15-start stretch that began on June 14, Dickey has pitched at least six innings in all but one of those outings.
"Timely hitting, couple of home runs," Dickey said of his team's performance. "We took extra bases, a lot of excitement, we pitched well. Yeah, it reminded me a lot of May when we were rolling well and everybody was contributing, which is a fun environment."
The Blue Jays have an opportunity for a rare series victory in Tampa Bay with a win on either Wednesday or Thursday. Toronto has gone through a stretch of 21 non-winning series at Tropicana Field dating to 2007. It's the longest streak in the Majors since the Rays had 25 consecutive non-winning series at Fenway Park from 2000-08.
"It feels good, that's the way we're supposed to play," Reyes said. "When we're playing good, that's the kind of game that we play. Hopefully, we can see more games the way we were playing tonight."
Gregor Chisholm is a reporter for MLB.com. Read his blog, North of the Border, and follow him on Twitter @gregorMLB. This story was not subject to the approval of Major League Baseball or its clubs.