MLB.com Columnist
Terence Moore
Braves can swing and miss way into postseason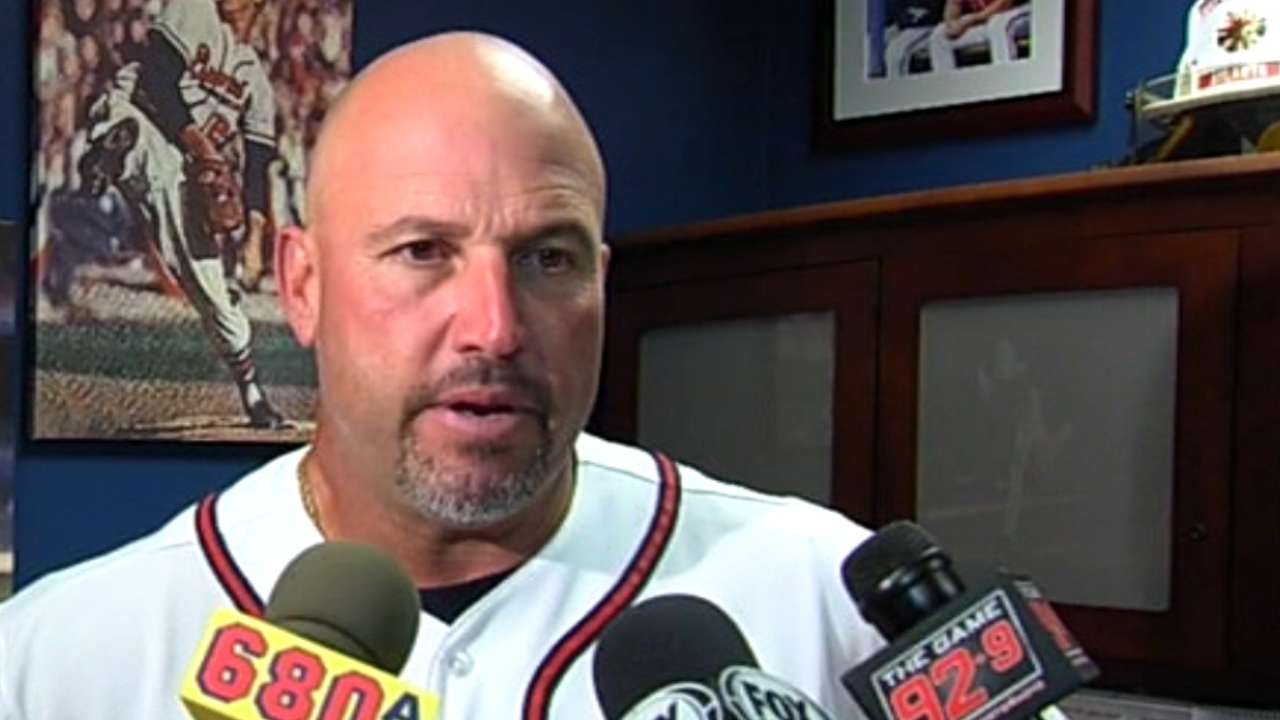 The Braves are swinging and missing like crazy these days. Still, there is encouraging news for those in love with the Tomahawk Chop. Their heroes could become the 21st century version of the Hitless Wonders. Remember them? Those 1906 White Sox ignored their dreadful ways with the bat at home plate along the way to shocking the mighty Cubs (yes, the Cubs actually were grizzlies back then) in the World Series.
Here's something else for the Braves Nation to consider: According to the folks at Elias Sports Bureau, 29 teams have been no-hit during the regular season and made the playoffs. Plus, 13 teams in that situation reached the World Series, and 10 of them actually won the thing.
The Braves were no-hit Monday.
Which means ... well, not that. These Braves won't follow in the spike marks of those 1906 White Sox, and not just because players wear cleats nowadays. These Braves are worse offensively than those White Sox. Even though those White Sox had the second-lowest batting average in baseball (.230), they still finished sixth out of baseball's 16 Major League teams back then in runs scored. These Braves are hitting .245, which is better than those White Sox, but only the Padres score less this season than these Braves.
Bottom line: Even if you can't hit, you can find ways to score, which is what those White Sox often did. Which is what Atlanta struggles to do.
The Braves' inability to hit or score on Labor Day at Turner Field against the Phillies was a microcosm of why they are threatening to lose in the first round of the playoffs or the National League Wild Card Game for the seventh consecutive time.
That is, if Atlanta makes the playoffs.
More times than not, the Braves can't hit when it counts. They often can't hit at all. In particular, they have issues placing their bats into position to make contact with pitches on a consistent basis.
OK, the Braves strike out a lot. Only three teams do so more than Atlanta, and none of them has a winning record. In contrast to those offensive woes, the Braves usually are proficient on defense, where they have splendid gloves in several spots. There also are all of those Atlanta starters who pitch out of their minds after most of their trips to the mound.
The whole thing is a crazy mixture that creates streaks of beauty for the Braves but many more streaks of ugliness.
Way too many streaks of the latter. So with weeks left in the regular season that has the Braves among six NL teams battling for four playoff spot, all of their offensive flaws were exposed Monday during a steamy Atlanta afternoon that featured only a decent Cole Hamels for the Phils. He walked the first two hitters he faced. Hamels plunked another to begin the second inning. He also opened the third and the sixth innings with walks along the way to five overall.
"I think coming around the fifth inning and seeing where my pitch count was, I knew that every pitch really kind of mattered," Hamels told reporters later. "Just the way that I went out into that sixth inning and struggled again with locating, I was having to battle every single pitch. I really wasn't in sync."
It didn't matter. The Braves still couldn't hit Hamels. Not only that, they kept swinging at air throughout his stint on the mound (seven strikeouts), and they kept failing to bring home those slew of runners in scoring position. Then again, what else is new for Atlanta? The Braves' .196 batting average in these situations ranks fourth-worst in the Major Leagues.
When Phillies manager Ryne Sandberg yanked Hamels after 108 pitches through six innings, Braves hitters continued their struggles against Phils reliever Jake Diekman in the seventh (two strikeouts). Then against reliever Ken Giles in the eighth (three strikeouts). Then against closer Jonathan Papelbon in the ninth, who retired all three hitters he faced.
Adding to the frustration of Braves fans was another solid performance by somebody from their pitching staff that has the game's fourth-best team ERA of 3.26. This time, it was Julio Teheran, Atlanta's ace, who spent his previous three starts going 3-0 with a 1.47 ERA while holding opposing hitters to an average of .177. He wasn't as sharp Monday against the Phillies, but he was impressive enough: 6 2/3 innings, five hits, five runs (two earned). That said, as often has been the case this season, unless a Braves pitcher is close to perfect, he is headed for a no-decision or a loss.
This was a loss. It was a big one for Atlanta, especially with a playoff berth not a certainty. No worries, said third baseman Chris Johnson, referring to the long run for his team, when he told reporters afterward, "We play [again Tuesday], so we lost a game. I'm sure it's cool for them for a no-hitter. But it's just a loss for us. [Tuesday] we try to come back and win a ballgame."
Yeah, but the Braves still have to score to win.
Terence Moore is a columnist for MLB.com. This story was not subject to the approval of Major League Baseball or its clubs.