Tribe loses ground in playoff races on late homer
Club misses chance to gain on Tigers as Allen allows go-ahead shot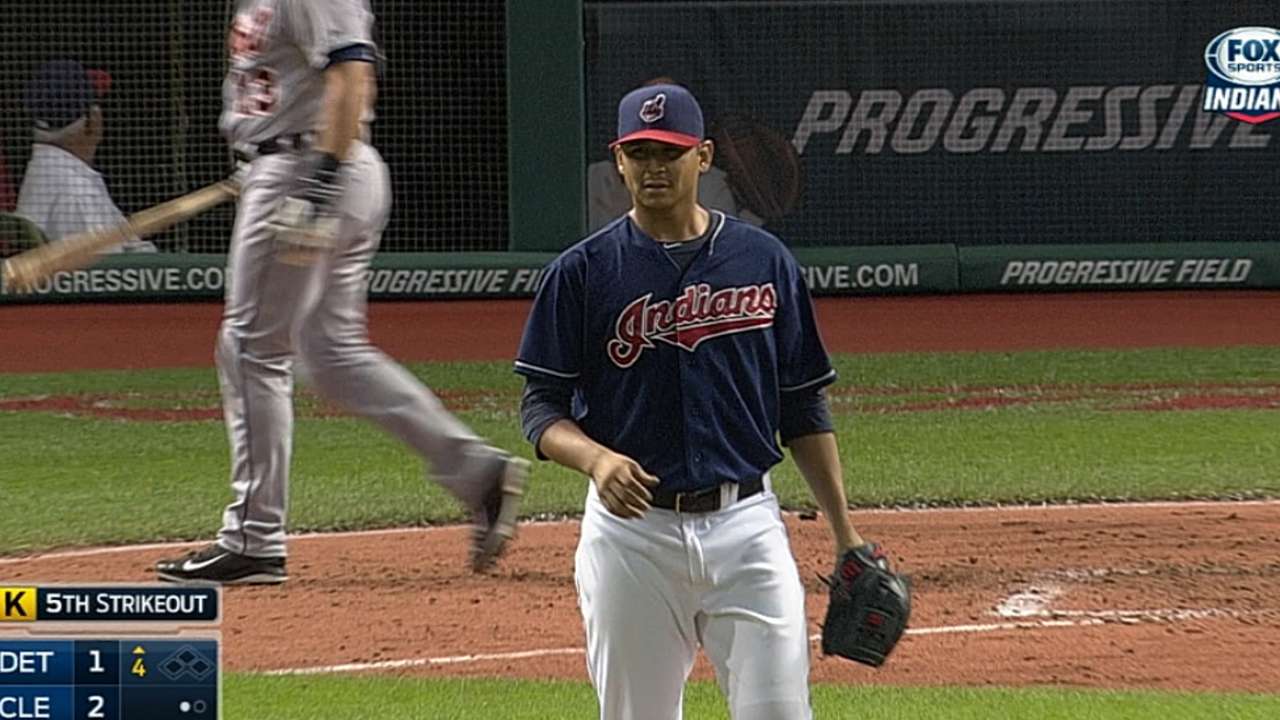 CLEVELAND -- No one in the Indians' clubhouse was going to overstate what has taken place over the course of the past two nights. No matter the month, a loss is a loss. The job of the players is to push each defeat quickly behind them, move on and focus on aiming for a win at the next opportunity.
Cleveland closer Cody Allen led that familiar refrain Tuesday night.
"We'll show up tomorrow and be ready to play," Allen said after a gut punch of a 4-2 defeat to Detroit at Progressive Field. "We'll move on."
Two games into this crucial September-opening series against their American League rivals from the Motor City, the Indians have come up short. Corey Kluber, the leader of Cleveland's rotation, could not get through three innings in a rout at the hands of the Tigers on Monday. Allen, the anchor of the Indians' bullpen, lost his footing in the ninth inning Tuesday, spoiling another strong outing by starter Carlos Carrasco.
Playing the role of villain in the Tribe's latest trip to the loss column was Detroit left fielder J.D. Martinez, who has antagonized Allen and the Indians throughout this season. This time around, it was a three-run home run into the bushes beyond the center-field wall, giving Allen a rare blown save and dealing the Indians a second straight defeat.
Do not be fooled by the postgame cliches. This one stung.
The late swing in momentum also had a ripple effect on the American League standings. The AL Central-leading Royals picked up another win, maintaining their half-game lead on the Tigers in the division. The third-place Indians dropped 5 1/2 games back of Kansas City in the Central and five games behind Detroit for the AL's second Wild Card spot.
"It's September," Martinez said. "This is win-or-go-home time."
The Indians were in position to pick up a much-needed win in the ninth, when Allen took the mound armed with a 2-1 lead. Due up for Detroit in the decisive frame were Torii Hunter, Miguel Cabrera and Victor Martinez, and if anyone reached, J.D. Martinez. As strong as Allen (2.24 ERA and 18 saves in 66 games) has been, that lineup of hitters is no easy task.
"That's not a good feeling," Indians manager Terry Francona said. "I mean, I love when Cody's pitching -- don't get me wrong -- but when you see who's coming up, it's difficult to navigate through, because they're so dangerous."
Allen, who struggled to command his fastball and spiked a handful of curveballs into the dirt throughout the ninth, opened with an eight-pitch walk to Hunter. Cabrera followed with a seven-pitch battle, shooting the last pitch up the middle and into center field for a single. Following a flyout by Victor Martinez, Allen squared off against a familiar foe.
On May 19, J.D. Martinez launched a game-tying homer off Allen in the ninth in Detroit. After that blown save, Cleveland's closer successfully converted 17 saves, posted a 0.86 ERA and limited batters to a .153 average across 42 innings. That led up to Sunday, when the righty allowed a game-tying homer to Kansas City's Alex Gordon in the ninth of a suspended game.
Martinez worked ahead, 1-0, and then drilled a pitch to straightaway center field for the three-run, stadium-hushing shot. With the blast, Martinez is sporting a .349 (15-for-43) average to go along with five homers and 14 RBIs in 11 games against the Tribe this season.
"[Martinez] has got tremendous raw power," Tigers manager Brad Ausmus said. "He's just taking his natural stroke and using it."
The blast effectively erased the work of Carrasco, who outdueled lefty Kyle Lobstein to line Cleveland up for a win.
In five starts since rejoining the rotation, Carrasco has gone 3-0 with a 0.90 ERA, allowing only three earned runs in 30 innings. Over that span, the right-hander has turned in a 0.83 WHIP and limited the opposition to a .191 (21-for-110) average, while throwing strikes at a rate of 71 percent.
Against Lobstein, the Indians labored to get much going in terms of support. Carlos Santana slugged a two-run home run -- his team-leading 23rd shot of the season -- in the first inning against Lobstein, but the southpaw settled down from there, ending with 10 strikeouts of his own in 5 1/3 innings.
Carrasco was shaky in spots, but the pitcher reeled things in when it mattered most. Of his career-high 10 strikeouts, seven came when Detroit had runners in scoring position. In 5 1/3 innings, Carrasco scattered 10 hits -- he allowed at least two in four of the six frames he appeared -- but flinched just once in the form of a bases-loaded walk to Alex Avila in the second.
"He really dug deep. That was really something," Francona said of Carrasco. "He pitched out of so many binds and executed some unbelievable pitches. If you go back and look at some of the sequences, it flew past encouraging. They made him work really hard."
Carrasco's performance, combined with another tough loss, made for a quiet Cleveland clubhouse.
"Just one pitch," Allen said, "and J.D. Martinez got extended on a fastball and hit it real hard."
Jordan Bastian is a reporter for MLB.com. Read his blog, Major League Bastian, and follow him on Twitter @MLBastian. This story was not subject to the approval of Major League Baseball or its clubs.