MLB.com Columnist
Jonathan Mayo
Schwarber, Johnson are Pipeline Players of the Month
Cubs slugger had 15-game hitting streak; Boston hurler allowed two runs in four starts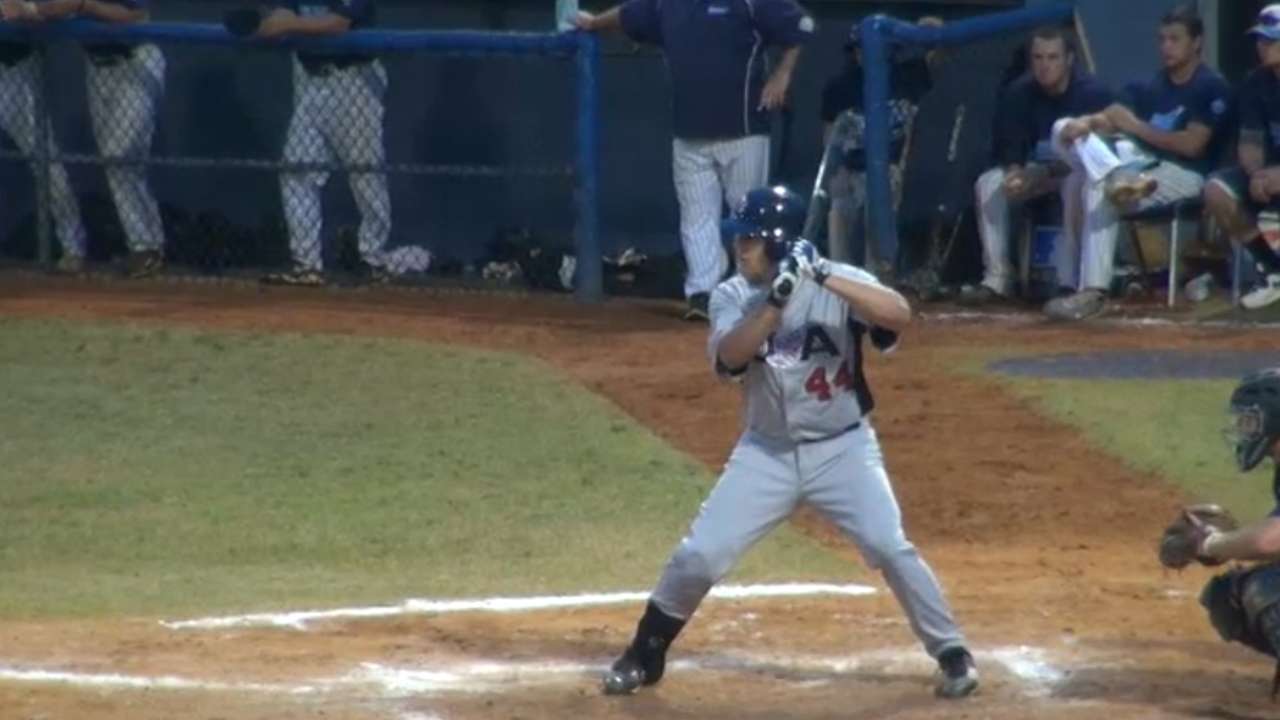 Throughout the season, the MLBPipeline.com staff will name Pipeline Prospects of the Month -- one hitter and one pitcher who excelled over the previous month. To qualify for selection, a player must rank among their organization's Top 20 Prospects, as listed on our Prospect Watch.
Pipeline Hitting Prospect of the Month: Kyle Schwarber, OF/C, Daytona Cubs (Cubs' No. 7 prospect), 28 G, 34-for-103 (.330/.400/.660), 1.064 OPS, 8 HR, 17 RBIs, 20 R, 8 2B, 1 3B, 14 BB, 26 K, 2 SB
Schwarber, the No. 4 pick in the 2014 Draft, capped off an outstanding professional debut, with a strong month with the Daytona Cubs to take home Player of the Month honors.
Schwarber showed an ability to hit for average and power throughout his debut and that continued in August, highlighted by a 15-game hitting streak. He finished with an overall line of .302/.393/.560 in 44 games with Daytona.
The University of Indiana product began his pro career with Boise in the short-season Northwest League, quickly moved to Kane County in the Midwest League, then spent the last month and half of the Minor League season in the Class A Advanced Florida State League. Schwarber both caught and played the outfield, though he did much more of the latter than the former with Daytona. Combined, the left-handed hitter hit .344/.428/.634 with 18 homers and 53 RBIs in 72 games, putting him firmly on the fast track.
Honorable mention
Manuel Margot, OF, Salem Red Sox (Red Sox's No. 7 prospect), 28 G, 40-for-101 (.396/.432/.634), 1.066 OPS, 4 HR, 22 RBIs, 14 R, 8 2B, 2 3B, 7 BB, 12 K, 10 SB
Jaycob Brugman, OF, Stockton Ports (A's No. 19 prospect), 27 G, 33-for-103 (.320/.379/.660), 1.040 OPS, 11 HR, 25 RBIs, 23 R, 2 2B, 11 BB, 19 K, 1 SB
Wilmer Difo, SS/2B, Hagerstown Suns (Nationals' No. 20 prospect), 28 G, 41-for-111 (.369/.432/.586), 1.018 OPS, 5 HR, 18 RBIs, 19 R, 7 2B, 1 3B, 12 BB, 16 K, 14 SB
Alex Verdugo, OF, AZL Dodgers/Ogden Raptors (Dodgers' No. 10 prospect), 22 G, 31-for-74 (.419/.476/.635), 1.111 OPS, 1 HR, 18 RBIs, 13 R, 7 2B, 3 3B, 5 BB, 6 K, 4 SB
Pipeline Pitching Prospect of the Month: Brian Johnson, LHP, Portland Sea Dogs (Red Sox's No. 10 prospect), 1-0, 4 GS, 26 IP, 10 H, 2 R, 2 ER, 4 BB, 21 K, .116 BAA
The onetime two-way star at the University of Florida was virtually unhittable during his final month of the Double-A Eastern League season. The lefty was only scored upon twice in his four starts throughout the month en route to earning Pitcher of the Month honors.
Johnson opened the month with eight innings of shutout ball, allowing just three hits and no walks. After allowing single runs in each of his next two starts (six and seven innings, respectively), he finished off his 2014 season with five more shutout frames.
For the season, Johnson -- who started the year in the Carolina League but moved up quickly -- finished a combined 13-3 with a 2.13 ERA in 25 starts. In 143 2/3 innings, the southpaw gave up just 101 hits (.197 batting average against), walked only 39 to give him a miniscule 0.97 WHIP, and struck out 132. He led the Red Sox organization in ERA, WHIP and BAA, finished second in strikeouts and third in wins.
Honorable mention
Tyler Glasnow, RHP, Bradenton Marauders (Pirates' No. 1 prospect), 5-0, 1.73 ERA, 6 GS, 36 IP, 20 H, 8 R, 7 ER, 12 BB, 51 K, .161 BAA
Julio Urias, LHP, Rancho Cucamonga Quakes (Dodgers' No. 2 prospect), 1-1, 0.95 ERA, 6 G, 5 GS, 28 1/3 IP, 15 H, 4 R, 3 ER, 9 BB, 42 K, .155 BAA
Daniel Norris, LHP, Buffalo Bisons/New Hampshire Fisher Cats (Blue Jays' No. 1 prospect), 4-1, 2.76 ERA, 6 G, 5 GS, 29 IP, 19 H, 9 R, 9 ER, 8 BB, 46 K, .186 BAA
Sean Manaea, LHP, Wilmington Blue Rocks (Royals' No. 3 prospect), 4-1, 1.37 ERA, 6 GS, 39 IP, 24 H, 10 R, 6 ER, 8 BB, 44 K, .173 BAA
Jonathan Mayo is a reporter for MLBPipeline.com and writes a blog, B3. Follow @JonathanMayoB3 on Twitter. This story was not subject to the approval of Major League Baseball or its clubs.