Legally lethal: Bogaerts, Betts rake in rout
Only 21, duo combine for seven hits, two homers against AL East rivals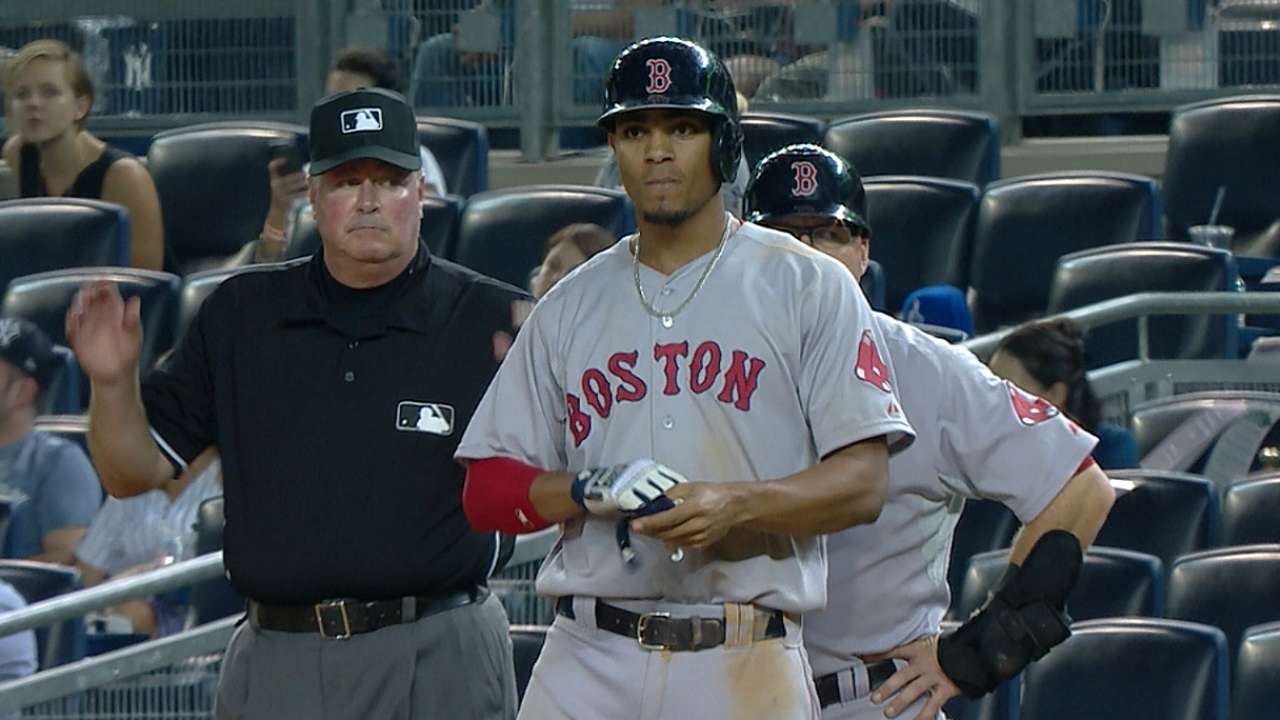 NEW YORK -- With a pair of 21 year-olds belting the baseball all over Yankee Stadium on Tuesday night, the Red Sox were treated to an intriguing glimpse of what the future could hold.
Sure, a pennant race would have been preferable for Boston on a night a three-game series started against those rivals from the Bronx.
But watching Xander Bogaerts and top prospect Mookie Betts torch the Yankees en route to a 9-4 victory wasn't so bad.
Bogaerts, who spent much of the last couple of months in a prolonged slump, came up with the first four-hit game of his career. The eruption included his first home run since July 29.
Then there was Betts, who went 3-for-5 with a pair of runs, a homer and a sensational catch that took extra bases away from Mark Teixeira in the bottom of the fourth.
"I mean, the season has definitely not been the way we all wanted or we all expected it to be," said Bogaerts, "but there's a lot of talent coming up. Hopefully we can blend in together and have a good future."
For all the fretting over the struggles of Bogaerts, who perhaps made everything look too easy in last year's postseason, it's important to remember he is still a month from his 22nd birthday.
Betts also turns 22 in October, and there could be some future years where the two right-handed hitters spend their birthday months leading the Red Sox to memorable wins.
"I've been thinking lately a few times that I'm just 21," said Bogaerts. "I'm not Albert Pujols or any of those guys yet. I've got to wait. You know, especially playing in postseason last year, a lot of people thought I was like 30 or something. In reality, I'm just 21."
Betts, playing in the same venue where he made his Major League debut a couple of months ago, looked as comfortable as could be on the Yankee Stadium stage.
"You've got to love it," said Betts. "This isn't the old one. I would have liked to have played in the old one, but just being in this atmosphere and having the Yankees fans and Boston fans, just having that rivalry makes it fun."
Over the past few days, Betts appears to be coming of age. He has produced at least two hits in four of the past five games.
"I see a lot of progress -- a lot of things I've learned in the outfield," said Betts. "Hitting as well. Baserunning. Every aspect of the game, just being here, I've learned a lot."
This was a gratifying night for quite a few of the visitors.
Yoenis Cespedes, who could become a rivalry centerpiece by next year, went 3-for-5 with a double and a triple.
Joe Kelly, another player the Red Sox acquired on July 31, went 6 2/3 innings and allowed five hits and three runs, picking up his first win in a Boston uniform.
An early offensive surge by the Red Sox was paced by Daniel Nava, who ended a homer drought of 245 at-bats by unloading for a three-run shot in the top of the third.
"Yeah, very good night up and down the lineup, particularly Bogey, Mookie, Cespy and Daniel Nava," said manager John Farrell. "A number of good at-bats. Once again, Cespy comes up with an RBI to put us ahead, seemingly a number of times he's done that for us. And Joe continued to put up some zeros early on. But it was just a very good offensive night all the way around."
The Red Sox came out swinging against Yankees righty Shane Greene. Betts started a rally in the first with a one-out single. Following a walk by David Ortiz, Cespedes continued his recent RBI surge with a double to left that brought home Betts. Mike Napoli hit a flyball to medium-depth center, and the Red Sox sent Ortiz, who easily beat the throw home by his former teammate Jacoby Ellsbury to stake Kelly to a 2-0 lead.
Backed by the homers by Nava and Bogaerts in the third, the Sox broke out to a 6-0 edge.
"Yeah, it's always great when you get runs like that," said Kelly. "It was fun watching from the bench today. To watch what those guys did with the bats was incredible. Big hits, homers. It was definitely fun. When you have the lead, you want to attack their hitters right away and get your hitters back in when they're going hot like that."
Bogaerts and Betts made a little history for the Red Sox, marking the first time two of the club's rookies homered in the game at Yankee Stadium since Aug. 9, 1952.
"When you see the likes of what Mookie has done, and really when you see what Bogey can do, it's not only exciting, but this is a team that's now got a lineup that's formidable, it's much deeper than it's been," said Farrell. "And guys are looking forward to coming to the ballpark every day."
Ian Browne is a reporter for MLB.com. Read his blog, Brownie Points, and follow him on Twitter @IanMBrowne. This story was not subject to the approval of Major League Baseball or its clubs.