Greene's early struggles too much to overcome
Baserunning gaffe impacts rally; Gardner ejected to end fifth inning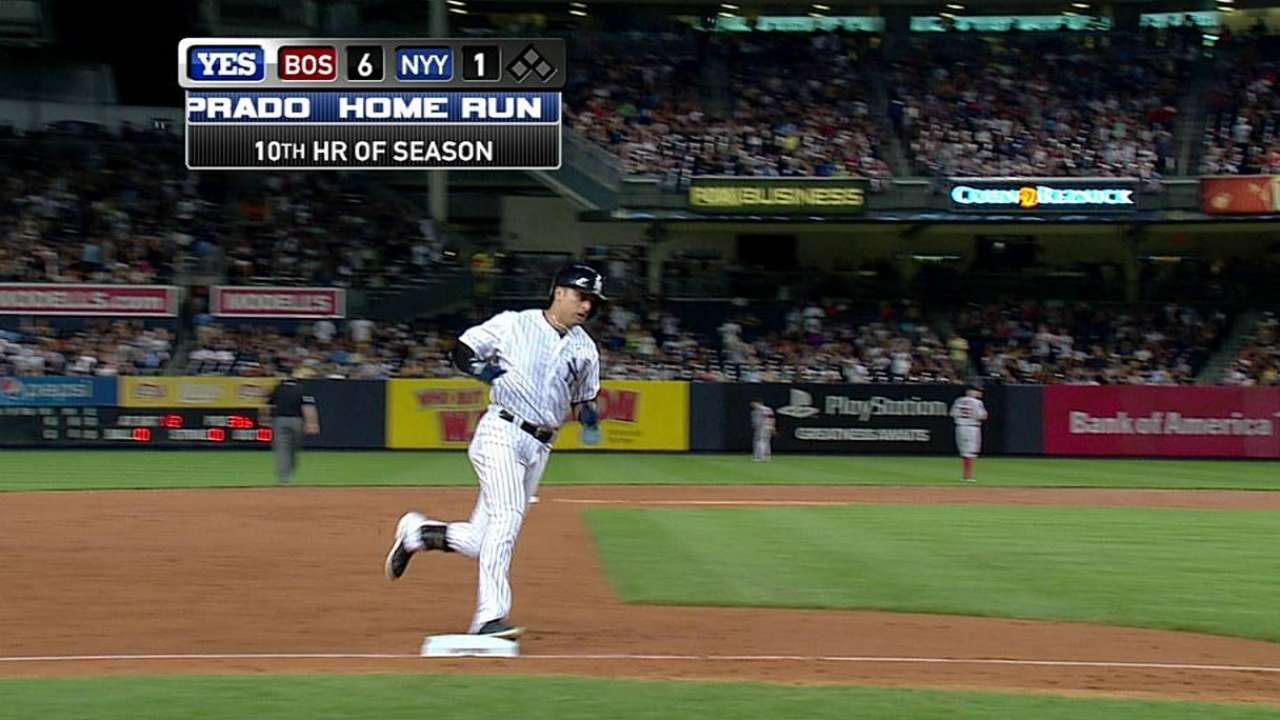 NEW YORK -- The Yankees may be stopping short of calling these games do-or-die, but their goal is to play each night with the intensity of a postseason matchup. The results are not matching up, creating concern that the club is heading for a second consecutive dark October in the Bronx.
Opening a nine-game homestand that can be considered pivotal for their chances at a playoff spot, the Yankees' frustrations instead bubbled over in a 9-4 loss to the Red Sox on Tuesday evening at Yankee Stadium, their fourth loss in the last five contests.
In the most telling snapshot, Brett Gardner spiked his helmet to the dirt and was ejected after a called third strike that short-circuited a promising rally; the best crack that the Yankees had to recovering from the worst start of Shane Greene's young career.
"It's frustrating," Gardner said. "I've obviously had a lot of time to think about it, calm down and look forward to tomorrow. It's tough. Unfortunately that happens from time to time. It's baseball and we'll look forward to tomorrow."
With 26 games left on their slate, the Yankees are five games back of the Tigers for the second American League Wild Card spot.
Greene has been solid since being called up to join the injury-depleted Yankees' rotation, but he was due for a clunker. The rookie was charged with his first loss since July 21, snapping a six-start undefeated stretch as he allowed a career-high six earned runs in 2 2/3 innings.
"It's my first one, and it probably won't be my last one like this," Greene said. "Just got to keep grinding."
Daniel Nava connected for the big blow off Greene, a three-run homer in the third inning that gave the Red Sox a five-run lead at the time. Xander Bogaerts also homered in that inning for Boston, which entered the evening ranked dead last among the 15 AL clubs in runs scored.
"These series are extremely important and it's not how you want to start off a homestand," manager Joe Girardi said.
The Red Sox pounced on Greene quickly in the first, as Yoenis Cespedes logged a run-scoring double -- his 24th RBI in 29 games -- and Mike Napoli lifted a sacrifice fly to center field, chasing home David Ortiz with the second Boston run.
Struggling to locate his pitches, Greene walked three and struck out three before Mookie Betts hit a fourth-inning homer off reliever Esmil Rogers, padding Boston's healthy advantage.
"Not everybody is perfect," Greene said. "It's baseball. This kind of stuff happens."
Facing the Yankees for the first time in his career, Joe Kelly held New York to three runs and five hits in 6 2/3 innings, permitting only Martin Prado's third-inning solo homer over the first four frames.
The Yanks sparked a rally in the fifth, as Carlos Beltran singled and Brian McCann placed a bunt hit toward third base, which had been abandoned by the shift.
"We fought our way back. We had a chance to have a big inning," McCann said.
Prado belted a deep drive to left field that Cespedes misplayed, forcing the lead runners to hold up; tracking the ball, Prado did not notice and nearly made it to second base before being sheepishly tagged out in the baseline.
"Prado was looking at the ball, and that's going to happen, that's normal," Girardi said. "But you also have to look at the people in front of you."
The free out proved costly. Francisco Cervelli worked a bases-loaded walk and Derek Jeter legged out a run-scoring infield single -- a call overturned by review, as Jeter was initially ruled out at first base by umpire Tim Welke.
Kelly recovered by freezing Gardner on a called third strike that appeared to be outside, and after Gardner sent his helmet and bat hurtling to the turf, home-plate umpire Tim Timmons quickly sent Gardner to his third career ejection.
"I saw the replay of it. Obviously it was outside, right where I thought it was," Gardner said. "I got frustrated after my first two at-bats and then I felt like I got the bat taken out of my hands in a big situation. Pitcher's on the ropes and I just let my emotions get the best of me."
Boston tacked on a pair of runs (one earned) in the ninth off Chaz Roe, who made his Yankees debut after being acquired from the Marlins for cash considerations.
McCann hit a ninth-inning homer off Koji Uehara, but the Yanks took one final hit later in the inning as Prado was unable to bat due to what the team called a "tight left hamstring" that will necessitate a MRI exam.
"It's just tough to lose. That's all," McCann said. "We're trying to win as many ballgames as we can and losing is tough."
Bryan Hoch is a reporter for MLB.com. Follow him on Twitter @bryanhoch and read his MLBlog, Bombers Beat. This story was not subject to the approval of Major League Baseball or its clubs.