Olympian Louganis joins 'Express Written Consent'
Gold medalist dishes on Olympics memories while taking in Dodgers game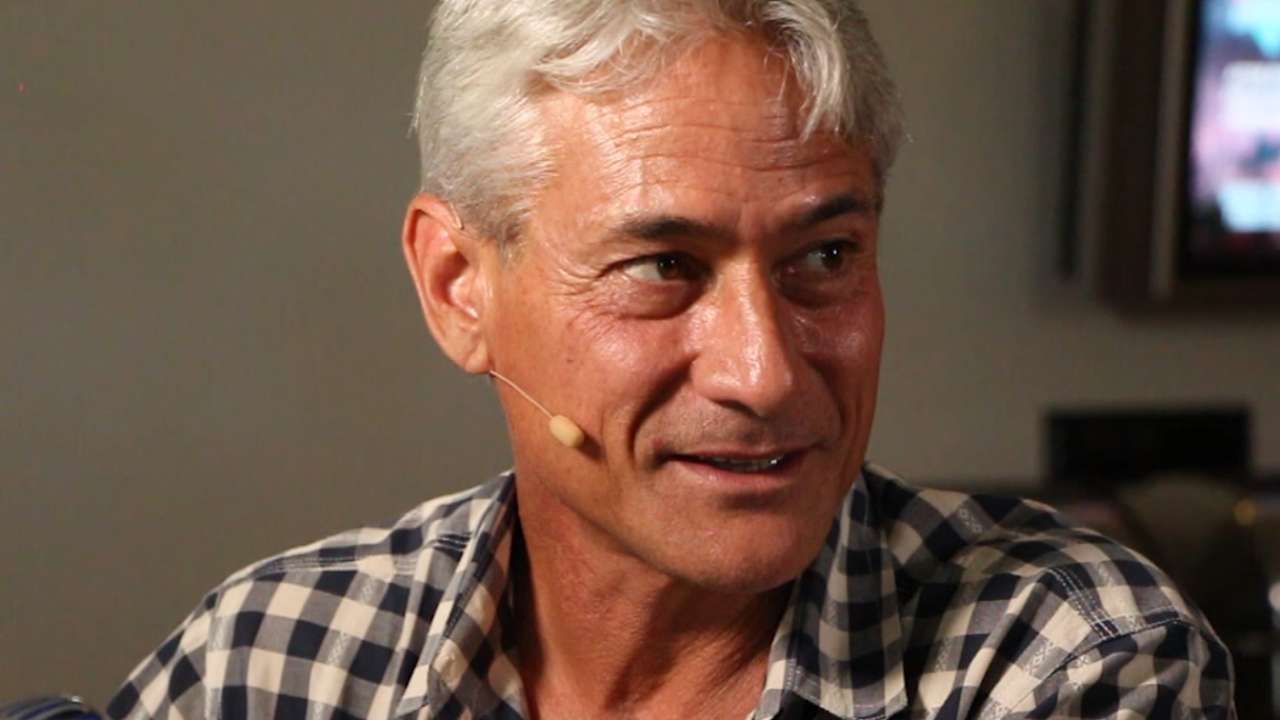 Excuse us if we're a little giddy about this week's featured guest on "Express Written Consent."
Sure, actors and producers and amphibian puppets are nothing to sneeze at. But it's not every day that we get to hang out with an Olympic Gold medalist who was a huge part of the athletic fabric of the 1970s and '80s, one whose story has been told time and again and still resonates among today's sports-watching fans.
One of the greatest divers in history, Greg Louganis, now 54 and still fit as a fiddle, dropped by Dodger Stadium not long ago to engage MLB.com host Jeremy Brisiel in a variety of conversation pieces. Louganis is currently celebrating the 30th anniversary of the 1984 Summer Olympics that were staged in Los Angeles, and even though that wasn't his most notable Olympic appearance, he definitely is one of a handful of legendary Olympians (who could forget Mary Lou Retton?) closely tied with the Games of that decade.
If Louganis had to pick one Olympics that stands out among the others, however, he'd pick his first, as a 16-year-old in 1976 in Montreal.
"So I was running around the Olympic Village with my jaw on the ground," Louganis recalled. "I couldn't believe what was going on. Going to the discotheque, movies, the food ... that was an amazing experience."
Louganis is best known, of course, for what happened in the 1988 Seoul Olympics, partly for his accomplishments (he won two gold medals) and mostly for what happened en route to those medals. Louganis hit his head on the springboard during the preliminary round, suffering deep lacerations and a concussion. After five stitches and a very brief recovery period, Louganis completed the competition despite the injury and later earned the gold by a margin of a whopping 25 points.
That experience changed Louganis' life, understandably, and gave him quite a different perspective on the everyday nuisances that many of us gripe about that are, big picture-wise, insignificant.
"So, when someone says, 'I don't know Greg, I just can't do it, I'm tired, I'm beat,'" J.B. said. "What do you say?"
Louganis, who had in 1988 been diagnosed with HIV but had not yet disclosed that information to the public, recalled listening to one fellow '88 Olympian complaining about the weather and a demanding coach, among other things, and thinking, "I'm ready to punch her out."
"I turned to her and said, 'Donate your time to the children's hospital. You don't have anything to complain about,'" Louganis said.
Louganis may not have been the first openly gay star athlete, but he's one of the most notable, mainly because he came out at a time when doing so was still considered taboo in mainstream society. He wrote a best-selling autobiography, "Breaking the Surface," detailing domestic abuse he suffered as a teenager that sent him on a self-destructive path. Louganis' story was recounted in a 1996 Showtime movie, with Mario Lopez starring as the lead and Louganis narrating.
Today, Louganis lends his time as a gay rights activist and works with Athlete Ally, a non-profit organization that promotes ending homophobia and transphobia in sports. Major League Baseball recently announced a partnership with Athlete Ally, in conjunction with naming former outfielder Billy Bean as MLB's first Ambassador for Inclusion.
Louganis is also heavy into the dog training scene, working with his dogs to compete in agility events.
That took Louganis out of the spotlight and thrust the dogs into it, which was a welcome change for the celebrity diver.
"It's about the dogs," Louganis said. "It wasn't about me. The focus was away from me a little bit, and it was kind of nice."
Alyson Footer is a national correspondent for MLB.com. Follow her on Twitter @alysonfooter. This story was not subject to the approval of Major League Baseball or its clubs.