Many converted catchers find success at new positions
Astros legend Biggio among backstops to thrive after moving elsewhere on diamond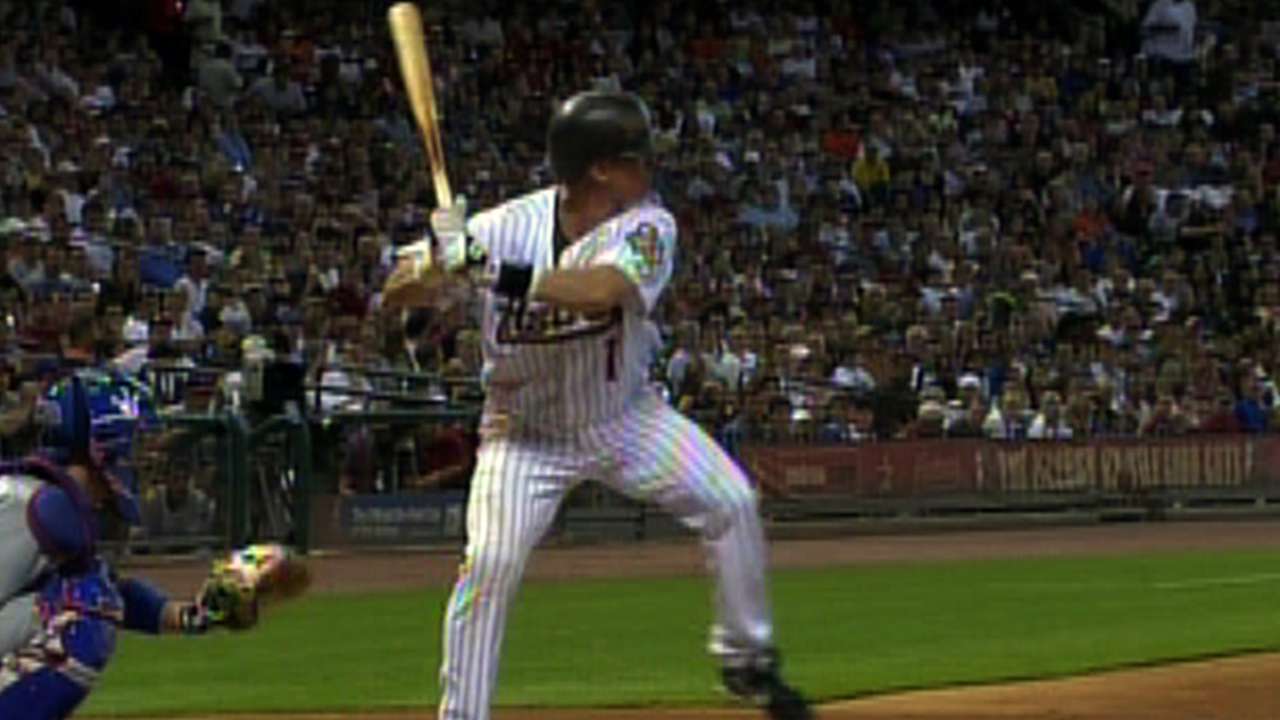 Joe Torre was inducted into the Hall of Fame in July. It was largely a nod, he admitted in his acceptance speech, of the success he had while managing the Yankees.
It was also a reminder that Torre was an excellent player in his day. He started out as a catcher, finishing second in the National League Rookie of the Year Award voting for the Milwaukee Braves in 1961. By the time he retired, though, Torre had started more games at both first and third than behind the plate. In 1971, playing third, Torre led the league in hitting and won the NL MVP Award.
As it turns out, many players started out as catchers before having success at other positions. And it's a trend that has only picked up momentum.
Look around. The Nationals made catcher Bryce Harper the first overall pick out of the College of Southern Nevada in 2010 ... and immediately announced that he was no longer a catcher, but would learn to play the outfield. The Mariners drafted high school catcher Alex Jackson in the first round this year, but announced him as an outfielder.
Injuries -- or fear of injuries -- have convinced the Twins to permanently move Joe Mauer to first and the Giants have thought about doing the same with Buster Posey (who has played 455 games as a catcher and 110 at first base). There have been reports out of Atlanta that Evan Gattis could go back to left field for good. Victor Martinez was converted to designated hitter in 2011, even before he missed the entire '12 season following left knee surgery.
Here, then, is a look at some of the players who made their marks at other positions after starting their career behind the dish:
Craig Biggio
Biggio made the All-Star team as a catcher in 1991, but the Astros convinced him to move to second base the following season because the team was concerned that squatting would rob him of his speed. Biggio made the All-Star team at his new position in '92, and he ended up with 3,060 hits and 414 stolen bases in a career that ended in 2007. Last year, Biggio finished just two votes short of joining baseball's immortals in Cooperstown.
Dale Murphy
Legend has it that Murphy had so much trouble throwing runners out that his father once consoled him by saying, "If they ever try to steal center field on you, you'll throw them out every time." Murphy moved to the outfield, and he blossomed into a two-time NL MVP Award winner who hit 398 career home runs.
Konerko was ranked the top high school catcher in the country and was a first-round Draft pick of the Dodgers as a backstop in 1994. He never played that position in the Major Leagues, though, and is best known as a six-time All-Star first baseman for the White Sox, and he has been their team captain since 2006.
A late bloomer, Ibanez didn't have 500 plate appearances in a big league season until he was 30 years old. By then, he had long since been moved to the outfield. It turned out to be a good move. Still playing for the Royals at 42, Ibanez has over 300 homers and 1,200 RBIs in his career.
Drafted as a catcher in the first round by the Orioles in 1997, Werth got the vast majority of his playing time behind the plate his first four years in the Minors. It was only after being traded to the Blue Jays in 2001 that he started playing some outfield. After the 2002 season, Werth stopped catching all together.
Troy Percival
In his first professional season after being drafted by the Angels, coaches for the Class A Boise Hawks of the Northwest League noted that Percival's return throws to the mound were harder than the pitches he was catching, so they decided to make him a reliever. At least, that's the story. Percival went on to make four All-Star teams as a closer for the Halos.
A 10th-round Draft pick by the Royals in 1991, Sweeney was a backup catcher who worried about being released his first four seasons in the big leagues. He was moved to first base in 1999, and beginning the following year, Sweeney made the AL All-Star team five of the next six seasons.
Before saving 42 games in 2012, Motte was a catcher in the Cardinals' system
Ricky Bottalico and Carlos Marmol
Speaking of catchers who became closers, Bottalico went on to become an All-Star for the Phillies and Marmol did the same for the Cubs.
Morneau, the 2006 AL MVP Award winner for the Twins, started his career as a catcher before being moved to first base.
Now best known as the Rays' right fielder who won the 2013 AL Rookie of the Year Award, Myers was originally drafted as a catcher out of high school by the Royals.
Before winning the 2010 NL MVP Award, Votto was drafted by the Reds as a catcher, but he quickly converted to first base.
One of the rare catchers who didn't moved to first base or outfield, Sandoval has become a two-time All-Star third baseman for the Giants.
Another third baseman, Donaldson caught for the Athletics until Scott Sizemore suffered a season-ending knee injury in Spring Training 2012.
Willingham, a veteran outfielder who was recently acquired by the Royals, played some third and caught in Minors, and he even has a handful of starts behind the plate in the bigs.
The Pirates' second baseman played his first three Minor League seasons as a catcher, then played three more at third before moving to second for good in 2010.
Mike Krukow
Krukow, a 124-game winner and current Giants broadcaster, caught in college before making the transition to the mound.
Kenley Jansen and Chris Hatcher
The Dodgers and Marlins relievers both started out as catchers. Hatcher even made four appearances behind the plate for the Fish in 2010.
Richie Ashburn
In 1945, the Phillies signed Ashburn as a young catcher and assigned him to Class A Utica. Like Biggio, he ran so well that team officials moved him to center field to take advantage of his speed and avoid putting added stress on his legs. Ashburn went on to have a 15-year career, during which he batted .308 and stole 234 bases. And 50 years later, Ashburn was inducted into the Hall of Fame.
Paul Hagen is a reporter for MLB.com. This story was not subject to the approval of Major League Baseball or its clubs.