Royals hang on vs. Texas, hold onto slim division lead
Perez homers, drives in three as KC stays half-game ahead of Tigers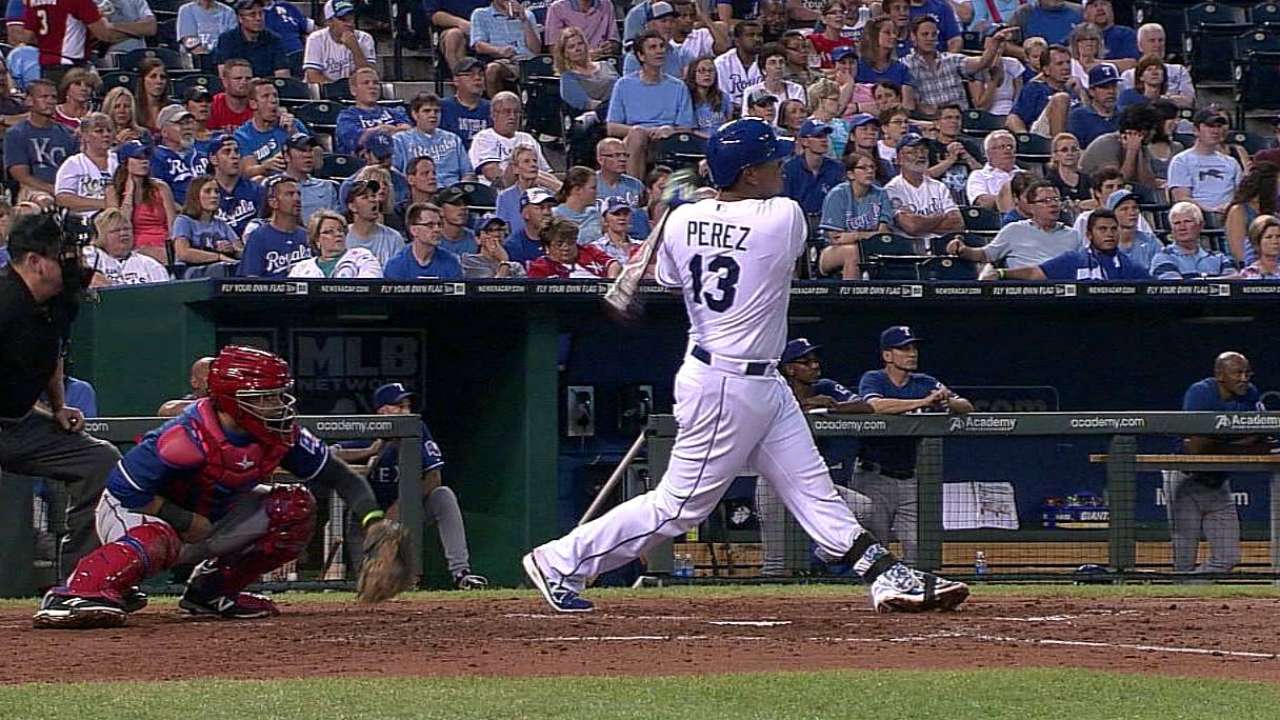 KANSAS CITY -- Right when the Royals needed them, the fearsome threesome of their bullpen came through.
Kelvin Herrera, Wade Davis and Greg Holland were at their best as they delivered a victory to Kansas City and starter Yordano Ventura over the Texas Rangers, 4-3, on Monday night.
Salvador Perez did most of the offensive heavy work with three RBIs as he belted three hits including a two-run homer and a double.
The Royals felt like they needed this one after a three-game dry spell and one very wet suspended game. The win enabled them to keep a half-game lead over Detroit in the American League Central.
"You're always happy to bounce back," manager Ned Yost said. "I wish I didn't have to use Herrera, Wade and Holly. But all three of them came up today and even before we ask them, they said, 'We're good to go.'"
The back end of the bullpen has been worked hard of late. Herrera and Davis each have appeared in five of the last seven games, Holland in five of the last six.
"We're grinding it out. We'll just keep grinding," Davis said. "On a game like this you have to go out there and pitch -- it's a one-run game."
That's not the way it started out. The Royals gave Ventura a four-run cushion by the fourth inning against right-hander Colby Lewis.
• First inning: Alex Gordon singled and scored on Perez's double to right center.
• Third inning: Gordon walked and Perez homered into the left-field bullpen.
• Fourth inning: Newcomer Carlos Peguero doubled and scored on Mike Moustakas' opposite-field single.
Oddly enough, Yost packed his lineup with left-handed hitters against Lewis, but it was the right-handed Perez who did the most damage. Perez saw Lewis for the first time 10 days ago and went 0-for-3.
"I faced him in Texas and I tried to stay in my approach, let the ball come in to me and put a good swing on the ball," Perez said.
Lewis was perturbed about the pitch he gave Perez for the home run.
"I think I could of hit that 2-0 fastball out that Perez hit," Lewis said. "It's right over the middle, 2-0. I'd be geared up for a 2-0 heater too."
The homer was Perez's 16th this season and, on the current homestand, he's 12-for-34 (.353) with seven RBIs.
Ventura, who missed a start with a sore back, had no physical problems in his 6 1/3 innings as he won his 11th game.
"I felt good, I had a good rhythm getting through the hitters until the last couple of innings. I was very happy to be back and pitch well enough to win," he said.
"I felt as good as I did before. The days of rest were obviously very good for me, for my arm as well as my back."
Ventura gave up a run in the sixth and then ran into more trouble in the seventh.
Three hits -- Adam Rosales' double and singles by Tomas Telis and Michael Choice, with an error mixed in -- gave the Rangers two runs in the seventh and the Royals' lead was one run.
That was 99 pitches and enough for Ventura.
"I gave him every pitch I could give him," Yost said. "I'm not going to let him load the bases in a one-run game and then bring in Kelvin."
Herrera faced Leonys Martin, who hit a bouncer back toward the mound that Herrera almost, but not quite, deflected with his glove. The ball got through to shortstop Alcides Escobar, who started a swift and smooth inning-ending double play.
"He's a great defender," Herrera said. "I got that ground ball and put it in the right hands."
Davis whizzed through a perfect eighth, aided by a diving stop by Moustaksas at third base -- and now has 27 2/3 consecutive scoreless innings. (Herrera is right behind him with 26 1/3.)
So in came Holland, just off his unpleasant, two-run 10th inning in Sunday night's suspended game with Cleveland. He'd made 27 tough pitches, too, and the Royals wanted to give him a break but he told them he was OK.
"It's a fine line. If you can go, you can go, but you've also got to be smart about it," Holland said.
Obviously he was just fine. He struck out two batters, got a ground ball and his 41st save was in his back pocket.
And just in time. Rain began to fall as the Royals wrapped up their 75th victory.
The Herrera-Davis-Holland trio had come through again.
"That's three outstanding arms," said Rangers manager Ron Washington. "Might be three of the best arms in baseball, I don't know."
Dick Kaegel is a reporter for MLB.com. This story was not subject to the approval of Major League Baseball or its clubs.