Lewis' strong start undone by a few pitches
Righty gives up two-run homer to Perez, then settles in to go seven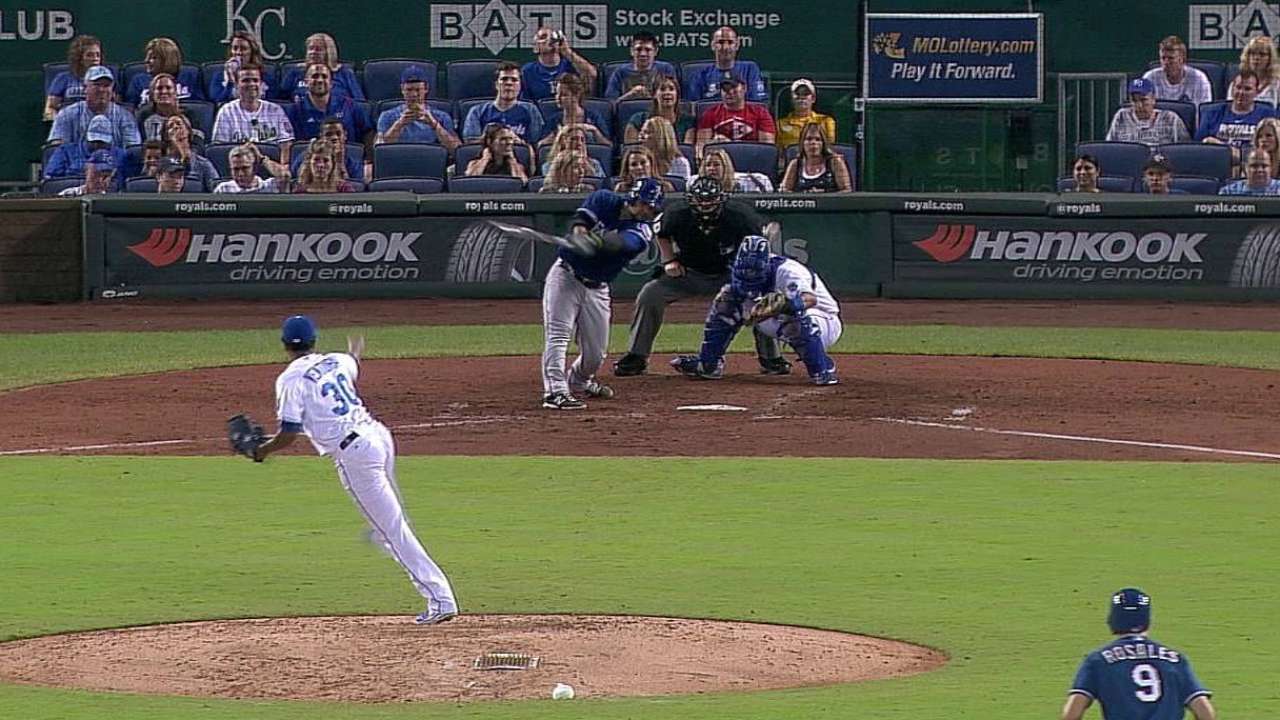 KANSAS CITY -- Colby Lewis did not need to watch the flight of Salvador Perez's third-inning home run. Lewis could identify the ball's final destination at the crack of the bat.
The Rangers' starter released a center-cut fastball to the Royals catcher, then kept his eyes glued towards home plate as Perez's two-run blast crashed into the Royals' bullpen bench in left field.
Lewis was still stewing in the locker room after the mistake in an otherwise solid start that provided the Royals the separation necessary to stave off a late Texas comeback in their 4-3 win Monday night at Kauffman Stadium.
"I think I could of hit that 2-0 fastball out that Perez hit," Lewis said. "It's right over the middle, 2-0, I'd be geared up for a 2-0 heater too."
Kansas City's All-Star catcher drove in three of his team's four runs, and helped hand the Rangers their third straight loss.
"The pitch that he made to Perez for the two-run home run definitely wasn't a pitch that he wanted to put there," Rangers manager Ron Washington said.
Perez drove in his first run in the first inning on a pitch that Washington and Lewis did not categorize as a mistake. Lewis spun Perez a slider off the plate, but he reached it and split the gap between center fielder Leonys Martin and right fielder Alex Rios to plate Alex Gordon, who ripped a two-out single off Lewis.
The Royals upped their lead to 3-0, using a similar blueprint in the third. Gordon ignited another two-out rally by coaxing a walk, and Perez delivered his home run on an 89-mph fastball right down the pipe.
Lewis seemed caught in a downward spiral as Mike Moustakas pushed the lead to 4-0 in the fourth when he lined an opposite-field single to score Carlos Peguero. But that is all Lewis would allow, as he retired 10 of the next 13 hitters, and notched four of his five strikeouts.
"He knows how to pitch," Washington said, "and that hip is healthy enough that he can execute his pitches when he feels it, and tonight he did a good job of managing that game and giving us a chance. We had a chance."
As the game progressed and Lewis got stronger, the Rangers' offense finally awoke against young flamethrower Yordano Ventura.
After scraping out one hit, and pushing only one runner past first base in the first five innings against Ventura, Texas tallied in the sixth. Adrian Beltre drove in Elvis Andrus on a ground ball to short, stretching his RBI streak to four games. Andrus had poked a double down the right-field line for the first of two Rangers' extra-base hits.
Texas put Ventura out of commission in the following inning. Adam Rosales cranked a leadoff double and Tomas Telis plated him with a single to center, cutting the deficit to 4-2. Telis advanced to second when Dyson misplayed his hit, then the Rangers' catcher took third on Rougned Odor's groundout.
Michael Choice, who two innings before was undressed by a Ventura curveball, stroked a single to left and put the Rangers within a run.
With one out and Choice on first, Royals manager Ned Yost opted to dip into the first piece of the his bullpen triumvirate, Kelvin Herrera.
"I gave [Ventura] every pitch I could give him. I'm not going to let him load the bases in a one-run game and then bring in Kelvin," Yost said.
Herrera quickly extracted Kansas City from the seventh as Leonys Martin dribbled into a double play.
And with that, the final opportunity of the game was squandered.
Wade Davis and Greg Holland, who have combined to allow 15 earned runs and strike out 168 batters in 116 1/3 innings, set down the final six Rangers in order.
"That's three outstanding arms, might be three of the best arms in baseball, I don't know," Washington said.
Washington was left to play the what if game after the loss.
"If [Ventura had] been more inconsistent with his fastball, maybe we'd have gotten him out of there, maybe we'd have gotten the bullpen earlier," Washington said.
Jackson Alexander is an associate reporter for MLB.com. This story was not subject to the approval of Major League Baseball or its clubs.