Dunn homers in first at-bat with A's
Eyeing first postseason, slugger makes immediate impact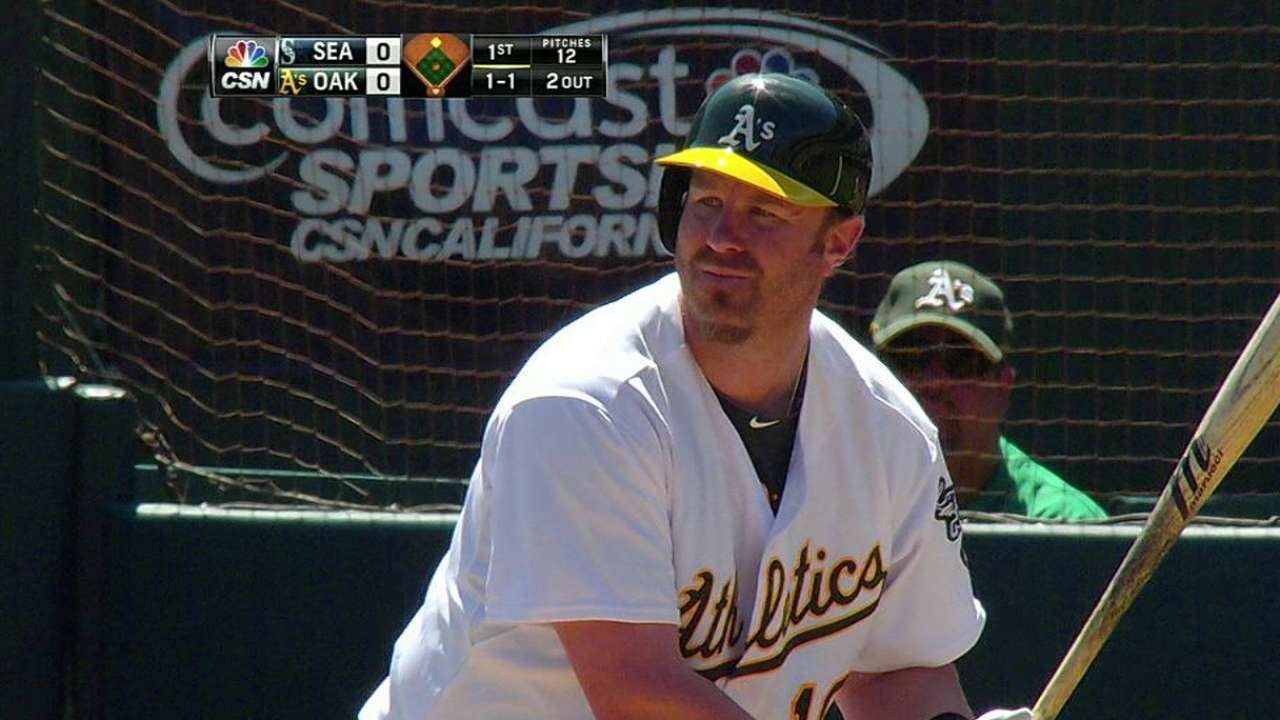 OAKLAND -- Adam Dunn, acquired from the White Sox in a trade on Sunday, joined the A's at the O.co Coliseum on Monday for their series opener against Seattle. With Oakland's offense in need of a jolt, Dunn wasted no time against Mariners righty Chris Young.
Batting fourth as the designated hitter, Dunn put the A's on the scoreboard with a two-run homer to ignite a five-run first inning. It was Dunn's 461st career homer.
Dunn has never played in the postseason, and the 34-year-old plans to retire after this year. With the White Sox out of contention, his decision to waive his no-trade clause and come to Oakland felt like a no-brainer.
"To get that opportunity now, it's awesome. It's a little shot of adrenaline in the arm," said Dunn, who will wear No. 10. "First of all, I think it was easy because of how good the team was. Second of all, I know Jonny [Gomes] and those guys, they love to have fun. I'm big on fun."
While Dunn understands the seriousness of the situation he's entering -- the Wild Card-leading A's slid to five games behind the Angels in the American League West after suffering a four-game sweep this past weekend -- he also is a big proponent of staying loose under pressure.
"I think when you play loose, you have fun, you play better," he said. "Hopefully we can kind of just relax. It's a new month. Hitting's so contagious. You're one game away from busting out and being the great offense that they are and that they've been all year."
Dunn's mere presence in the lineup has the potential to help the A's hitters breathe a little easier.
"He's a guy that can change the game with one swing," said manager Bob Melvin. "He lengthens our lineup some, and probably takes some pressure off some guys."
"I'm not trying to come in here and save the world," Dunn said. "I'm just trying to come and fit in and just do me, but a little better version of it."
In 106 games with Chicago this year, Dunn posted a .220/.340/.433 slash line with 20 home runs and 54 RBIs.
The A's received Dunn and cash in exchange for right-handed pitching prospect Nolan Sanburn.
Aaron Leibowitz is an associate reporter for MLB.com. This story was not subject to the approval of Major League Baseball or its clubs.