Phils' combined no-no latest occurrence of rare feat
Hamels, Diekman, Giles and Papelbon join 10 previous instances in history books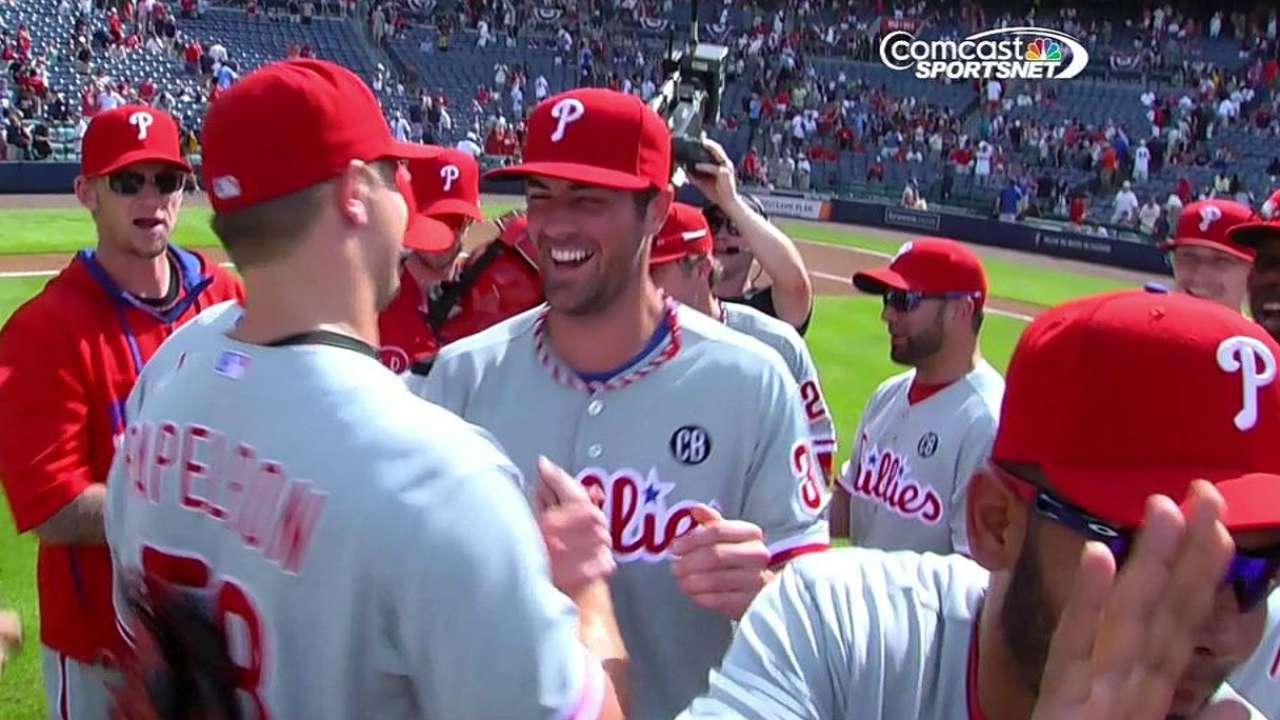 It doesn't happen often. In fact, it happens less frequently than a perfect game.
Phillies pitchers Cole Hamels, Jake Diekman, Ken Giles and Jonathan Papelbon did get it done, though, combining to no-hit the Braves in a 7-0 win at Turner Field on Monday. It was the 12th no-hitter in franchise history (including Roy Halladay's in the 2010 National League Division Series), and the 11th combined no-hitter in Major League history.
Hamels walked five, hit a batter and struck out seven on 108 pitches through six innings before manager Ryne Sandberg turned it over to the bullpen. The hit-by-pitch and four of those free passes came in the first three innings.
Combined no-hitters
Date
Team/Opponent
Pitchers
9/1/2014
PHI vs. ATL
4
6/8/2012
SEA vs. LAD
6
6/11/2003
HOU @NYY
6
7/12/1997
PIT vs. HOU
2
9/11/1991
ATL vs. SD
3
7/13/1991
BAL @ OAK
4
4/11/1990
CAL vs. SEA
2
7/28/1976
CWS @ OAK
2
9/28/1975
OAK vs. CAL
4
4/30/1967
BAL vs. DET GM 1*
2
6/23/1917
BOS vs. WAS GM 1
2
Diekman worked a perfect seventh with two strikeouts, then Giles fanned the side in the eighth. Papelbon finished it off in the ninth with a flyout, groundout and lineout for the franchise's first combined no-hitter.
The last team to use multiple pitchers in a no-hitter was the Mariners, against the Dodgers, in 2012. Starter Kevin Millwood left after the sixth inning with a groin injury and four relievers combined to throw the next two innings. Tom Wilhelmsen finished it off in the ninth for Seattle.
Before that, the Astros used six different arms to throw a no-no in 2003. The Pirates did it in 1997, as did the Braves and Orioles in 1991.
The Red Sox had baseball's first combined no-hitter in 1917, when Babe Ruth walked Eddie Foster to start a game against the Washington Senators. Ruth was ejected for arguing moments later.
Ernie Shore came on in relief and retired the next 26 batters he faced after Foster was caught stealing second. Major League Baseball recognized Shore's performance as a perfect game until 1991, when stricter no-hitter rules were put in place. It then became a combined no-hitter.
No team threw another combined no-no until 1967, when the Orioles did it but still fell to the Tigers, 2-1. Oakland had one in 1975, as did the White Sox in 1976 and the Angels in 1990. Five of the 11 combined no-hitters have featured just two pitchers. Philadelphia was the fifth team to use four or more.
The Phillies' last no-hitter came in the 2010 NLDS, when Halladay dominated the Reds during his first career playoff start. He threw a perfect game earlier that season. Carlos Ruiz caught both, and he was behind the plate again Monday.
Steven Petrella is an associate reporter for MLB.com. This story was not subject to the approval of Major League Baseball or its clubs.