DeJesus headlines list of September callups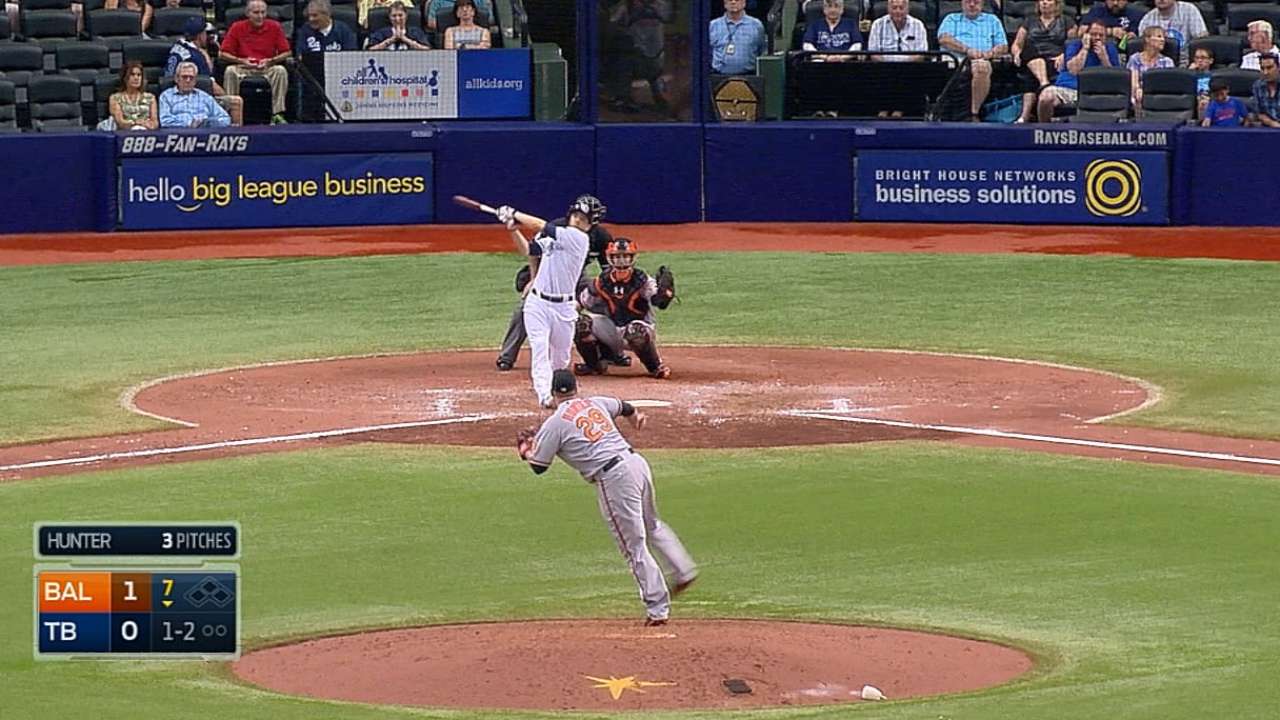 ST. PETERSBURG -- With MLB rosters expanding Monday, the Rays activated outfielder David DeJesus from the disabled list, recalled catcher Curt Casali from Class A Advanced Charlotte, recalled reliever Brandon Gomes from Triple-A Durham and selected the contract of reliever Steve Geltz from Durham.
DeJesus had been out of action since June 18 with a fractured left hand. After eight Minor League rehab games in which he went 5-for-22 with four walks, the left-handed-swinging DeJesus was active and starting at designated hitter for Monday's game against the Red Sox.
"I'm happy to be back," DeJesus said. "When you go down, it's always an honor to come back up."
Does he have any goals for September?
"Play. Play the game. I'm not going to put any pressure on myself," DeJesus said. "Every season, you want to finish strong. So that's what I want to do. I want to come out here and have a good end of the season and then come fresh next year. Nothing more than that."
Before he was hurt, the 34-year-old DeJesus was batting .269/.367/.440 in 62 games. He had been one of the team's more productive hitters and was leading the Rays in slugging percentage at the time of his injury.
Casali was with the Rays until about a week ago, when he was optioned to Charlotte to make room for fellow backstop Ryan Hanigan, who was returning from the DL.
The Rays sent Casali to Charlotte as opposed to Triple-A Durham because it allowed them to bring him back up without having to wait the usual 10 days, as Charlotte's season ended Sunday. Casali has now played at the Class A, Double-A, Triple-A and Major League levels this season.
"It is weird. This year in general has been pretty crazy for me," he said. "I wouldn't have it any other way. It builds character, and it's been fun."
Casali is hitting .169/.246/.203 in 23 games with the Rays.
Gomes started the season with the big league club before he was sent down May 19 to work out mechanical issues. The right-hander was recalled Aug. 13 and pitched in one game against the Rangers before heading back to the Minors on Aug. 16.
"I was giving up a lot of hits," Gomes said. "So we looked at video all the way back to the 2009 Fall League, and my mechanics were much more simple than they had been [this year]. I tried to take those into the game, and since then, the ball's been coming out better, and my command's been much, much sharper."
In splitting the season between Tampa Bay and Durham, Gomes has compiled a 2-2 record and 4.50 ERA in 24 innings with the Rays and a 3.62 ERA in 27 appearances for the Bulls.
Geltz was somewhat of an unexpected callup, as the right-hander has made only two appearances in his Major League career, both with the Angels in 2012. Interestingly, both of those outings, which each lasted an inning, were against the Rays.
"I was extremely surprised. Caught off-guard is an understatement," said Geltz, who found out when Bulls manager Charlie Montoyo chased him down from the team bus as it dropped him off at his apartment. He told Montoyo, "Well, this is a mean joke if you're playing a joke."
Geltz was not on the 40-man roster, so his contract had to be selected by the Rays. In the corresponding move Monday, Tampa Bay outrighted catcher Ali Solis to Durham, and Solis accepted his assignment.
Geltz, 26, has gone 3-3 with a 2.38 ERA, 60 strikeouts and only 17 walks in 41 2/3 innings over 29 appearances for Durham this season. He throws a fastball, slider and split-finger. He also received a 50-game suspension in May after testing positive for a drug of abuse in an offseason drug test.
David Adler is an associate reporter for MLB.com. This story was not subject to the approval of Major League Baseball or its clubs.