Brewers fall into second place after sixth straight loss
Nelson spins quality start, but offense falls just short against Cubs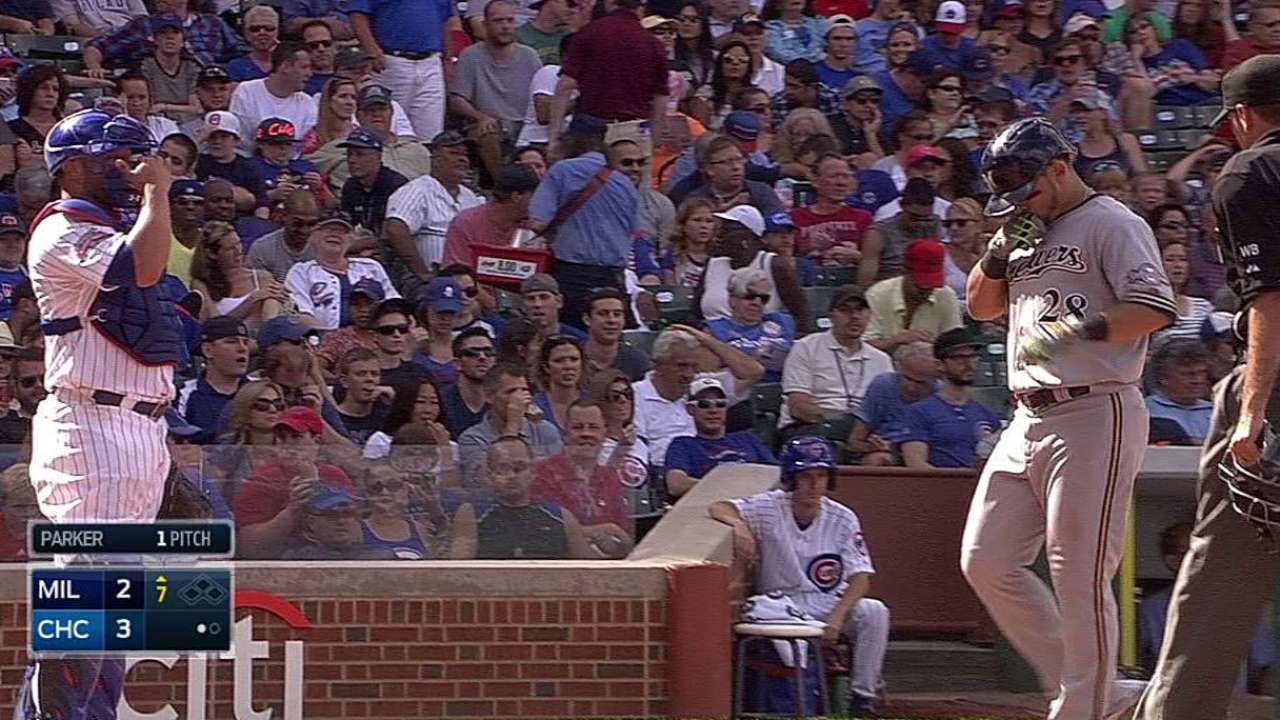 CHICAGO -- For the first time since April 4, the Brewers find themselves out of first place in the National League Central.
A 4-2 loss to the Cubs on Monday to open a three-game series at Wrigley Field coupled with the Cardinals' 5-4 win over the Pirates has given St. Louis sole possession of first by one game.
Monday's defeat extended Milwaukee's season-high skid to six games -- all on the road -- during which it's been outscored 42-13.
"We've had it before. We're going through a bad week and we need to change it," manager Ron Roenicke said. "It certainly can change in a hurry. It could change tomorrow."
Back-to-back homers in the seventh by Khris Davis and Gerardo Parra weren't enough to overcome a 3-0 Cubs cushion created in the first four innings.
Milwaukee led off the game with a pair of singles, and Scooter Gennett moved to third base after Ryan Braun grounded into a 5-4-3 double play. But former Cub Aramis Ramirez struck out to end the inning -- one of seven strikeouts issued by Cubs starter Jacob Turner.
The Brewers wouldn't put runners in scoring position again until Ramirez moved to second on defensive indifference with two outs in the ninth.
"That order has got to produce some runs," Roenicke said. "Still it's a nice lineup. We start off well and get two hits then get a double play. When we get people on base, we need to drive in some guys."
Only Parra, filling in for the injured Carlos Gomez, had a multi-hit game, going 3-for-4.
Jimmy Nelson, called up Monday as rosters expanded, allowed three earned runs on nine hits with a walk and four strikeouts in six innings.
"It was a step in the right direction," Nelson said. "Made a few mistakes there, caught too much of the plate on a few of the sliders. Like I've said before, [the Cubs] did what they were supposed to with them. Just tried to battle out there and give us a chance."
Cubs rookie Jorge Soler lined a pair of doubles and scored in the second on an RBI single by Welington Castillo. Soler became the third player in Major League history to hit for extra bases in each of his first five games. During that span, the mega-prospect is hitting .526 (10-for-19) with three homers, seven RBIs, four runs and four strikeouts.
Castillo extended the Cubs' lead to 3-0 with a two-run homer to left with two outs in the fourth. Luis Valbuena provided an insurance run with a homer in the eighth, extending the lead to 4-2.
Before giving up the long ball, Turner extended his scoreless streak to 12 2/3 innings against the Brewers, dating back to May 24 when he was with the Marlins.
"Good slider, good location on his fastball," Roenicke said. "Threw curveballs when he needed to get guys off balance. But he moves the ball around nice."
Turner left after Davis' homer in the sixth, finishing with the lone earned run, five hits and a walk in 6 1/3 innings. Blake Parker gave up the subsequent homer to Parra.
The Cubs, in the cellar of the NL Central for the bulk of the season, have won 20 of their last 35 and have played formidably during that stretch, mostly against contending teams.
"That it happens to be clubs that are contending -- is it a confidence booster? Maybe it is," Cubs manager Rick Renteria said. "It's that way because you're looking at clubs that are in contention that are doing certain things consistently over a period of time. We get to see what they're doing. What is it we can improve upon? At the end of the day like today, when we have a victory, you can say, maybe we can play with these guys."
The Brewers are coping with just the fifth day this season where they haven't been atop the NL Central.
"It's easy to get to the top," Davis said. "It's harder staying there."
Daniel Kramer is an associate reporter for MLB.com. This story was not subject to the approval of Major League Baseball or its clubs.