Castillo, Soler lead Cubs offense in win over Crew
Rookie right fielder smacks two doubles, scores run in Wrigley debut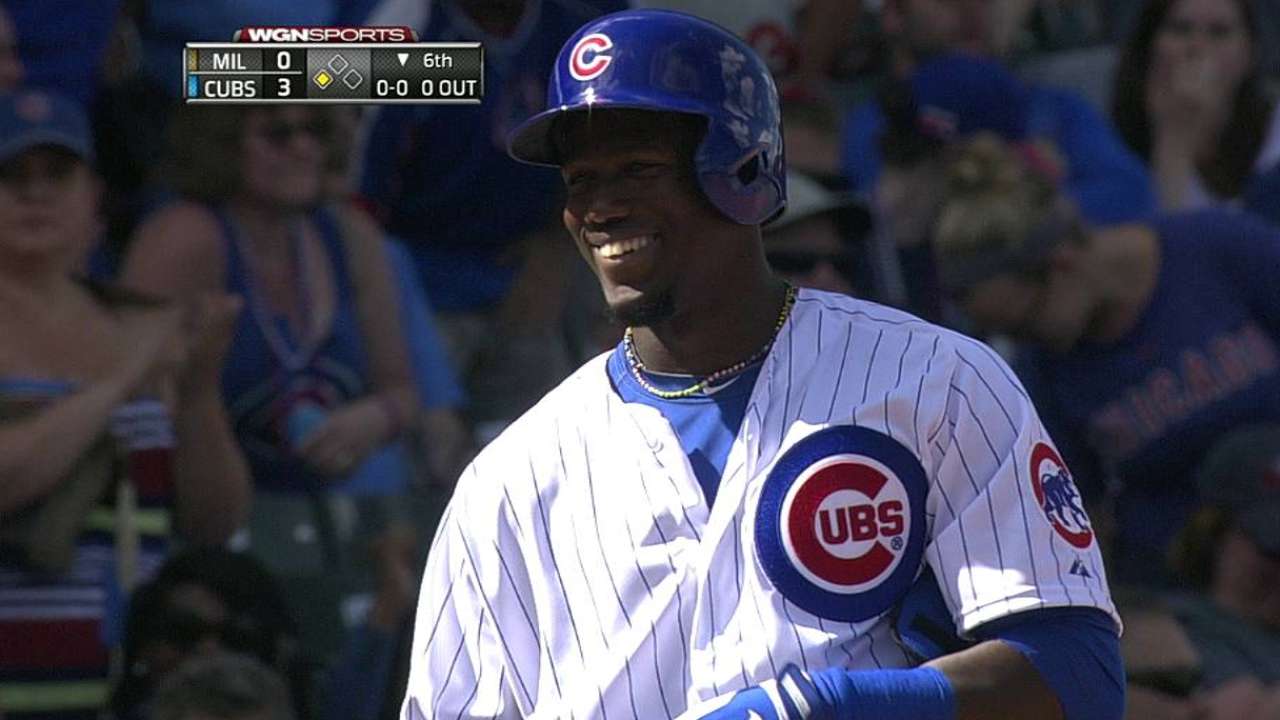 CHICAGO -- Jorge Soler was the only player who could out-shine the Jackie Robinson West Little Leaguers on Monday at Wrigley Field, and he did in his home debut.
Soler hit two doubles, including one in his first at-bat, and scored on an RBI single by Welington Castillo, who added a two-run home run, to lift the Cubs to a 4-2 win over the Brewers, who are fighting for a postseason berth.
With the loss, Milwaukee, which may have been a little jet lagged after a series in San Francisco, dropped one game behind first-place St. Louis in the Central Division. The Cardinals beat the Pirates, 5-4, on Monday.
"They always play us tough, so regardless of where we are, they play us good," Brewers manager Ron Roenicke said of the Cubs. "I always am concerned about a team that's talented and is free because they don't have any pressure on them right now. All they're doing is having fun and trying to knock off a lot of teams. That's not a good combination for us."
Monday was a day the Jackie Robinson West Little League team won't forget. The Chicago squad, which won the U.S. championship in Williamsport, Pa., was celebrated at Wrigley Field, and sang "Take Me Out to the Ball Game" during the seventh-inning stretch on the field in front of 32,054 fans.
But Soler was the star for the Cubs. In his first at-bat at Wrigley Field in the second inning, he smacked an opposite-field double and then scored on Castillo's bloop single to left.
Soler now has an extra-base hit in each of his first five games, and is the third player to do so in Major League history, joining Will Middlebrooks (2012) and Enos Slaughter (1938). Soler, 22, who signed a nine-year, $30 million contract in June 2012, also doubled to lead off the sixth and reached third on the play on an error by center fielder Gerardo Parra.
"He's an amazing player," said Luis Valbuena, who added a solo homer in the Chicago eighth. "Give him more games and you'll see what happens."
"For a guy who just got called up, it seems like he has a good approach at the plate," said Cubs starting pitcher Jacob Turner. "That's what I've been most impressed with. Obviously, he has a lot of power, but I think that approach at the plate will be the biggest key for the future."
Cubs fans' hearts must have skipped a beat when Castillo lined a ball foul down the left-field line in the sixth and it struck Soler, who was at third base. Fortunately, it hit the 6-foot-4 outfielder in the thick part of his right thigh.
"It stings -- any time you get hit with a ball that's coming 110 mph, I'm sure [it hurt]," Cubs manager Rick Renteria said.
In five games, Soler is 10-for-19 (.526) with four doubles and three home runs.
"He's got bat lag -- he stays inside of pitches really, really well, and then he stays through it and really gets extension," Renteria said. "He's what you call short to the ball and long through it."
Soler finishes his swing well, and because of his size, he creates a lot of force. It's a good combination. And it's not as easy as the 22-year-old is making it look.
"It's not easy," Soler said through coach Jose Flores.
Castillo connected in the fourth off Jimmy Nelson, driving in Starlin Castro, who had doubled. Valbuena's homer was his 16th of the season and fourth in his last seven games.
Turner picked up the win in his first career start at Wrigley Field, giving up one run on five hits over 6 1/3 innings. It was the right-hander's longest outing of the season since May 24 when he threw 6 1/3 scoreless innings for the Marlins against the Brewers in Miami.
"It's definitely a step in the right direction," Turner said of the outing. "I'm just happy I've been able to build on some of the stuff that me and [pitching coach Chris Bosio] have been working on. I made the pitches when I needed to when guys got on base, especially in the first inning. Getting through that catapulted me through the rest of the game."
What did Bosio tell him?
"A lot of it is just game calling and being smarter on the mound, and really using what makes me successful in the right way," Turner said.
The only run off the right-hander came with one out in the seventh when Khris Davis homered. The Cubs, in their never-ending quest for more pitching, acquired Turner from the Marlins for two Minor League players.
"Everybody has to understand the situation he went through," Renteria said of Turner, the Tigers' first-round pick in 2009, who made his big league debut in July 2011. "He was on the roster immediately, he was moved through the system. Rushing guys to the big leagues because everybody is excited about what they bring to the table isn't necessarily the right thing to do. Some kids are ready for it, some kids are not."
Soler looks ready.
Carrie Muskat is a reporter for MLB.com. She writes a blog, Muskat Ramblings, and you can follow her on Twitter @CarrieMuskat. This story was not subject to the approval of Major League Baseball or its clubs.