Soler, Bridwell are Pipeline Prospects of the Week
Cubs' slugger hit four HRs in five MLB games, O's hurler allowed two ERs in two starts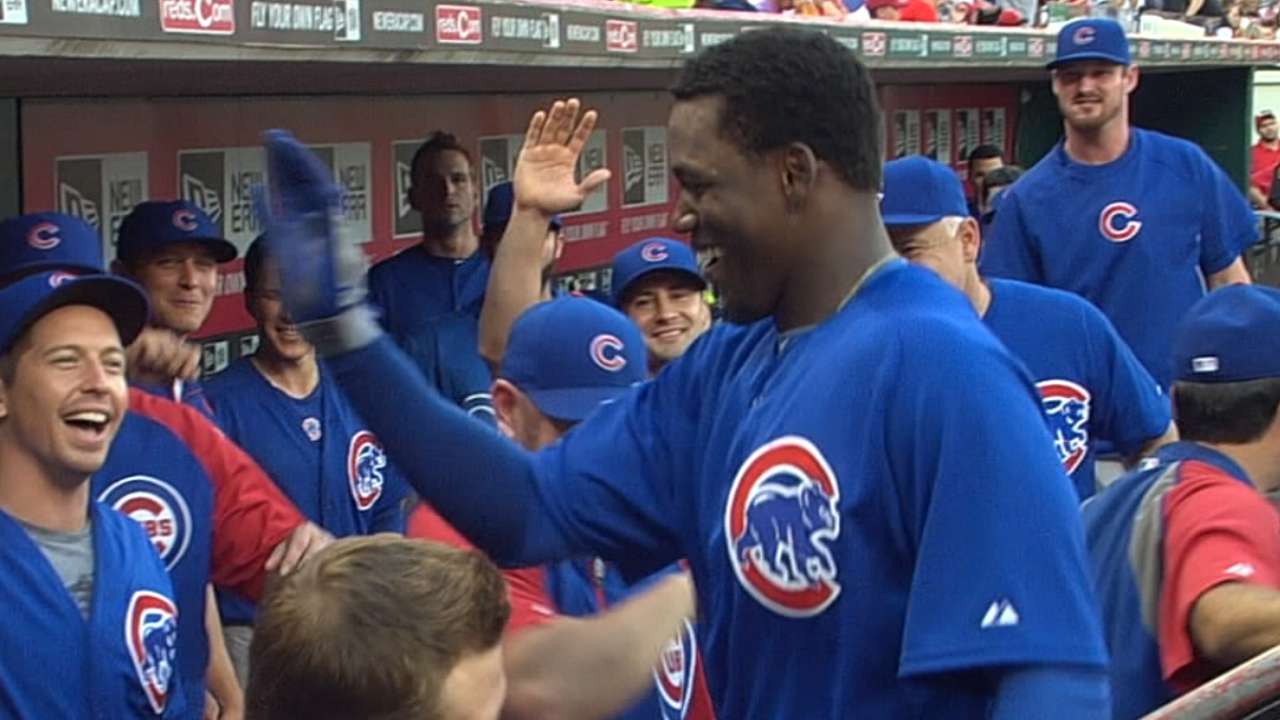 Throughout the season, the MLBPipeline.com staff will name Pipeline Prospects of the Week -- one hitter and one pitcher who excelled over the previous seven days. To qualify for selection, a player must rank among their organization's Top 20 Prospects, as listed Prospect Watch.
Pipeline Hitting Prospect of the Week: Jorge Soler, Iowa Cubs/Chicago Cubs
Cubs' No. 5 prospect, 5 G, 9-for-17 (.529/.556/1.353), 1.908 OPS, 4 HR, 10 RBI, 4 R
Soler, ranked No. 51 on MLBPipeline.com's Top 100 Prospects list, began last week with a home run for Triple-A Iowa and was called up to the Major Leagues later that night. He debuted with Chicago on Wednesday and then dazzled in his first four games in the big leagues. He homered in his first at bat and recorded at least one hit in all four games.
Soler's Major League debut came after he spent most of the first half of the season on the disabled list due to hamstring injuries. After a rehab assignment in the Rookie-level Arizona League, Soler returned to Double-A Tennessee in early July and played his way to the big leagues in less than two months.
In 54 games between Tennessee and Iowa this season, Soler hit .331/.422/.709 with 14 home runs. He is the latest top Cubs prospect to reach Chicago this season, joining the likes of Javier Baez and Arismendy Alcantara.
Honorable mention
Jesus Aguilar, 1B, Columbus Clippers: Indians' No. 10 prospect, 6 G, 12-for-26 (.462/.500/.885), 1.385 OPS, 2 HR, 8 RBI, 9 R
Christian Bethancourt, C, Gwinnett Braves: Braves' No. 3 prospect, 6 G, 13-for-25 (.520/.556/.680), 1.236 OPS, 1 HR, 5 RBI, 4 R, 2 SB
Stuart Turner, C, Fort Myers Miracle: Twins' No. 16 prospect, 5 G, 8-for-18 (.444/.524/.944), 1.468 OPS, 2 HR, 8 RBI, 5 R, 1 SB
Alex Verdugo, OF, AZL Dodgers/Ogden Raptors: Dodgers' No. 10 prospect, 5 G, 10-for-18 (.556/.652/1.000), 1.652 OPS, 1 HR, 8 RBI, 6 R, 2 SB
Pipeline Pitching Prospect of the Week: Parker Bridwell, Frederick Keys
Orioles' No. 12 prospect, 2-0, 1.29 ERA, 2 GS, 14 IP, 4 H, 2 R, 2 ER, 3 BB, 19 K
Bridwell seemed to do his best work this season against Class A Advanced Potomac. In May, in his first meeting with the Nationals' affiliate, he took a no-hitter into the ninth inning. Last week, he faced them twice, flirting with a perfect game last Monday and finishing the week with a pair of victories.
Last Monday, Bridwell carried a perfect game into the seventh inning in what was almost a carbon copy of his start against Potomac in May. But his bid for perfection ended when Nationals' No. 18 prospect Tony Renda singled with one out in the seventh. Bridwell settled for eight scoreless innings and a season-high 13 strikeouts.
Bridwell started again against Potomac on Saturday and, while there was no serious no-hit bid in that game he did turn in a quality start and earn the victory. The 23-year old ended the year 7-10 with a 4.45 ERA. He finished second in the Carolina League with 142 strikeouts and walked 70 batters in 141 2/3 innings.
Honorable mention
Sean Manaea, LHP, Wilmington Blue Rocks: Royals' No. 3 prospect, 1-0, 0.00 ERA, 1 GS, 7 IP, 3 H, 0 R, 0 ER, 0 BB, 12 K
Justin Nicolino, LHP, Jacksonville Suns: Marlins' No. 4 prospect, 2-0, 0.64 ERA, 2 GS, 14 IP, 7 H, 1 R, 1 ER, 0 BB, 9 K
Nick Travieso, RHP, Dayton Dragons: Reds' No. 8 prospect, 2-0, 0.75 ERA, 2 GS, 12 IP, 4 H, 1 R, 1 ER, 1 BB, 10 K
Teddy Cahill is a reporter for MLB.com. Follow him on Twitter at @tedcahill. This story was not subject to the approval of Major League Baseball or its clubs.