Hamels feels brotherly love in combined no-hitter
Diekman, Giles and Papelbon follow ace with dominant relief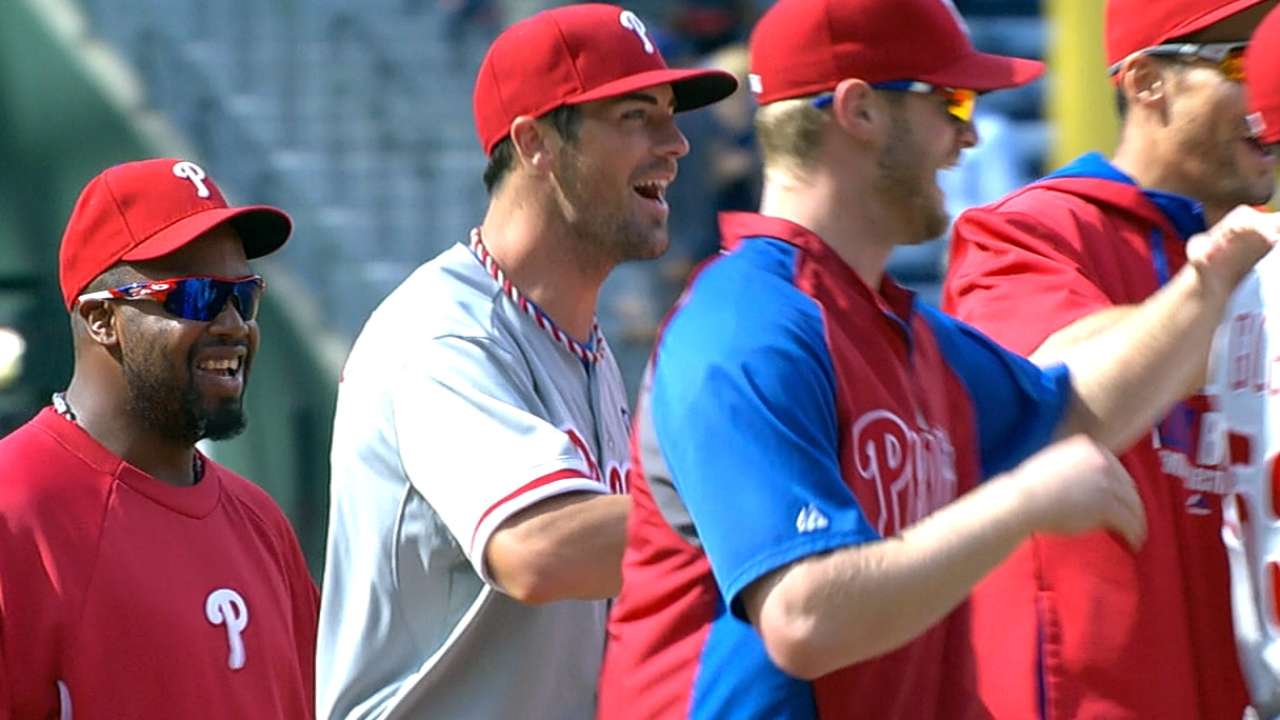 ATLANTA -- Cole Hamels had grandiose plans when he joined the big leagues in 2006.
Cy Young Awards.
No-hitters.
World Series championships.
Hamels often spoke about these things as a young pitcher. He got his ring in 2008, but he had been searching for his first National League Cy Young Award and no-hitter since. He got the latter Monday afternoon when four Phillies pitchers combined for a no-no in a 7-0 victory over the Braves at Turner Field. Hamels threw six innings before Jake Diekman, Ken Giles and Jonathan Papelbon finished the game.
The team broke out six bottles of champagne -- stashed somewhere in the ballpark for an occasion such as this -- for a postgame toast.
"This is a really good moment to cherish," Hamels said. "We're with each other seven or eight months a year. I know how difficult it is to go out there, throw nine innings, keep a pitch count within reason. And knowing that you're playing a competitive team that's fighting for a playoff spot, you know they aren't going to take it lightly. I think to be a part of something so special with these three guys and the whole team, there's no better way to sum it up.
"It sums up the fight all year, even though it hasn't gone the way we wanted."
Hamels threw 108 pitches, and on a hot and humid afternoon, Phillies manager Ryne Sandberg decided to pull his pitcher for pinch-hitter Grady Sizemore in the seventh.
"He was pretty well spent there," Sandberg said.
Sizemore walked to load the bases and Ben Revere cleared them with a triple for three of his five RBIs to break open the game and ease the burden on the staff.
"I understood around the sixth inning it was going to be a short game," Hamels said. "I wasn't really too worried about it."
Diekman said he first realized he was in the midst of a no-hitter when he looked up at the scoreboard as he jogged onto the field.
"All right," Diekman said, before he struck out two in a perfect seventh.
Giles said he knew what was on the line. It didn't bother him. He struck out the side in a perfect eighth to set up Papelbon for the first combined no-hitter in franchise history.
"I didn't expect to go in, though," Giles said. "I was hoping Cole would be able to finish it by himself, but it's always OK to ask for help once in a while. It's a great thing to be a part of."
Papelbon said before the game he wanted to pitch Monday regardless of the score or situation, because he needed work after pitching just once since Aug. 26. The Phillies called the bullpen later in the game to see if he still felt that way.
"Yeah, I want to have an opportunity to be a part of this," Papelbon said.
Papelbon got pinch-hitter Jose Constanza to fly out to left fielder Domonic Brown, Chris Johnson to ground out up the middle to Jimmy Rollins and Phil Gosselin to hit a soft line drive to first baseman Darin Ruf to end the game.
Papelbon gave a fist pump to catcher Carlos Ruiz as teammates ran onto the field to celebrate on the mound.
It was the 12th no-hitter in Phillies history, including Roy Halladay's effort in Game 1 of the 2010 NL Division Series.
"I'm sure it's cool for them, but it's just a loss for us," Johnson said. "Tomorrow we'll come out and try to win a ballgame."
The last pitcher to be pulled after six no-hit innings was Seattle's Kevin Millwood on June 8, 2012, when he left with a groin injury. Five Mariners relievers combined with Millwood for a no-hitter against the Dodgers.
The last Phillies pitcher to be pulled after six no-hit innings was David West on May 29, 1994, when he left because he had not been stretched out. It was his second start since being converted from a reliever. Heathcliff Slocumb allowed two hits in the ninth inning to end the no-hit bid.
Hamels said they would dedicate the ball used to record the final out to Phillies president David Montgomery, who took a leave of absence last week to battle jaw bone cancer. Montgomery is highly regarded among players and the organization.
It was a nice touch to a fine afternoon in an otherwise forgettable season.
"It's definitely been a rough go at it this year for our ballclub," Papelbon said. "I think it's a cool experience."
"I was trying to enjoy the moment as much as possible," Hamels said. "I'm happy the outcome came out the way that it did, because this is truly one of the better experiences you can probably have in this sort of situation because it was a whole complete team effort.
"Most of the time when you see these events, it's one or two people, a great play. This really took four outstanding pitchers to go out there, a good game called by Chooch [Carlos Ruiz] and some big plays in the outfield with Marlon [Byrd]. It was a full team effort and I think we all can really enjoy it that much more for what it means and what it means for the organization."
Todd Zolecki is a reporter for MLB.com. This story was not subject to the approval of Major League Baseball or its clubs.