MLB.com Columnist
Roger Schlueter
MLB Notebook: Gattis gives Wood big assist
Catcher punctuates another Braves shutout with towering home run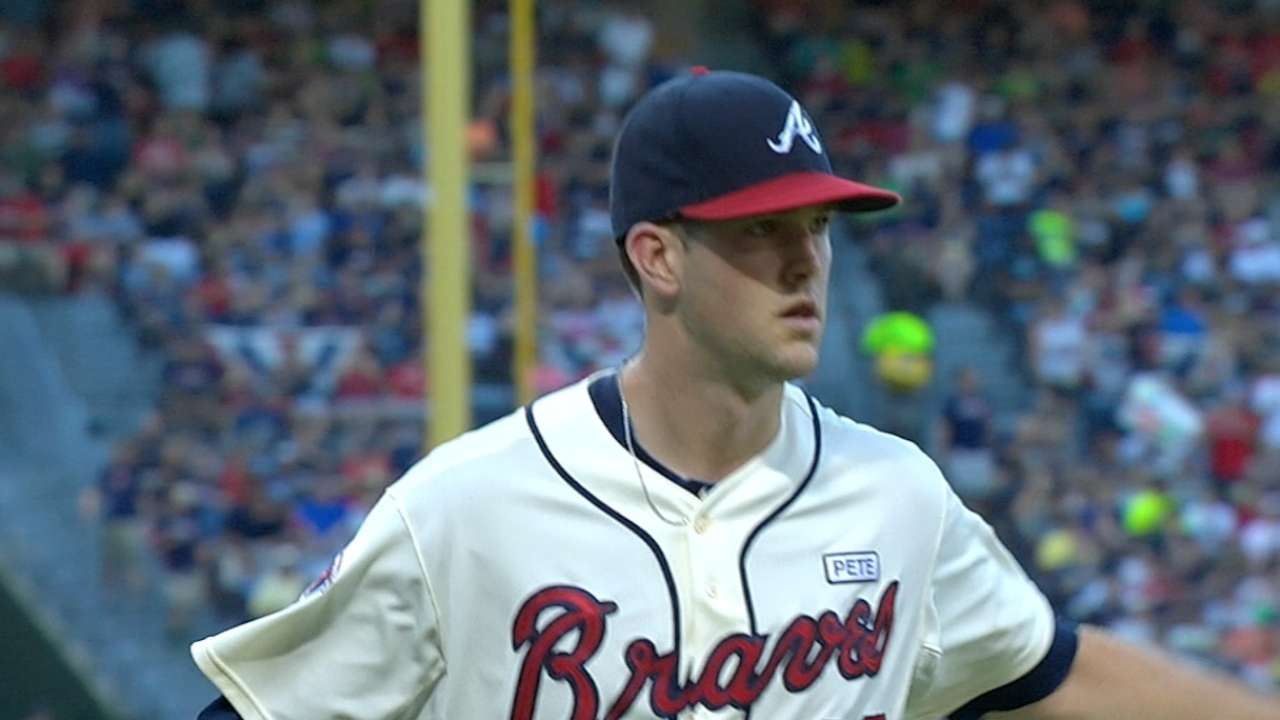 On June 17, 1938, in the first game of a doubleheader at Braves Field in Boston, Jim Turner's batterymate Ray Mueller must have made his pitcher very happy. In addition to helping orchestrate a five-hit shutout with the right-handed-throwing Turner, Mueller connected against Bill Lee in the seventh inning for the game's only run. No Braves starting catcher would again homer in a 1-0 win until April 16, 2014, when Evan Gattis -- in support of Julio Teheran's eventual three-hit shutout -- took Cliff Lee deep in the fourth inning. The Braves would not have to wait nearly so long for a repeat of this feat, as Gattis now has two such efforts in his sophomore season, and Alex Wood, like Turner and Teheran before him, can smile extra wide at this.
Youngest LHPs with 12+ K's, no BB
| Pitcher | Date | Age | K's | Runs |
| --- | --- | --- | --- | --- |
| Vida Blue | July 9, 1971 | 21.346 | 17 | 0 |
| Frank Tanana | June 21, 1975 | 21.353 | 17 | 2 |
| Clayton Kershaw | July 8, 2010 | 22.111 | 12 | 2 |
| John Candelaria | June 1, 1976 | 22.208 | 12 | 2 |
| Madison Bumgarner | June 12, 2012 | 22.316 | 12 | 2 |
| Frank Tanana | May 31, 1976 | 22.333 | 12 | 2 |
| Dennis Bennett | Sept. 14, 1962 | 22.344 | 13 | 1 |
| Scott Kazmir | Aug. 25, 2007 | 23.213 | 13 | 3 |
| Alex Wood | Aug. 31, 2014 | 23.231 | 12 | 0 |
At the age of 23 years and 231 days, Wood worked eight scoreless innings and finished his day with 12 K's and no walks as the Braves topped the Marlins, 1-0, on Sunday. Wood is the ninth-youngest left-hander since 1914 to have a game with at least 12 K's and no walks, and one of two on this list of nine to also allow no runs.
The Braves' lone run came from Gattis' 21st home run of the season. The game is the third this season in which Atlanta has won, 1-0, with the lone run the result of a homer. Dating back to 1914, only one other Braves team has produced three such games in one year -- the 2011 club. The Braves' three are the second most in the Majors in 2014, with the Cardinals having four such games (no other team has more than one). Those four by the Cardinals tie St. Louis with the 1964 Angels for the most in any season for any team since 1914.
Stars of Clay
Clay Buchholz hurled a three-hit shutout with six strikeouts and no walks as the Red Sox defeated the Rays, 3-0. On July 13 of this year, Buchholz tossed a three-hit shutout with 12 K's and no walks, and with this effort at the end of August, he is the second Red Sox pitcher since 1914 -- after Pedro Martinez in 2000 (who else, when else?) -- to have multiple no-walk shutouts on three or fewer hits in one season. The last season in which a pitcher had at least two such outings was 2012, when Tampa Bay's James Shields, Seattle's Felix Hernandez and San Francisco's Matt Cain all did it.
Potential plateau a tall order
Getting a four-hit, two-double effort from American League batting leader Jose Altuve, the Astros defeated the Rangers, 3-2. With the line, Altuve has 37 doubles among his 189 hits to go along 49 stolen bases. Altuve's listed height (5-foot-6) makes the potential line of 200 hits, 40 doubles and 50 steals a noteworthy plateau to consider. In the modern era, there have been six players to have a 200-hit, 40-double, 50-steal season. Ty Cobb (listed at 6-foot-1) did it in 1911 and 1917; Tris Speaker (listed at 5-foot-11) in 1912; Hanley Ramirez (listed at 6-foot-2) in 2007; George Sisler (listed at 5-foot-11) in 1922; Craig Biggio (listed at 5-foot-11) in 1998; and Federal Leaguer Benny Kauff (listed at 5-foot-8) in 1914.
Halos effect
The Angels wrapped up a four-game sweep of the Athletics with an emphatic 8-1 victory and now own a five-game cushion over Oakland for first place in the AL West. The Athletics -- who entered the series with a Major League-best +165 run differential -- were outscored in the four-game sweep, 18-4. The Angels improved to 47-24 at home (.662), the best record at home in the Majors.
With the sweep, the Angels finished August 19-10, and since July 1, they are 38-18 (their winning percentage since July 1 is the second best in the Majors, just a stitch behind the Orioles' mark).
In the Angels victory, Matt Shoemaker allowed five hits in seven scoreless innings to improve to 14-4 on the season. In each of his past three starts, Shoemaker has gone at least seven innings and allowed no runs. The last Angels pitcher to do this within the boundaries of a single season was Rudy May in 1973. Shoemaker's 14 victories tie him with Dean Chance (1962), Marcelino Lopez ('65) and Frank Tanana (1974) for the Angels rookie record.
Iwakuma saves the day
With his Mariners riding a three-game losing streak, Hisashi Iwakuma allowed three runs in six innings and picked up his 13th win of the season. In addition to helping stop the Mariners' skid, Iwakuma issued zero walks. In 23 starts, Iwakuma has thrown 155 1/3 innings and issued 13 walks. In 13 of his starts, he has finished with at least six innings and no walks allowed.
Those 13 starts with six-plus innings and no walks tie Iwakuma for the most in the Majors, with Minnesota's Phil Hughes also at the figure. Over the last 20 seasons, Greg Maddux's 17 in 2001 are the most. The highest figure for an AL pitcher over this span of seasons belongs to the Yankees' David Wells (2003) and the Twins' Carlos Silva (2005) -- each had 16.
Iwakuma is allowing 0.75 walks per nine innings. There have been seven qualifying pitchers since 1893 to finish a year with a BB/9 rate no higher than 0.75: Silva, 2005 (0.43); Christy Mathewson, 1913 (0.62) and '14 (0.66); Babe Adams, 1920 (0.62); Bret Saberhagen, 1994 (0.66); Cy Young, 1904 (0.69); and Red Lucas, 1933 (0.74).
The Bryce is right
At 21 years and 319 days old, Washington's Bryce Harper produced his fifth career multihomer game and now has 52 career home runs. Harper is one of five players since 1914 to have at least five multihomer games by this age. Mel Ott had eight, Eddie Mathews and Andruw Jones each had six and Al Kaline had five.
No bummer here
Benefiting from a 16-hit attack in which the Giants defeated the Brewers, 15-5, Madison Bumgarner cruised to his 16th win with a six-inning, one-run effort. Bumgarner finished August with a 1.57 ERA in six starts. The last Giants southpaw to make at least six starts in an August and close the month with an ERA as low was Bill Walker (0.93) in 1931.
Roger Schlueter is senior researcher for MLB Productions. This story was not subject to the approval of Major League Baseball or its clubs.