Cespedes forces extras, but Sox suffer loss
Slugger hits game-tying single in eighth; Napoli belts 17th home run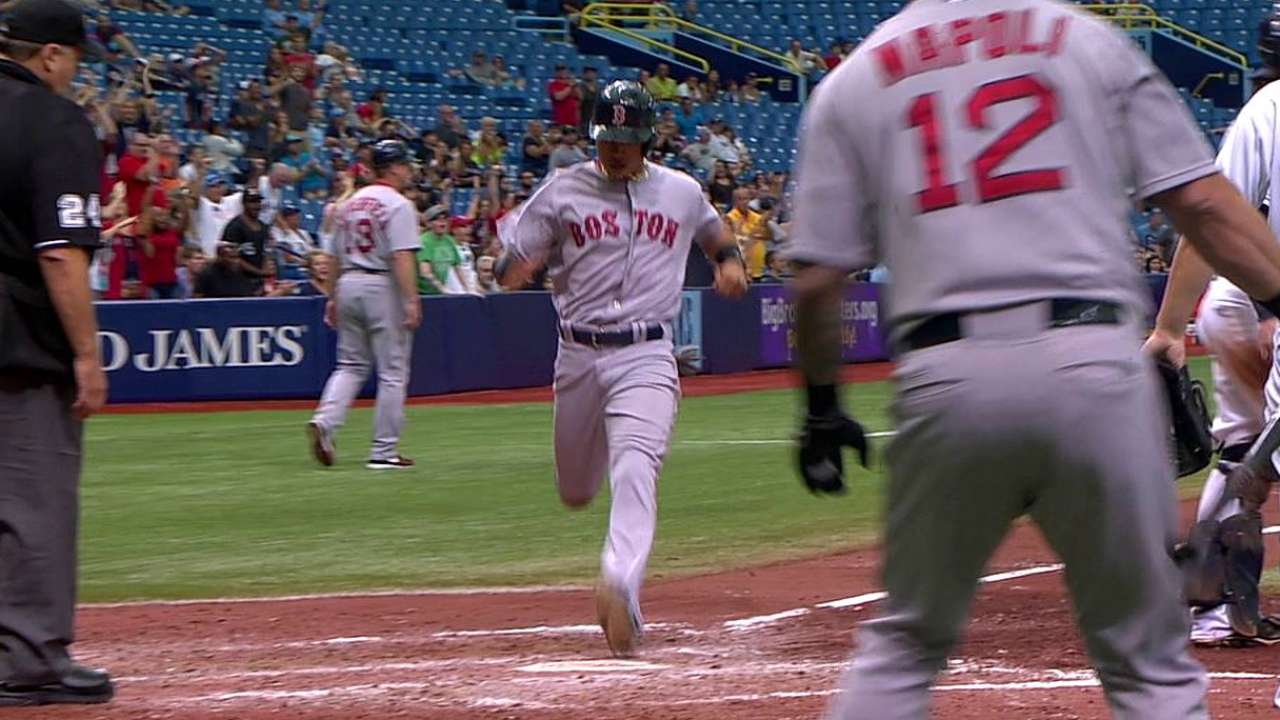 ST. PETERSBURG -- Yoenis Cespedes had already kept the Red Sox in the game with his bat, rifling a game-tying single in the eighth inning.
Two innings later, he tried to keep them in it once more with his cannon arm.
Ryan Hanigan led off with a hard grounder that went all the way to the wall. Against any other left fielder in baseball, it's an automatic double. But there is never any certainty in running on Cespedes, who made a tremendous throw to second.
The Red Sox didn't get the call, even after manager John Farrell challenged it. That double by Hanigan wound up being the key for the Rays in their 4-3, 10-inning win over the Red Sox.
"I thought he was out," said Farrell. "I thought it was a [darn] good throw, which we've seen any time there's been opportunities for him to cut down a baserunner. It's a true weapon."
Burke Badenhop then issued an intentional walk to Kevin Kiermaier. After a sacrifice bunt by Ben Zobrist, Badenhop also intentionally walked Wil Myers.
If Badenhop, a noted ground-ball specialist, could get one, perhaps the Red Sox could test their luck in the 11th inning. But Matt Joyce stung a flyball to deep left that went down as a walk-off RBI single.
Cespedes probably could have caught the ball if he pursued it. But knowing it was plenty deep enough to be a sacrifice fly, the left fielder walked off the field without giving pursuit.
"I was surprised they walked [Kiermaier], and I was still surprised that they walked Wil," said Joyce. "But, obviously, I was excited about the opportunity and ready for that challenge."
And Hanigan was relieved that his gamble to run on Cespedes paid off.
"I was already committed to going, and it was obviously as close as it gets, really," said Hanigan. "But hey, we got a call, and it looked like I got it in there. It set us up to get a guy in scoring position for that W."
Just a half-inning earlier, the Red Sox took themselves out of scoring position.
Christian Vazquez tried to get a go-ahead rally started for Boston in the 10th when he raked a one-out single. Off the bench came Jemile Weeks, who was making his debut for the Red Sox two days after being traded over from the Orioles. Weeks was swiftly picked off by Rays right-hander Grant Balfour.
"At some point, out of those next two batters, I was going to make an attempt," said Weeks. "Percentages show he wasn't going to pick off again, so we kind of leaned toward going at that moment. You play the percentages sometimes. He broke the percentages that time. I tried to get back and didn't make it."
With two outs in the top of the eighth, Cespedes came up with a game-tying RBI single to left on a 3-2 pitch from Steve Geltz, who was making his Rays debut.
Top prospect Mookie Betts got the rally started with a one-out single to left and scored from second on the equalizer by Cespedes.
"Yeah, his RBI-ability, when RBIs are presented, regardless of the time of the game, but particularly late, it's been very impressive," said Farrell. "He's not fearful of situations. He likes the moment and repeatedly comes through."
Rubby De La Rosa turned in a decent performance, going 5 1/3 innings while allowing six hits and three runs. He walked none and struck out four.
"He's powerful, he had better secondary stuff than last time out," said Farrell. "I thought he made a number of quality pitches. So many foul balls, which is a product of very good stuff. That ran the pitch count up and we're not at the point where we're looking to extend him too far. I thought he kept composure. I thought he repeated his delivery well. That was a solid 5 1/3 innings of work today."
The Red Sox jumped out first. Vazquez reached on a two-out walk in the third against lefty Drew Smyly and wound up scoring on an RBI double to the gap in left-center by Betts.
De La Rosa gave the momentum right back to the Rays in the bottom of the third. Hanigan opened the rally with a leadoff single. Zobrist reached on a one-out infield single. Myers pummeled an RBI double to right to tie the game at 1. Evan Longoria then struck a two-out, two-run single up the middle to make it 3-1, Tampa Bay.
"Ideally, it's a zero following the times we score," said Farrell. "It continues to be a point of emphasis with young pitchers, young starters in particular. A couple of base hits the other way and then obviously Longoria hits a good pitch down and away for the two-RBI [single]. But still, he kept things in check for the most part."
Mike Napoli drew Boston a run closer in the fourth when he hammered his 17th homer of the season, a one-out solo shot to left.
In the fifth, Xander Bogaerts helped run the Red Sox out of a possible rally. After a one-out double, he was caught trying to steal third.
"With Smyly's unloading time getting up to the 1.7 range, we feel like we've got the ability to take an extra 90 feet," said Farrell. "But he's typically going to score on a base hit. One of the prerequisites is to make sure that runner feels like he can have a success rate of 100 percent. You're never looking to get a guy thrown out, particularly at third base."
Ian Browne is a reporter for MLB.com. Read his blog, Brownie Points, and follow him on Twitter @IanMBrowne. This story was not subject to the approval of Major League Baseball or its clubs.