MLB.com Columnist
Megan Zahneis
Behind the scenes of a Reds documentary
A unique look at everything that happens at a ballpark between games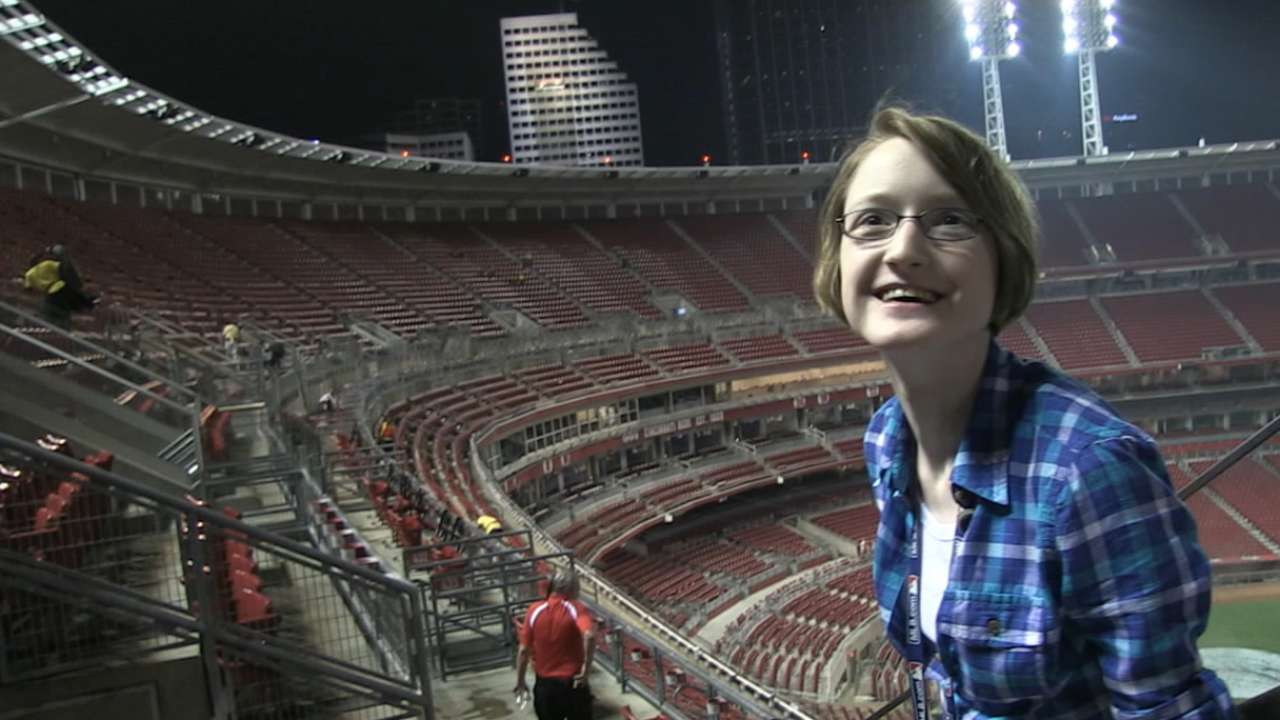 Co-writing, narrating and starring in a baseball documentary is one of those things I never would have predicted I'd do as an extension of my job with Major League Baseball.
But I'm certainly not complaining about it.
During Opening Week 2012, back when I was a wide-eyed 15-year-old snapping a million pictures while on the field at Great American Ball Park, the AA batteries in my point-and-shoot camera died. A nice guy standing near me with a camera that probably costs 10 times as much as mine took notice and gave me a few of his spares.
That guy was Craig Lindvahl, a documentary filmmaker whose production company, Callan Films, has churned out a number of remarkable films, baseball-related and otherwise.
Craig and I became fast friends, and before I knew it, he asked me if I would be willing to work with him on his latest project, tentatively entitled "From the End to the Beginning," which would follow various Reds staffers as they prepared the ballpark for a game -- from the end of the previous game.
I said yes, and this past summer, Craig and I taped many of the segments that will appear in the film. What a weekend it was.
It started when Craig told me that although we'd be filming over a stretch of three days, I'd need to be wearing the same outfit the entire time the cameras were rolling to ensure a sense of continuity. That meant my mom had to go buy me two of the same shirt.
The novelty of the entire affair kicked in when Craig mic'd me up for the first time -- and let me use an actual clapperboard! -- then quickly faded as he focused his camera in on me. I was nervous!
Over the course of the weekend, Craig and I taped interviews with the Reds' director of ballpark operations, a groundskeeper, an usher, a night crew supervisor and a maintenance director.
I quickly learned how to think and talk off-the-cuff as I filmed short reflective segments to be inserted between interviews. This proved to be difficult, especially at first, because Craig would give me four or five separate thoughts to blend together -- and I had to do it seamlessly for the show. Naturally, I gave Craig enough material for a veritable blooper reel, but by the time our time was up, talking in front of a camera became old hat to me.
As beneficial as the experience was for my interview skills, it may have been even better for me as a writer. I discovered the parallels and differences between column writing and scriptwriting as Craig and I delved into a rough draft of our script.
I gained an understanding of which phrases were better to use than others for the purpose of eliciting a different response in readers -- similar to the lesson I got in wording a question at the All-Star Game -- and of how to introduce characters and concepts at the appropriate times. I learned about making proper transitions from one segment to another and about including only the things viewers would be most interested in.
And now that it's all over, I'm 17, but still wide-eyed in awe of baseball and everything that happens around it. And I've got a new friend -- and a new film -- to prove it. I couldn't be more excited to share this with my MLB.com readers.
This is a truly unique glimpse at everything that happens at a Major League ballpark from the last pitch of one ballgame to the first pitch of the next. I can't wait for you to watch "A Ballpark Story."
Meggie Zahneis, winner of the 2011 Breaking Barriers essay contest, earned the job of youth correspondent for MLB.com in the fall of '11. This story was not subject to the approval of Major League Baseball or its clubs.