MLB.com Columnist
Anthony Castrovince
Teams bank on small-sample magic with August deals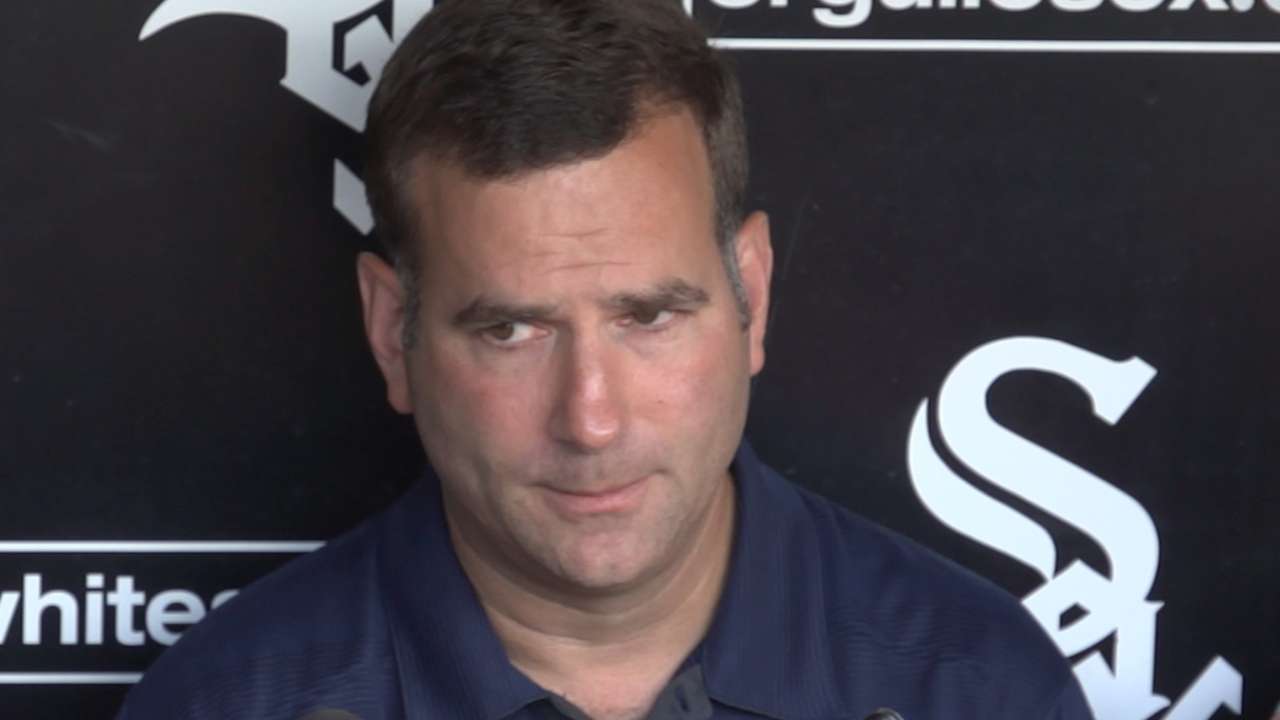 August has traditionally been a difficult time to get substantial trades done. But with so many clubs in contention and with several non-contenders in a financially flexible position, that notion was taken to a new extreme this year. There are strategic elements to the waiver-wire activity that sometimes go beyond the present tense.
When the Cubs, for example, put in a claim on Cole Hamels (preventing Hamels from reaching any of the contending teams), they gave themselves an exclusive negotiating window with the Phillies to check in on what it would take to land him and whether Philly might be looking to move the lefty this winter. It was a cost-free, guilt-free method of monitoring that particular market.
No harm, no foul and, yes, no deal. And this was a somewhat typical case.
Everyone thought August would be the month the Phils would start unloading some veteran players with big contracts (Hamels, A.J. Burnett, Marlon Byrd and Jonathan Papelbon). Well, the month came and went, and the only guys they moved were Roberto Hernandez and John Mayberry Jr. Bartolo Colon, Alex Rios, Ben Zobrist, Yunel Escobar, Neal Cotts, Mat Latos, Joaquin Benoit and John Danks were also among those rumored to possibly move. None did.
But some guys did manage to sneak through the cracks, and some contenders did manage to patch a troublesome spot with the hope of some small-sample magic.
As we head into the September home stretch, here's a rundown of the most significant August acquisitions by contending teams that took place before Sunday's deadline for postseason eligibility.
Adam Dunn and Geovany Soto, A's: Dunn's 14-year career, which has seen him appear in nearly 2,000 games, is reportedly coming to a close. And it could end with his first postseason appearance. The A's scooped up "Big Donkey" on Sunday, and not a moment too soon -- the club's offensive performance had plummeted after the departure of Yoenis Cespedes in the Jon Lester trade. Cespedes and Dunn have similar runs created weighted marks, and Dunn's power bat should help the A's in the left-handed DH spot, where John Jaso had spent a lot of time before his recent concussion woes and where Coco Crisp's ongoing neck issues limit his availability.
Jaso's concussion issues also prompted the arrival of Soto from the Rangers. Soto is now serving as the backup to Derek Norris.
The A's have made move after move after move this season to try to chase a happy ending, and they'll need Dunn to help them in a hurry as they chase the Angels in the American League West.
Matt Thornton, Nationals: The Nats have had one of the National League's more consistent bullpens this season, but they wanted another left-handed look to pair with Ross Detwiler and Jerry Blevins. It was actually a somewhat curious move on the part of the Yankees to let Thornton go in the midst of their own playoff push, especially as they wound up adding lefty specialist Josh Outman from the Indians later in the month. But they certainly saved some cash, as Thornton was in the first year of a two-year, $7 million contract.
So, yes, the Nationals took on some salary, but they've gotten a veteran who still throws gas and has given them eight scoreless innings in 10 appearances thus far. He's a nice pickup for a deep pitching staff.
Jonathan Broxton, Brewers: The Brew Crew had been on the hunt for bullpen help for a while, but Doug Melvin understandably balked at the July price tags for relievers. In claiming Broxton off waivers from the division rival Reds on Sunday, Melvin strengthened the right-hand side of a bullpen that was weakened by the season-ending injuries to Tyler Thornburg and Jim Henderson.
Broxton had a 1.86 ERA with a 1.014 WHIP in 48 1/3 innings over 51 appearances with Cincinnati this season. He had filled in as the Reds' closer at the outset of the season, when Aroldis Chapman was on the DL.
Gordon Beckham and Vinnie Pestano, Angels: Well, in truth, we wouldn't classify either of these as a significant acquisition. Beckham's career had taken a frustrating turn for the worse with the White Sox, and Pestano was a once-dominant setup man struggling to find his old form in the Indians' organization. They were acquired as depth pieces in the infield and bullpen.
What's significant is what the Halos didn't do this month, and that's acquire a starting pitcher. The Angels, probably more than any other team, had incentive to do so, given the sting of losing Garrett Richards and Tyler Skaggs. Maybe Colon, who passed through waivers unclaimed, would have been a worthwhile pickup, but the Halos would have likely had to take on the $11 million in salary he'll command in 2015. It's hard to blame an Angels team already inching toward the luxury tax threshold for 2015 abstaining from that territory.
The Halos have built a five-game edge in the AL West, and they feel they have the depth options -- particularly now that rosters are expanding -- on the 40-man roster to get through September with that lead intact. We shall see.
Kelly Johnson and Alejandro De Aza, Orioles: The O's had a busy weekend in waiver trade territory, as they sought not just to maintain their large AL East advantage but better position themselves for October.
To help offset the loss of Manny Machado, Johnson was brought to his third AL East team of the season. At the plate, he had been something of a non-factor this year, turning in a .212/.290/.354 slash line. But Johnson is an adept defender at the hot corner, and that's important to a Baltimore team that, before Machado went down, had arguably baseball's best defense on the left side of the infield.
Outfielder De Aza is also a solid defender, and the O's are hoping the slugging percentage that took a significant step back in Chicago this season will reveal itself down the stretch. He'll be in a backup role to Nelson Cruz, Adam Jones and Nick Markakis.
Roberto Hernandez and Kevin Correia, Dodgers: It was not long ago that the Dodgers' starting staff was considered a candidate for best in baseball, and it was widely assumed they had the prospect pieces to make it an unbelievable unit by adding David Price. The Dodgers, though, passed on Price in July, and they found their pitching depth tested in August, losing Josh Beckett to the hip impingement that had given him trouble much of the year, losing swing man Paul Maholm, watching Zack Greinke pitch through some elbow discomfort and Hyun-Jin Ryu briefly depart with a buttocks strain.
Correia was acquired from the Twins primarily as a bullpen piece, though he did make three starts that ranged from decent to horrendous. He's working exclusively out of the bullpen right now.
Hernandez, meanwhile, has been a surprisingly solid pickup for the Dodgers in this stretch run. He'll make his fifth start for the club Monday, and he's gone 2-1 with a 3.52 ERA, limiting opponents to a .247 average and .574 OPS.
Josh Willingham, Royals: At the July 31 non-waiver Trade Deadline, the Royals had talks with the Twins about Willingham, but, ultimately, they weren't willing to take on the more than $2 million owed to him through season's end. But that was before Kansas City went on its early August surge up the AL Central standings, and, two weeks later, the Royals were suddenly willing to swallow Willingham's salary (by that point, roughly $1.8 million) in order to add another power bat to their arsenal.
Willingham had been battling both injuries and ineffectiveness with Minnesota the past two seasons, but Kansas City appears to have grabbed him at the right time. Entering Sunday night's game against the Indians, he had an .866 OPS, two homers and four doubles in 45 at-bats with his new club.
Anthony Castrovince is a reporter for MLB.com. Read his columns and follow him on Twitter at @Castrovince. This story was not subject to the approval of Major League Baseball or its clubs.