Six errors too much for Mets to overcome
Herrera belts first Major League home run and drives in three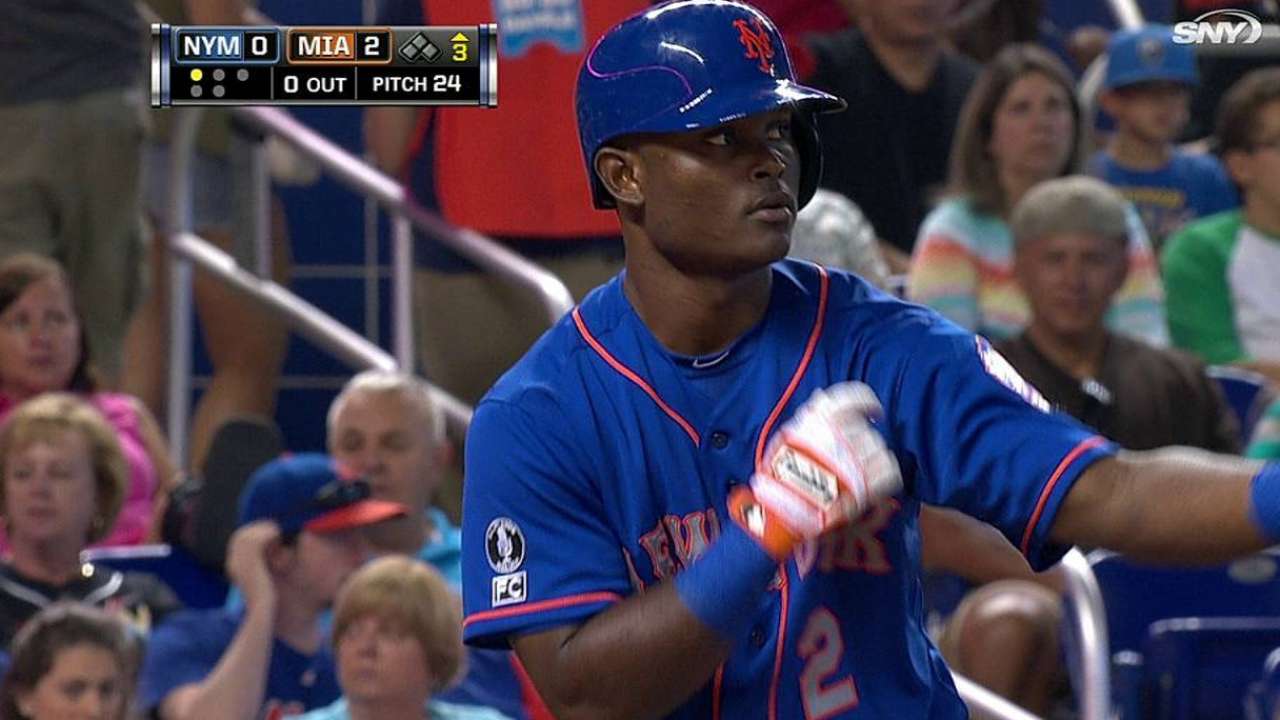 MIAMI -- For non-contending teams, September is a month for growth. The Mets know now that they won't be involved in postseason play. They are at peace with it. So over the season's final four weeks, they simply want to set themselves up as well as possible for 2015.
Monday's Labor Day matinee at Marlins Park showcased exactly the type of thing they'd like to avoid going forward. The Mets committed a half-dozen defensive errors in a 9-6 loss to the Marlins, allowing the winning run to cross home on a wild pitch.
"It [wasn't] a big league baseball game," manager Terry Collins said. "I can tell you that."
Stuck in a 6-6 tie in the eighth, reliever Jeurys Familia gave up a leadoff double on a ball that deflected off outfielder Eric Campbell's glove, before committing a throwing error on a sacrifice-bunt attempt to put runners on the corners with no outs. Familia then allowed the go-ahead run to score on a wild pitch, which catcher Travis d'Arnaud exacerbated by making a throwing error of his own on the play.
"I think I'm trying to be too quick," said Familia, who has a growing recent history of similar miscues. "I think I've got to throw it perfect, so sometimes I try to be too quick with the ball and then I throw it away."
Following an intentional walk, Familia committed yet another throwing error on another bunt attempt, allowing the Marlins' eighth run to score. From there, he gave way to rookie Erik Goeddel, who intentionally walked the first batter of his big league career before forcing in a run with an unintentional walk.
The Mets never recovered.
"I'm not sure I can say it publicly," Collins said when asked how he felt about the six errors. "There were a lot of the phases of the game that weren't very good."
The game's first six innings were a tangle of timely hits and untimely defensive lapses for both teams, cumulatively resulting in a stalemate. The Mets took an early lead with a four-run rally in the third inning, highlighted by rookie Dilson Herrera's first career homer and David Wright's two-run single. But they fell behind in the bottom of the fifth, when Casey McGehee, Garrett Jones and Marcell Ozuna all drove in runs in succession -- chasing Mets starter Zack Wheeler from the game.
The Mets took another brief lead on Herrera's two-run triple in the sixth. But after the second baseman committed his second fielding error in the Marlins' half of the inning, Christian Yelich tied things up again with an RBI single.
"I have no excuses," Herrera said through an interpreter. "Errors are going to happen. You're going to make mistakes on errors here and there. I'm not perfect, but I'm also going to continue to work on it and get better -- because that's a big part of my game."
He was far from the only culprit, at least, as the Mets and Marlins combined for 12 runs on 15 hits and four errors over the first six innings. Wheeler gave up five runs (two earned) over 4 2/3 innings, striking out eight and walking two.
"I felt terrible the whole day, honestly," said Wheeler, who came into the game with 10 quality starts in his last 11 tries. "I'm sure you all could see it. I was leaving my breaking balls up in the zone and nothing was really working for me. Just a bad day."
It was a bad day for just about every Met -- even those such as Herrera and Wright who came through at the plate. But the Mets are willing to brush it aside, knowing that defense -- unlike offense -- has not typically haunted them this season.
Consider this yet another lesson in a long season full of them. As long as they learn from it, the Mets can stomach it.
"I think, all in all, we've played pretty good defense throughout the year," Wright said. "One game isn't going to tarnish that. At the same time, we can't expect to go out there and win and be successful when we play as sloppily as we did today."
Anthony DiComo is a reporter for MLB.com. Follow him on Twitter @AnthonyDicomo. This story was not subject to the approval of Major League Baseball or its clubs.