Struggling Brewers see Central lead vanish
Lohse gives up seven runs as Milwaukee falls into first-place tie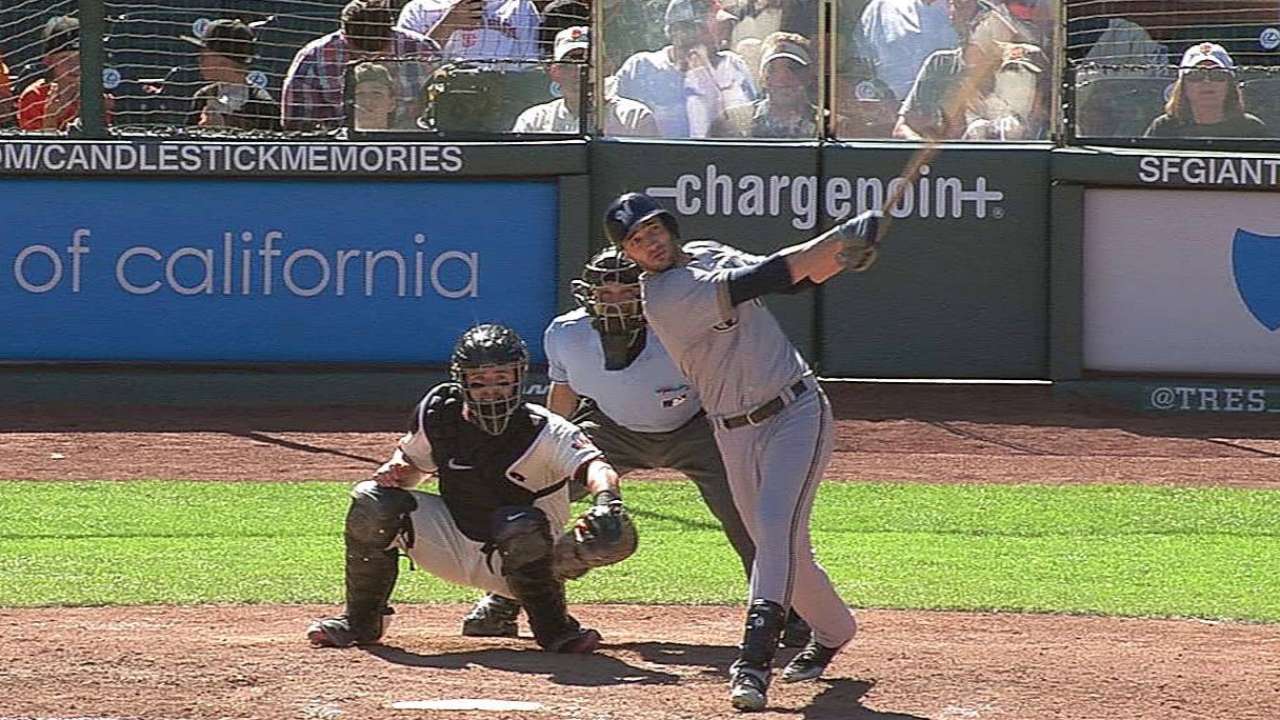 SAN FRANCISCO -- Stuck in the grip of a terrible trip, the Brewers have found company atop the National League Central.
Milwaukee was fated to begin September in a tie with St. Louis after losing a fifth straight game Sunday, 15-5 to the surging Giants at AT&T Park. A cruise through California that began with a 10-run romp in San Diego has continued with the Brewers managing 11 total runs in the following five games, four of those runs coming Sunday after the score was already lopsided.
A sloppy loss sealed a second straight sub-.500 month and, coupled with the Cardinals' come-from-behind win over the Cubs, left Milwaukee in danger of falling out of first place for the first time since the morning of April 5.
Losing pitcher Kyle Lohse was hard on himself but easier on his team.
"What are we, tied for first? First of September tomorrow? That's where it's fun," he insisted. "If you tell the team at the beginning of the year that's where you'll be, no matter how you got there ... this is what it comes down to."
The Brewers and Cardinals are each 73-63, and the Pirates lurk only two games back entering a critical series this week in St. Louis.
The Brewers, meanwhile, headed to Chicago to tangle with a Cubs team recently rejuvenated by top prospects. The series begins Monday afternoon with rookie right-hander Jimmy Nelson on the mound for the visitors.
On Sunday, after scoring in the top of the first inning, little went right for the Brewers. Ryan Braun missed a fly ball in a tricky part of right field in the second inning and Rickie Weeks dropped a wind-blown popup in the fifth. Both misplays led to Giants runs against Lohse, who was tagged with seven earned runs on nine hits in 5 2/3 innings. Relievers Alfredo Figaro, Will Smith and Brandon Kintzler combined to surrender seven more runs in a disastrous seventh.
The Brewers also lost their center fielder and leadoff hitter. Carlos Gomez exited with a sore left wrist after dropping his bat after a third-inning strikeout and is "doubtful," according to Brewers manager Ron Roenicke, to play Monday.
The rest of the team will try to rebound after being swept for the first time since prior to the All-Star break. Even after scoring in each of the final three innings, the Brewers were outscored by the Giants in the series 31-8 and outhit 46-17.
"It was just a bad series," Roenicke said. "We didn't do anything well. We didn't pitch well, we didn't play defense and we didn't swing the bat well."
The Giants did all three on the way to winning their sixth game in a row. Their run and hit totals were the second-most they've collected in a three-game series at AT&T Park. On Sunday alone, the Giants tallied 10 extra-base hits.
"It's something special what we just put up on the board against a first-place team over there," said Giants catcher Andrew Susac, a backup to Buster Posey who had a single, two doubles and three RBIs. "They're no slouches. We faced three quality arms and hit them pretty good."
Said Lohse: "I'll just make it simple for you: It was terrible execution."
San Francisco's seventh-inning outburst sealed the game, but the more telling sequence may have occurred in the bottom of the fifth. In the span of only a minute or two, Weeks whiffed a popup, the Cubs-Cardinals score went final on the out-of-town scoreboard and Pablo Sandoval hammered a two-run home run off Lohse that sailed to the right-field arcade for a 6-1 Giants lead.
Against Madison Bumgarner, that was a giant deficit. The left-hander surrendered a first-inning run on Braun's double-play grounder, but nothing after that through six effective innings. Bumgarner was charged with a run on five hits and a walk, struck out seven batters and exited the game after 96 pitches with a 7-1 lead.
Martin Maldonado and Braun hit late solo homers for Milwaukee, and the Brewers added two more meaningless runs in the ninth to finish 13-14 in August.
Since going 20-8 in March and April, they are 53-55, yet have held at least a share of first place every day. That status will be on the line Monday.
"Nobody told us it was going to be easy," Gomez said. "You just respect [the Giants] -- they came after us and did damage. They won the whole series. You put it in the past and come to your own division and play well again."
Gomez was referring to the fact that 22 of the Brewers' final 26 games are against NL Central rivals.
Of getting swept, he added, "That can motivate you, too. [Two weeks ago], we swept the Dodgers and they didn't expect that. We didn't expect this, too. This is how the game is. You move forward and forget about it."
Roenicke expressed confidence.
"We're still OK," he said. "We can turn this thing around in a hurry and have a good next series. Then you go on from there. We still have a long ways to go and we know it. You are always disappointed when you have a series like this, especially after playing [the Giants] tough in our ballpark. We just fell apart."
Adam McCalvy is a reporter for MLB.com. Read his blog, Brew Beat, and follow him on Twitter at @AdamMcCalvy. This story was not subject to the approval of Major League Baseball or its clubs.