Angels throttle A's to claim sixth straight win
Shoemaker cruises behind six-run second; Halos' lead at five games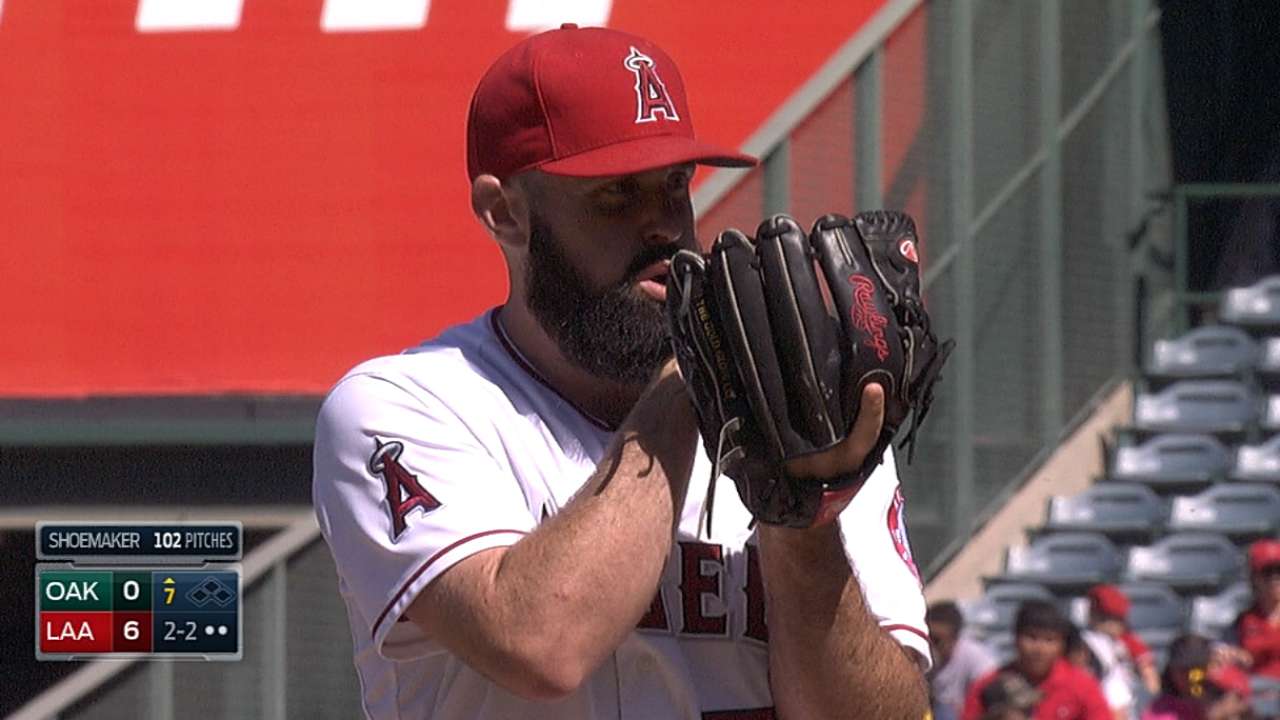 ANAHEIM -- The Angels didn't get here -- in first place, and 30 games above .500 despite losing two starting pitchers in one month -- without some uncanny perspective. So the excitement in the home clubhouse at Angel Stadium was quite tempered, almost non-existent, late Sunday afternoon, even in the midst of so much to celebrate.
"We're having fun," Mike Trout said, "but it's still August."
Well, barely.
The 31st and final day of August brought the Angels an 8-1 victory that clinched a stirring, uplifting four-game sweep of the division-rival A's. It was the Angels' sixth win in a row and their 15th in the last 19 games. They now hold a 3 1/2-game lead on the Orioles for the best record in baseball and a five-game edge on Oakland in the American League West, with only one month remaining in the regular season.
That's a healthy lead, right?
"No," Angels catcher Chris Iannetta said, "because you know what? It can go the other way just as fast."
The A's can tell you all about that. Over the last 21 days, they've seen the Angels gain nine games on them, going from four back to five up since Aug. 10. In the finale, Matt Shoemaker pitched seven shutout innings, extending his own scoreless streak to 23 1/3 innings and extending the scoreless streak of Oakland's offense all the way to 29 innings, until the A's finally salvaged a meaningless run against Mike Morin in the eighth inning.
Before the weekend concluded, the A's -- swept by the Angels in a four-game series for the first time since 1997 -- held a closed-door meeting. "Embarrassing" and "pathetic" were the words A's manager Bob Melvin used to describe his team's performance in Orange County.
"Frustration, anger, disappointment, embarrassment, kind of all added up into how we don't do things as a ballclub," catcher Derek Norris said. "We need to figure it out, because if we don't figure it out, we're going to miss out on a lot of good opportunities that we've built up and that we've tried to do here. I feel like we put so much time and effort into the first X-amount of months into the season. To [throw] it away now would just be a ginormous waste of our time."
The Angels, meanwhile, haven't skipped a beat. They lost Tyler Skaggs to Tommy John surgery after the 23-year-old lefty suffered a partial tear of his ulnar collateral ligament on July 31, then lost frontline starter Garrett Richards to a torn patellar tendon on Aug. 20, injuries that left general manager Jerry Dipoto with no chance of finding a suitable rotation replacement.
On Thursday, they edged out a 4-3 victory on Howie Kendrick's 10th-inning, walk-off sac fly.
On Friday, they got seven shutout innings from their longtime ace, Jered Weaver.
On Saturday, eight relievers combined to throw a nine-inning shutout in what would have been Richards' turn.
On Sunday, they plated six runs in the second inning against Scott Kazmir, who has now given up 18 runs in 7 1/3 innings against his former team since the start of 2013, then watched Shoemaker take care of the rest.
Iannetta went 3-for-3 with a walk and an eighth-inning solo homer, Trout went 2-for-4 with a seventh-inning solo homer that gave him a career-best 31, and the Angels drew four walks in a second inning that provided all the runs they would need.
"We're having big innings, pitching well, playing defense -- all the things you need to do to win," Angels outfielder Josh Hamilton said. "It'd be cool if everybody could really hit their stride offensively towards the next couple of weeks. That would be pretty sweet. But as long as we're winning ballgames, we'll take it."
When September begins, Shoemaker will have 14 wins and a 3.14 ERA in 117 2/3 innings in the Major Leagues, numbers that even the most positive of thinkers never foresaw. His scoreless streak is the second longest for an Angels rookie, trailing only reliever Bob Lee's 27 innings in 1964. And he's the first Angels pitcher with three straight scoreless outings of seven or more frames since Nolan Ryan, who did it over a couple of seasons at the end of 1976 and the start of 1977.
Nolan Ryan and Matt Shoemaker -- imagine that.
"It's an honor to be mentioned by that name," said Shoemaker, the undrafted 27-year-old who completed an unfathomable march through the system.
"When he's on that mound, he thinks he's Nolan Ryan," Angels manager Mike Scioscia said. "He pitches with confidence."
The Angels carry that confidence collectively, but they also hide it well. Their bullpen has been one of the best in baseball for the last two months, their starting rotation -- shorthanded as it might be -- has found a way to consistently keep them in games, and their offense may still have another gear left in it.
But the schedule also has 26 games left, and the Angels refuse to get ahead of themselves.
"We just have to take care of the games ahead of us; take it one game at a time," Trout said. "Every series is going to be big. We can't scoreboard watch; we just have to keep playing our game."
Alden Gonzalez is a reporter for MLB.com. Read his blog, Gonzo and "The Show", and follow him on Twitter @Alden_Gonzalez. This story was not subject to the approval of Major League Baseball or its clubs.