Eovaldi impressive, but loses duel to Braves' Wood
Righty allows one run in 6 2/3; Miami blanked, falls 6 1/2 back in WC race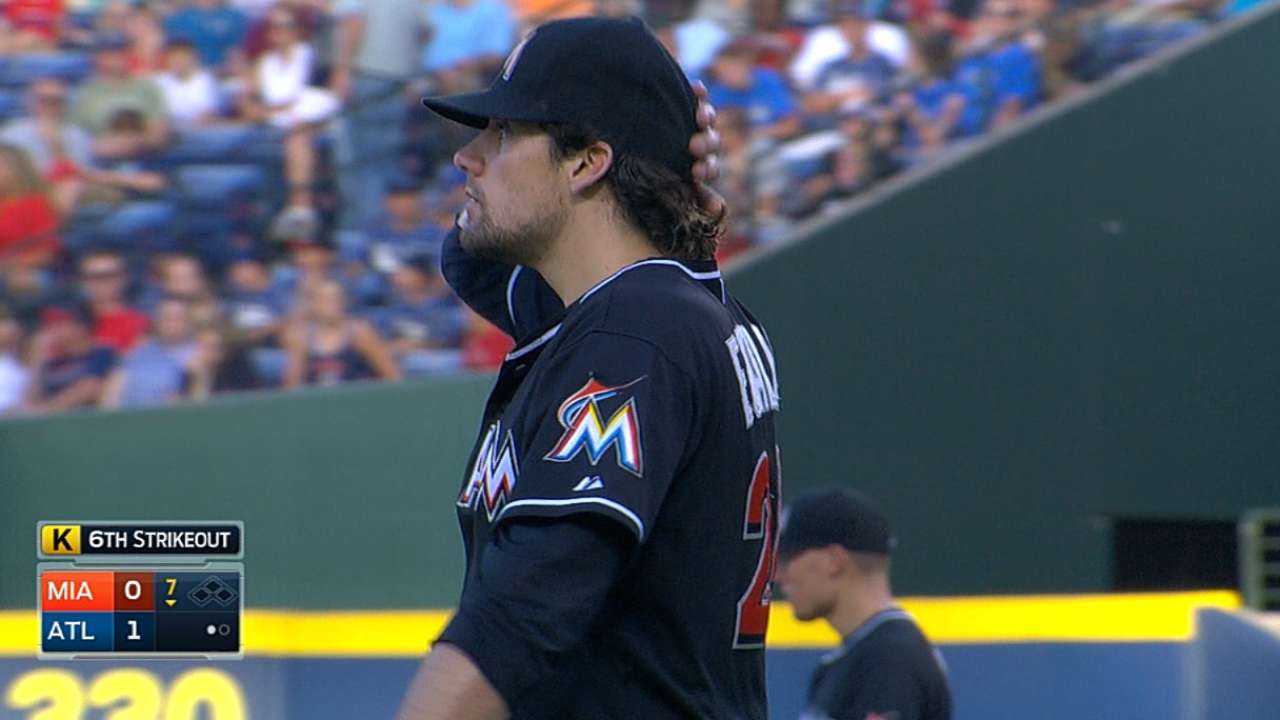 ATLANTA -- Coming off his shortest stint of the season, Nathan Eovaldi was looking for a bounce-back start Sunday at Turner Field. For the most part, the Marlins right-hander got on track, but he still wasn't able to come out on the winning end.
Evan Gattis' home run in the second inning boosted the Braves to a 1-0 win over the Marlins to claim two of three in the weekend series.
"I felt good for the most part," said Eovaldi, who has dropped four straight decisions. "I thought I misplaced some fastballs. I missed that one with Gattis right down the middle … the difference of the game. I was able to come out this game and I was able to locate the offspeed pitches a lot better than my previous outings. I think that was the biggest key."
Eovaldi was tough, but the performance of the day went to Atlanta's Alex Wood, who matched a career high with 12 strikeouts, while scattering five hits in eight innings.
"He was tough. He mixed his speeds, worked in and out," Miami manager Mike Redmond said. "He threw some breaking balls, expanded the zone a little bit. I don't know if it was tough to see with the shadows or what, but it seemed like he was able to get us off balance."
The game started at a rare time, 5:10 p.m. ET, causing some shadows across the field early in the game. Wood has a deceptive, rangy delivery, and he was able to keep Miami off stride.
"He was giving us pitches to hit," Giancarlo Stanton said. "We struck out a lot. But I don't know. It wasn't stuff we hadn't seen before. It was bad lighting. We were flat. We just didn't do many things well today."
Wood's stellar performance snapped the Marlins' streak of 60 straight games without being shut out. That was the longest active stretch in the Majors.
Miami hadn't been blanked since June 21 against the Mets.
The Marlins capped their rough road trip at 3-6, and fell 6 1/2 games out in the quest for the second Wild Card.
"It wasn't the way we drew up the road trip, but it's over," Redmond said. "We're one good winning streak away from being right back in this thing. I feel like we've got another good run left in us."
The encouraging sign was Eovaldi's performance. In 6 2/3 innings, he allowed one run on nine hits, walked one and struck out six.
In his previous start, the right-hander was lifted after 3 1/3 innings and six runs in a loss at the Angels.
"Nate was outstanding," Redmond said. "It was good to see him keep the ball down, locate his pitches. That's Nate. That's him. That's the way he can pitch."
Eovaldi was strong throughout, but the right-hander got into a two-out jam in the seventh, surrendering back-to-back singles to Phil Gosselin and Freddie Freeman.
At 113 pitches, which matched his season most, Eovaldi was lifted for Chris Hatcher, who inherited runners at the corners. Atlanta's bid to break the game open was stalled when Justin Upton lifted a fly ball to left.
The lone run Atlanta needed was provided by Gattis, who opened the second with his 21st homer.
"From the previous two games, it looked like if you located a good fastball, he wouldn't be hitting it as well as he has in the past," Eovaldi said. "But it wasn't a well located fastball. It was right down the middle. That was the difference."
Wood was able to make the lead stand.
"You feel confident that he is going to make the right pitches and he's going to compete," Atlanta manager Fredi Gonzalez said.
Miami mounted its biggest threat in the sixth, loading the bases with one out. Eovaldi started a string of three straight singles. Christian Yelich and Donovan Solano each collected hits, bringing up the middle of the order.
Wood was able to escape, striking out Stanton on three pitches. The lefty got the Miami slugger swinging through a knuckle-curve for the second out.
Casey McGehee got ahead, 3-1, in the count. But Wood recovered, and ran the count full before getting the Miami third baseman looking at a knuckle-curve.
"We had a chance there," McGehee said. "You've got to give Wood credit. He made a couple of great pitches."
Joe Frisaro is a reporter for MLB.com. He writes a blog, called The Fish Pond. Follow him on Twitter @JoeFrisaro. This story was not subject to the approval of Major League Baseball or its clubs.