Behind Wood's gem, Braves keep pace in WC race
Lefty whiffs 12 over eight scoreless; club trims Nats' East lead to six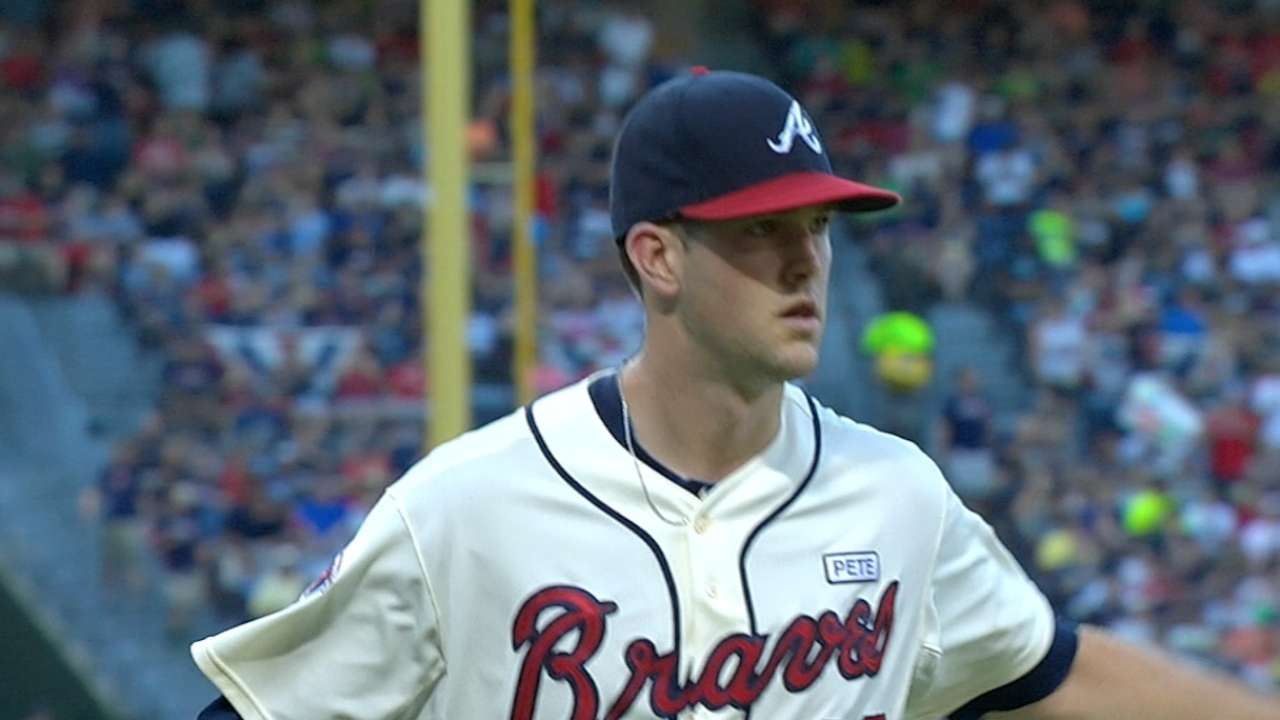 ATLANTA -- Given the amount of tough luck Alex Wood has encountered this year, there was reason to wonder what might go wrong as he once again was given the task of working with limited support. But when he was backed into a corner Sunday afternoon, the young Braves left-hander came out fighting with the confidence of a seasoned veteran.
Wood dazzled as he matched a career-high 12 strikeouts over the eight scoreless innings he completed for the Braves in a 1-0 win over the Marlins. His one run of support came via the fulfillment of a casual pregame prediction by Evan Gattis.
"He's always pretty candid about what he's going to do and I asked him, 'Are you going to hit a home run today?'" Wood said. "He thought about it for a second and then he said, 'Yeah, I'm probably going to hit a home run today.'"
Phil Gosselin accounted for three of the nine hits surrendered by Nathan Eovaldi in 6 2/3 innings, and Freddie Freeman recorded a pair of hits that at least allowed him to forget that he has gone just 6-for-61 against the Marlins this year. But of the 17 combined hits by these division rivals, the only one that led to a run was the second-inning home run Gattis sent into the left-center field seats on the first pitch of the inning.
"I just wanted to be aggressive with him," Gattis said of Eovaldi. "I didn't want to get caught in between. I didn't want to take any heaters for strikes and I thought that would be my best chance."
Gattis' 21st homer of the season and fourth since Aug. 15 was enough to prevent Wood from dealing with another hard-luck outcome. This marked the 10th time this season that the young southpaw completed at least seven innings and allowed two earned runs or fewer. But it was just the fourth time the Braves won on those occasions.
By taking a pair in the three-game set, the Braves moved back to within six games of the first-place Nationals. They are also just 1 1/2 games back in the battle to secure the National League's second Wild Card entry.
"It's up there," Wood said when asked where this ranked amongst his 31 career starts. "The significance of it is we're in a playoff hunt. That plays a big part in it. But if we weren't in a playoff hunt, it would still be up there."
Throughout the early days of his career, Wood has displayed a sense of confidence that was validated when he surrendered three consecutive one-out singles to load the bases for top NL Most Valuable Player candidate Giancarlo Stanton in the sixth.
"There's always a competitive fire in [Wood]," Braves manager Fredi Gonzalez said. "That is one of the things you love about him."
The fire burned stronger when Wood retired Stanton with a three-pitch strikeout that feature two well-placed fastballs and a nasty curveball. This set the stage for Casey McGehee, who gained a 3-1 count with the help of a couple of disputable calls, and then looked at a changeup and curveball to complete another strikeout for the fearless hurler.
"It happened pretty fast," Wood said. "It was three pitches to Stanton and then you get to 3-1 and you think, 'Oh God!' Stanton and McGehee are their big RBI guys. So you know you've got to make pitches. I was kind of at the point where I wasn't really going to let them beat me. If I walked them, I walked them and then start over with the next guy. I didn't want either of them to beat me and fortunately tonight it turned our way."
McGehee was surprised to see Wood throw a 3-2 breaking ball.
"Frankly a [breaking ball] was the last thing on my mind," McGehee said. "He had the confidence to throw it. I didn't think he was going to. He made a heck of a pitch in the biggest part of the game for him. So you've got to give him credit."
Wood, who has a 1.86 ERA in his past seven starts, ended his 101-pitch outing with consecutive strikeouts of Reed Johnson and Christian Yelich. This 12-strikeout effort, which matched the one he recorded against the Nationals on Aug. 11, was preserved by Craig Kimbrel in the ninth.
"I would have loved to get back out there, but that's the nature of the beast when you've got the best closer in the game," Wood said.
Mark Bowman is a reporter for MLB.com. This story was not subject to the approval of Major League Baseball or its clubs.