Cosart among NL's best starters in August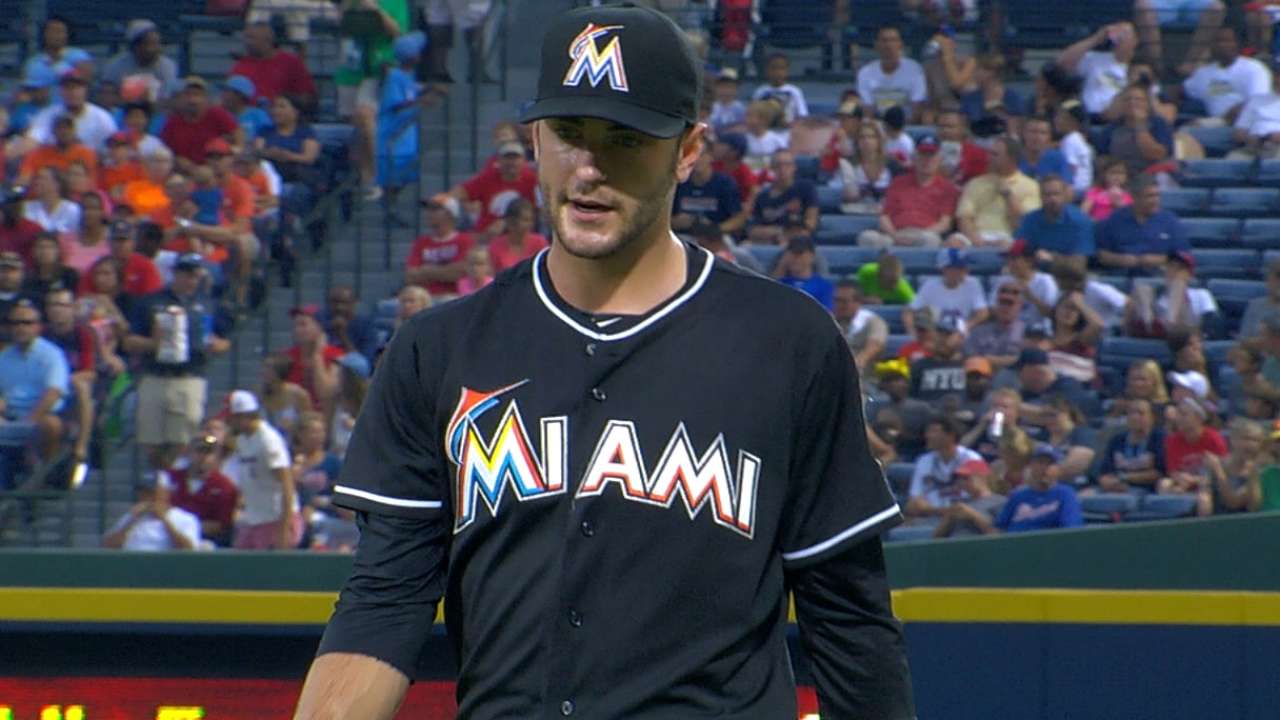 ATLANTA -- You'd be hard pressed to find a starter in the National League better than Jarred Cosart in the month of August.
Cosart made the final arguments as to why he should be the NL Pitcher of the Month in Miami's 4-0 victory over the Braves on Saturday night at Turner Field.
The 24-year-old right-hander threw seven-plus shutout innings, improving his overall mark in August to 3-1 with a 1.64 ERA. His three wins were over strong playoff contenders -- the Cardinals, Angels and Braves. His last two wins were on the road.
What's separating Cosart since he was acquired by the Marlins from the Astros on July 31?
"He's got a good fastball, and makes the ball cut a little bit," manager Mike Redmond said. "He's got a nice curveball. He's been able to mix it up, and his changeup will continue to be a weapon against lefties."
Cosart credits Miami pitching coach Chuck Hernandez. When the right-hander was drafted by the Phillies in the 38th round in 2008, Hernandez was a pitching instructor in the organization. They spent a half-season together.
Since the trade, Cosart has tightened up his mechanics, specifically keeping his left shoulder closed.
According to Fangraphs.com, Cosart is throwing his four-seam fastball 39.6 percent of the time, and his cut-fastball 26.7 percent. His curveball is being used 26.1 percent and he's developing a changeup (3.9 percent).
Actually, Cosart doesn't classify himself as throwing a cutter.
"My four-seam grip is basically a cutter," he said.
So he basically has a hybrid four-seam/cutter pitch.
"All those pitches will continue to get better as he logs more and more innings," Redmond said.
They've certainly been effective in August.
Cosart will have competition in his quest to be NL Pitcher of the Month. Madison Bumgarner of the Giants is 3-1 with a 1.58 ERA. That's the only ERA lower than Cosart's among NL starters in August.
Kyle Hendricks of the Cubs is 4-0 (1.69) and Clayton Kershaw of the Dodgers is 3-1 (1.80).
Joe Frisaro is a reporter for MLB.com. He writes a blog, called The Fish Pond. Follow him on Twitter @JoeFrisaro. This story was not subject to the approval of Major League Baseball or its clubs.