Cards ride Holliday's bat to top of NL Central
Left fielder posts four RBIs to help St. Louis overcome five-run deficit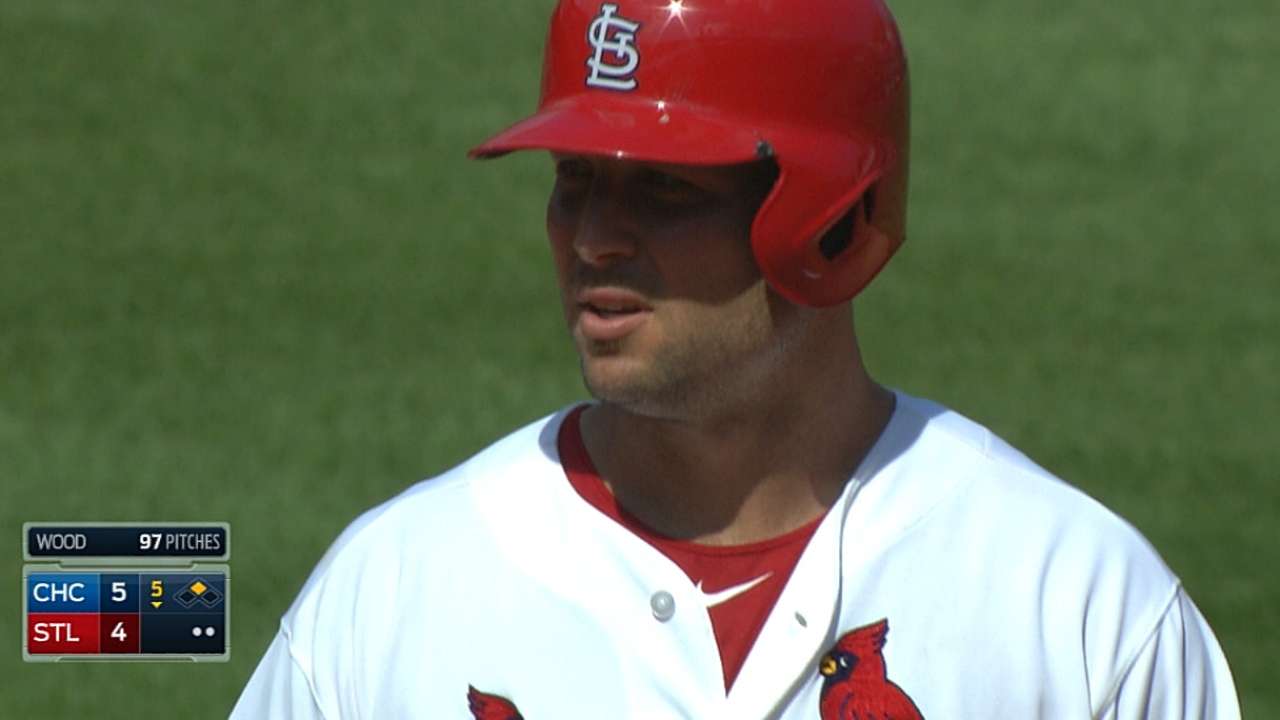 ST. LOUIS -- Their journey circuitous and thus far dotted with unexpected adversity, the Cardinals, after five months and 136 games, will nevertheless enter September positioned precisely as hoped.
The Cardinals are again co-leaders in the National League Central. A little less than two hours after stunning the Cubs with a come-from-behind, 9-6 win, the Cardinals moved into a tie with the Brewers, who were blown out in San Francisco. Milwaukee has lost five straight.
"You just keep playing and try to chip away," Matt Holliday said afterward. "You've got to keep pushing. You don't give up. We've got a bunch of fighters, a bunch of guys that grind out at-bats."
Holliday was speaking specifically about Sunday, a game in which the Cardinals trailed by five before scoring nine of the next 10 runs to earn a series split. However, he might as well been referencing this season.
The Cardinals have yet to own sole possession of first place, having trailed someone in the Central for all but seven days. The club has one winning streak of more than four games and posted only one month in which they were three games above .500.
And yet they've stuck around. With the next seven games against the division's other two contenders -- the Pirates and Brewers -- the Cardinals are hopeful that the momentum from their biggest offensive game (Saturday) and their second-largest come-from-behind win (Sunday) of the year catapult them closer to a second straight division title.
"This is a professional ballclub," Sunday starter John Lackey said. "It's a team that's not going to stop until the 27th out. We're going to keep grinding at it."
The Cardinals' offense emerged from its typical station-to-station ways to ride a flurry of extra-base hits and Holliday's back (and bat) to the win.
They pecked their way to tie the game in the seventh and took their first lead in the eighth as Holliday saved the offense from nearly wasting Pete Kozma's leadoff double.
Back in the Majors for the first time since April and thrust into the field when second baseman Kolten Wong suffered an injury in the top half of the eighth, Kozma led off the bottom of the inning with a double. He moved to second on Daniel Descalso's sacrifice attempt-turned-single and scampered home with Descalso when Holliday lined a two-out, 1-2 pitch off the mound.
The carom gave the Cubs no play, and the single came immediately after Carlos Villanueva buzzed Holliday with a pitch near the helmet.
"It sends a bit of an adrenaline rush when somebody hits you with a baseball pretty hard," said Holliday. "You've just got to get back in there and try to find a hit."
Jhonny Peralta padded the lead by following with his second run-scoring hit of the afternoon.
Holliday was a part of all four of the Cardinals' run-scoring innings. He got the club on the scoreboard with a solo homer in the fourth and capped a three-run fifth with an RBI double that nearly cleared the left-field fence.
He took a pitch off the elbow to extend the seventh. Peralta and Yadier Molina followed with RBI singles to tie the game.
"He is an elite player, and he continues to figure out ways to get it done, no matter what," manager Mike Matheny said. "It was a big day. We needed that again from him. He's leading us."
Holliday is doing it at less than full strength. He has been played through a sore knee for weeks, and was hit twice in the elbow this weekend. Still, he went 5-for-8 with four runs and nine RBIs in the Cardinals' two wins. Holliday has driven in 18 runs -- tops in the Major Leagues -- since Aug. 18.
"He's the kind of guy that can put you on his back and carry you," Matt Carpenter said. "Hopefully, he can keep that going for us."
"Now," Matheny added, "is when you kind of see the cream rise."
The Cubs had been in control early, scoring five second-inning runs off Lackey, who compounded the inning with a throwing error on Travis Wood's sacrifice attempt.
Chris Coghlan followed with a two-run single, and after Lackey induced a double play, a single and a Luis Valbuena home run deepened the hole. That homer, along with the one rookie Arismendy Alcantara hit off lefty reliever Randy Choate in the seventh, upped the Cubs' series tally to nine.
The Cardinals, however, had their own show of power. They had their first back-to-back two-homer games since April, with Holliday and Wong taking Wood deep with solo shots in the fourth and fifth, respectively. Of the 13 hits the Cardinals tallied, five went for extra bases. Each of those created at least one run.
"They had a couple pitches to hit out of the ballpark and they kept plugging away and they kept playing," Cubs manager Rick Renteria said. "You play against a team that keeps chipping away and fighting. That's the beauty of the Central Division. You've got some clubs that are battling."
Lackey kept the Cardinals within striking distance by keeping the Cubs' scoreless the rest of the way through his 6 1/3-inning start. After Choate's blip in the seventh, Pat Neshek and Trevor Rosenthal closed the game with scoreless innings. Rosenthal sealed the win for his 40th save.
"We haven't necessarily had the best offensive season as a team, but we've got a bunch of guys that battle and grind and try to find ways to get on base," Holliday said. "Lackey gave us a chance by shutting them down after the second. Next thing you know, you're within a run and you get a big hit and all of a sudden, you've got a chance to win the game."
Jenifer Langosch is a reporter for MLB.com. Read her blog, By Gosh, It's Langosch, and follow her on Twitter @LangoschMLB. This story was not subject to the approval of Major League Baseball or its clubs.