Cubs finish strong August with tough loss
Chicago posts five-run fifth inning, but Wood, Villanueva can't hold on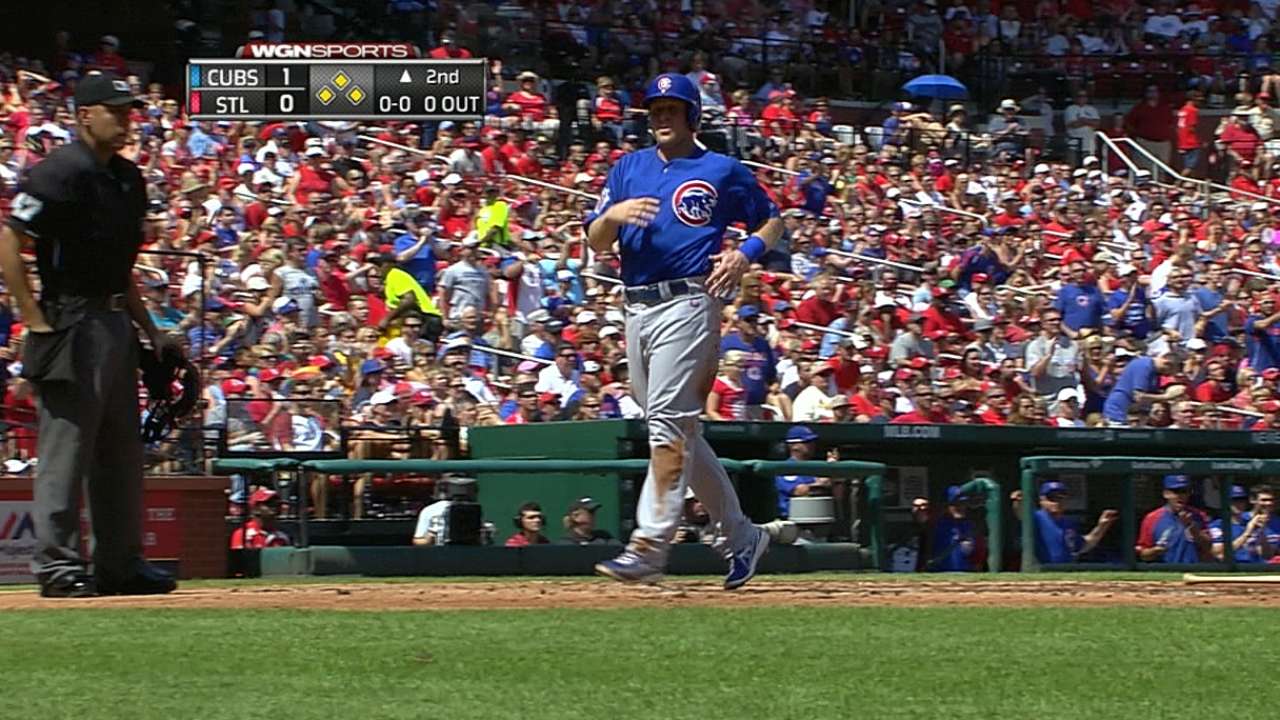 ST. LOUIS -- The Cubs got a valuable lesson on Sunday. Carlos Villanueva knows that.
Matt Holliday hit a solo homer, an RBI double and a two-run tie-breaking single in the eighth to lead the Cardinals to a 9-6 come-from-behind victory over the Cubs, who blew a five-run lead.
With the game tied at 6 in the St. Louis eighth, Pete Kozma led off with a double and advanced on Daniel Descalso's bunt single that Villanueva fielded, but couldn't throw to first in time. One out later, Matt Carpenter was intentionally walked to load the bases, and one out later, Holliday lined a single that deflected off the pitcher's mound and into left field. Jhonny Peralta added an RBI single.
"He's a good hitter," Villanueva said of Holliday. "He did what he's supposed to do and drove in some big runs for them."
Cubs manager Rick Renteria considered all of his options in the eighth.
"I'm going to take my chance and get a ground ball, double play with [Randal] Grichuk if I can," Renteria said of the batter who followed Carpenter. "If [Villanueva] strikes him out, he has Holliday in a two-strike mode. [Villanueva] can just as easily pop him up with something soft out in front as much as anything.
"You can pick your poison," Renteria said. "Carpenter is a pretty good hitter, too. We let [Villanueva] face [Matt] Adams, and he got the strikeout of Adams. We put ourselves in a position where Carpenter is swinging the bat good. I know Holliday is coming there. Pick your poison."
Luis Valbuena had three hits and was a triple shy of the cycle, and Arismendy Alcantara added a solo home run for the Cubs, who did finish August with a 16-14 record, their first .500 or better record this calendar month since going 16-13 in August 2011. The last time the Cubs won 17 games in August was 2008 (20-8).
But that wasn't enough to make the Cubs players feel any better.
"There's nothing positive about losing," Villanueva said. "I know what needs to be addressed has already been addressed. We take nothing from this -- we take a loss. We're not happy about it. That's up to us to do something about it.
"Our goal down the stretch is to break as many hearts as possible," Villanueva said. "We play a lot of teams that are in contention now, and that's how we'll learn to win those games. We have a month left and we'll see how we do."
What needed to be addressed were some costly defensive lapses. With one out in the St. Louis fifth inning, center fielder Alcantara couldn't get his glove on Carpenter's fly ball, which resulted in an RBI double. Carpenter then scored one batter later on Holliday's RBI double to pull within 5-4.
Second baseman Javier Baez wasn't able to get a glove on Yadier Molina's ball with two outs in the seventh, and another run scored to tie the game at 6. Both Alcantara and Baez are rookies and both are new at their positions.
"Those are all tremendously helpful, useful experiences that they'll be able to use," Renteria said. "We did everything we could to contain everything. Hey, today, they won out."
The Cubs opened a 5-0 lead in the second. Chris Valaika walked and John Baker singled, and Travis Wood then bunted toward John Lackey, who fielded the ball cleanly, but overthrew first for an error. Valaika scored on the play, and Chris Coghlan followed with a two-run single. Baez grounded into a double play, but Starlin Castro singled and Valbuena followed with his home run.
Valbuena now has 15 homers and 46 RBIs, topping his previous career highs in home runs and RBIs, set last year when he hit 12 and drove in 37 in 108 games. He's also played in a personal-best 126 games this season.
But Holliday, who hit two homers Saturday night, belted his 16th with one out in the fourth off Wood, and Kolten Wong smacked his 10th leading off the fifth to close the score to 5-2.
"I love when guys do what they have always done when people seem to forget year after year," Cardinals manager Mike Matheny said of Holliday. "He is an elite player, and he continues to figure out ways to get it done no matter what. It was a big day. We needed that again from him. He's leading us."
The Cardinals' win coupled with the Brewers' loss to the Giants on Sunday put St. Louis and Milwaukee in a tie for first in the NL Central. It's a division in which Renteria hopes the Cubs will be contending soon.
"That's the beauty of the Central Division," Renteria said. "You've got some clubs that are battling. I'll still take my club against their club any day, and we'll keep battling."
Carrie Muskat is a reporter for MLB.com. She writes a blog, Muskat Ramblings, and you can follow her on Twitter @CarrieMuskat. This story was not subject to the approval of Major League Baseball or its clubs.