Cobb's solid effort goes unrewarded vs. Red Sox
Righty's career-best 11-start unbeaten streak ends after Rays blanked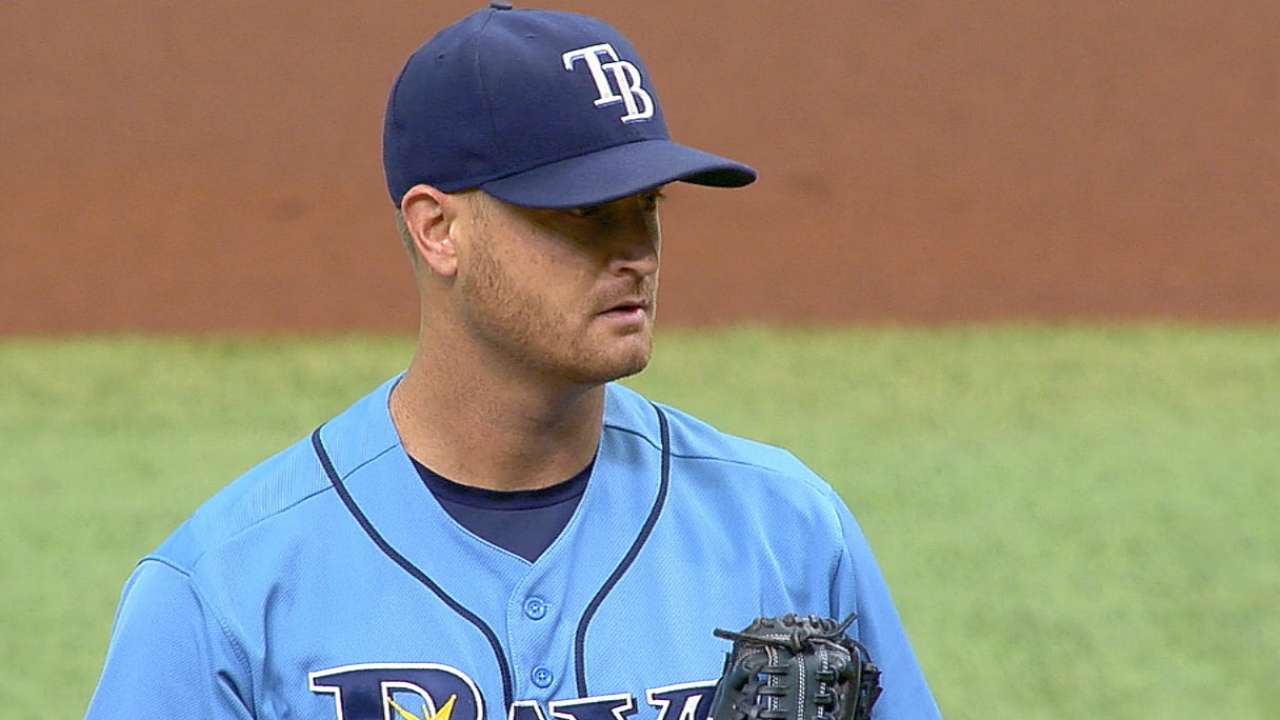 ST. PETERSBURG -- Once again, the Rays experienced the flip side for pitching a shutout in the previous game: a loss.
On Sunday afternoon, the Rays took a 3-0 loss to the Red Sox at The Trop, moving them to 5-13 on the season in games following a shutout. Tampa Bay defeated Boston, 7-0, on Saturday, but it didn't have to face Clay Buchholz with his good stuff, as was the case Sunday.
"To me, that means you're facing a good pitcher on the next day," Rays manager Joe Maddon noted with a chuckle.
The Rays (66-71) have now played in 34 games decided via shutout this season, winning 18 of them. They'll hope to earn a split of the four-game series during Monday afternoon's finale.
Buchholz has not experienced one of his better seasons this year, but he took care of business, going the distance on 98 pitches while holding the Rays to three hits en route to his sixth win of the season.
"It was a no-doubter for me today," Buccholz said. "I felt good on pitch count, it wasn't anything to worry about. And I felt good with all my pitches. It doesn't always happen that way, but it's fun when it does.
Buccholz noted that his fastball command on both sides of the plate was probably the "best it's been ... ever, maybe."
"Just having the ball move, criss-cross both corners with the cutter and sinker, I've been able to do that before, but today the execution of it was better," he said.
Buccholz has posted 22 consecutive scoreless innings against the Rays.
"I feel like every time he pitches here, when we face him, he's just on," Matt Joyce said. "I really don't ever remember facing him when he's off. I don't know if he just feels really comfortable against us, or you know pitching off the mound here, or whatever the case may be.
"I mean, he's sharp. He threw all of his pitches, when he wanted to, early for strikes. He threw his two-seam on both sides of the plate. He threw his cutter on both sides of the plate. I mean, he just did everything that you want to do as a pitcher. You know when a pitcher does that, it really makes it tough to hit."
The Red Sox gave Buchholz enough run support to get the job done.
Xander Bogaerts singled off Alex Cobb to lead off the third then moved to third when Cobb threw wide of first on a pickoff attempt. Christian Vazquez followed with a single to right to drive home Bogaerts for a 1-0 Red Sox lead.
In the fifth, Brock Holt singled with two outs, stole second and scored on Mookie Betts' single to center for a 2-0 Boston advantage.
Cobb allowed one earned run on seven hits and a walk while striking out six in 6 1/3 innings en route to his seventh loss of the season. The loss -- his first since June 23 against the Pirates -- snapped a career-long seven-game winning streak spanning 11 starts.
David Ortiz added an opposite-field RBI single off Joel Peralta in the eighth.
Maddon allowed that Sunday's loss hurt given that time is running short for the Rays' playoff hopes with just 25 games left in their season. But he credited Buchholz for being the difference in the game with his special performance.
"He was just that good," Maddon said. "He could have thrown a strike where he wanted to all day long. So you have to give the guy credit."
Where does that leave the Rays? Simply stated, they know the must do something special in their remaining games in order to become relevant. How special? Maddon cited the example of the 2007 Rockies, who charged to the playoffs by going 18-7 in their final 25 games.
"We've got to go Colorado Rockies on them right now," Maddon said. "We've got to go Rockies. We need to channel our inner Rockies right now."
Bill Chastain is a reporter for MLB.com. This story was not subject to the approval of Major League Baseball or its clubs.