Buchholz dazzles with three-hit shutout of Rays
Righty strikes out six, retires final 12 in order in command performance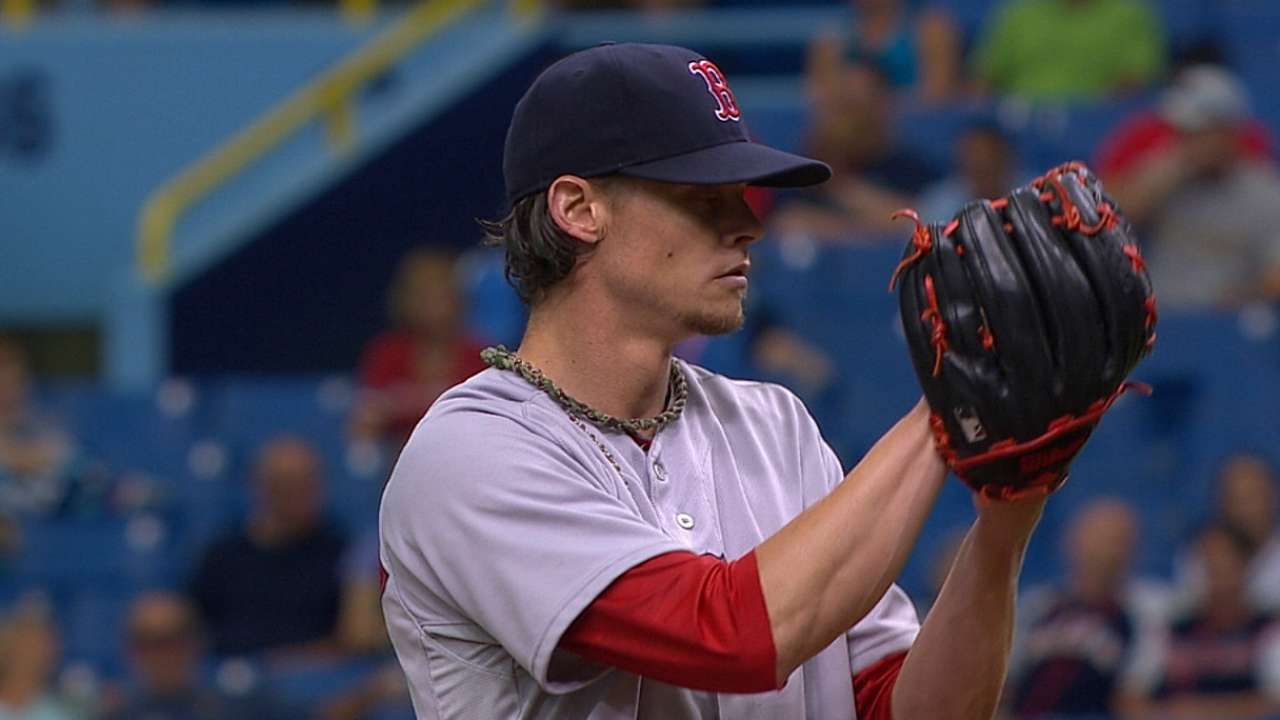 ST. PETERSBURG -- It was no great secret how Clay Buchholz beat the Rays on Sunday at Tropicana Field. The man threw the ball over the plate. A lot.
They weren't meatballs, either. Buchholz was running pitches onto the corners from the first batter of the game to the last. He pitched his second shutout of the season and picked up his first win since July 18 as the Red Sox silenced Tampa Bay, 3-0. Boston took a 2-1 lead in the series between the two teams at the bottom of the American League East heading into Monday's finale.
"He was hitting all the spots, every pitch," said Christian Vazquez, who was behind the dish for Boston. "He was painting every pitch. He was pitching to his best, and it was easy for me."
Buchholz threw strike after strike -- 15 straight to start the game, in fact. By the time he threw his 50th strike of the day, there were only 15 balls to go along with them. Buchholz didn't walk a batter, and he didn't go to a three-ball count until the seventh inning, when Matt Joyce worked a count full -- and struck out on the next pitch.
"Fastball command, both sides of the plate, was probably the best it's been ... ever, maybe," said Buchholz, who's also thrown a no-hitter, in his second career start on Sept. 1, 2007.
So ... ever? Really?
"Yeah, probably ever," Buchholz said. "Just having the ball move, criss-cross both corners with the cutter and sinker. I've been able to do that before, but today the execution of it was better."
Buchholz had total control of the zone, locating his fastballs, cutters, curves and changeups, no matter the count. That kept his pitch count extremely efficient, as he mowed down the Rays on a lean 98 offerings, 69 of which went for strikes. Buchholz held the Rays to a three-hit sprinkling and struck out six batters along the way while retiring the final 12 in order.
His manager, John Farrell, wasn't quite ready to say it was the best he'd ever seen Buchholz -- he held that out for the no-no -- but it was close.
"I had a chance to, fortunately, witness the no-hitter," Farrell said. "But today he was extremely efficient. When you consider the number of first-pitch strikes that he threw, the number of overall strikes, command of the count, multiple pitches for strikes -- he was very good.
"He was in complete command for nine innings today. It was an outstanding effort."
Buchholz has now thrown 22 consecutive scoreless innings against Tampa Bay, a run that didn't go unnoticed among Rays hitters or their manager.
"I feel like every time he pitches here, when we face him, he's just on," Joyce said. "I really don't ever remember facing him when he's off. ... He just did everything that you want to do as a pitcher."
The pair of RBI singles the Sox managed against Rays starter Alex Cobb -- the first from Vazquez in the third, and another from Mookie Betts in the fifth -- were more than enough to back Buchholz.
"He was that good. He was that good," Tampa Bay skipper Joe Maddon said. "Today, there was nothing he did not have going on."
Boston's first run was unearned, resulting from an errant pickoff throw Cobb skipped down the right-field line that let Xander Bogaerts go first to third before Vazquez singled him in.
The second came from Sunday's replacements for Dustin Pedroia, who's out for the immediate future with symptoms consistent with a concussion. In the first game with Pedroia absent from the lineup, Brock Holt -- filling in at second base, Pedroia's position -- and Mookie Betts -- batting second, Pedroia's usual spot -- combined to produce the fifth-inning run.
With two outs, Holt singled and stole second off Cobb, and Betts knocked him in with a two-strike opposite-field liner.
"With the two guys at the top of the order with basestealing ability, it poses another dynamic," Farrell said. "And that's not to take anything away from Pedey."
David Ortiz tacked on an insurance run with a shift-beating RBI single left of second base off Tampa Bay reliever Joel Peralta in the eighth.
Then it was just up to Buchholz to keep pounding the zone for the last six outs. And Sunday didn't turn out anything like his last start, when the right-hander cruised through eight shutout innings in Toronto but loaded the bases with one out in the ninth and was pulled for Koji Uehara, who allowed all three inherited runners to score.
"It was a no-doubter for me today," Buchholz said. "I felt good on pitch count, it wasn't anything to worry about. And I felt good with all my pitches. It doesn't always happen that way, but it's fun when it does."
David Adler is an associate reporter for MLB.com. This story was not subject to the approval of Major League Baseball or its clubs.