Harper's two homers not enough in series finale
Roark gives up costly three-run shot to Ackley as Mariners battle back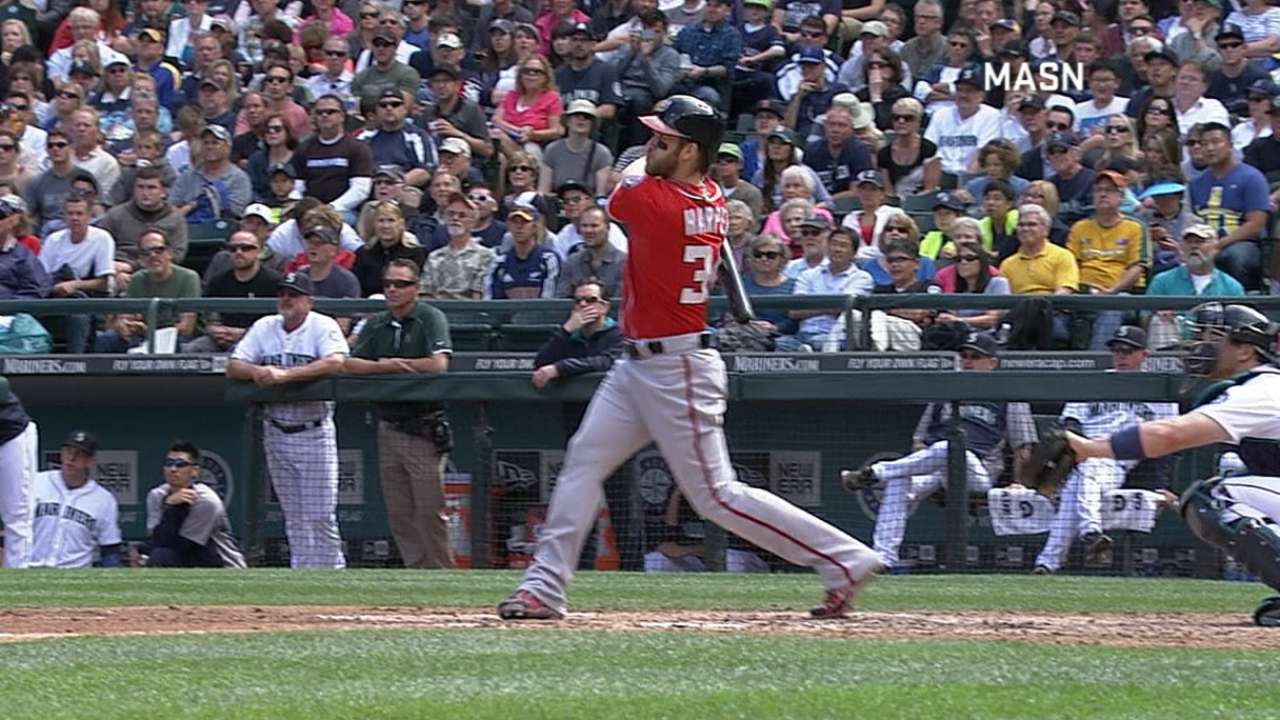 SEATTLE -- Bryce Harper had one of his best games of the season, but the Nationals lost the game, 5-3, at Safeco Field on Sunday afternoon. The Mariners salvaged the three-game series, while Washington lost its 58th game of the season and heads to Los Angeles to face the Dodgers in a three-game series.
With the loss, the Nationals are now six games ahead of the Braves in the National League East race. Atlanta blanked the Marlins, 1-0, at Turner Field on Sunday.
If there is any good news that comes out of this game, it's that Harper's left hand is getting stronger. After missing two months of action because of a broken left thumb, it took Harper a while to get back on track. In his last 23 games, he has hit seven home runs. The healthy hand allows Harper to stay back and calm his body down while he is in the batter's box.
"We've seen in the last couple of weeks that [the swing] is getting there. He swung that bat well today," manager Matt Williams said. "It's significant that he feels good."
How does Harper feel?
"I feel pretty good out there. I'm trying to put together some good [at-bats]," Harper said. "I get my work in every day and see how I feel every single day. Stick to the same routine, same plan and try to execute."
Harper had his first multi-homer game of the year. Both homers came off right-hander Hisashi Iwakuma. The first one came in the second inning when he hit a monster homer over the right-field wall. The ball landed under the "Hit It Here Cafe" sign.
"It felt pretty good. Getting that lead early is what we needed to do," Harper said. "We're out there to win the ballgame. Sometimes it doesn't happen. We'll take it down to LA and see what we can do down there."
An inning later, Nate Schierholtz homered over the left-center-field wall to make it a 2-0 game. But Seattle was able to get one back off right-hander Tanner Roark. Brad Miller doubled with one-out and scored on a single by Dustin Ackley.
Harper gave the Nationals a two-run lead in the fourth inning, when he homered over the center-field wall for his 10th home run of the season.
"He has been impressive," Schierholtz said. "You can't argue with that, especially this series. It's nice to see him getting hot right now."
But Roark allowed the Mariners to take the lead in the bottom of the fifth inning and it all came with one out. After Miller and Austin Jackson reached base on consecutive singles, Ackley hit a three-run homer over the right-field wall to give Seattle the one-run lead. Ackley drove in four runs in the game.
Ackley is finally living up to the billing that made him the second overall pick in the 2009 First-Year Player Draft, according to his manager Lloyd McClendon.
"Listen, he's a good player. When he was drafted, he was the best college player in the draft, college hitter. Sometimes, it takes a while," McClendon said. "We're in such a hurry to see guys develop at a rapid pace, but sometimes it takes a while. I just think he's turned a corner. He believes in what he's doing and he's very confident in the type of player he is and it's showing [on] the field."
If one takes away the Ackley home run, Roark wasn't that bad on the mound. Roark was supposed to go down and away to Ackley, but the ball stayed up and in.
"Actually, I thought Roark was sharper than last time [against the Phillies]," Williams said. "Again, it's a question of one pitch sometimes. He just missed location."
The Nationals had a chance to at least tie the game in the bottom of the seventh inning off right-hander Danny Farquhar. With one out, Wilson Ramos struck out, but reached first base on a wild pitch. After Asdrubal Cabrera walked to put runners on first and second, Schierholtz hit into a force play before Denard Span grounded out to Kendrys Morales at first base to end the threat.
The Mariners scored their last run off Craig Stammen in the eighth inning when James Jones scored on a double by Endy Chavez.
Bill Ladson is a reporter for MLB.com and writes an MLBlog, All Nats All the time. He also could be found on Twitter @WashingNats. This story was not subject to the approval of Major League Baseball or its clubs.