Cotts, Feliz can't hold lead for Texas
Rangers lose series to Astros as one-run lead evaporates in eighth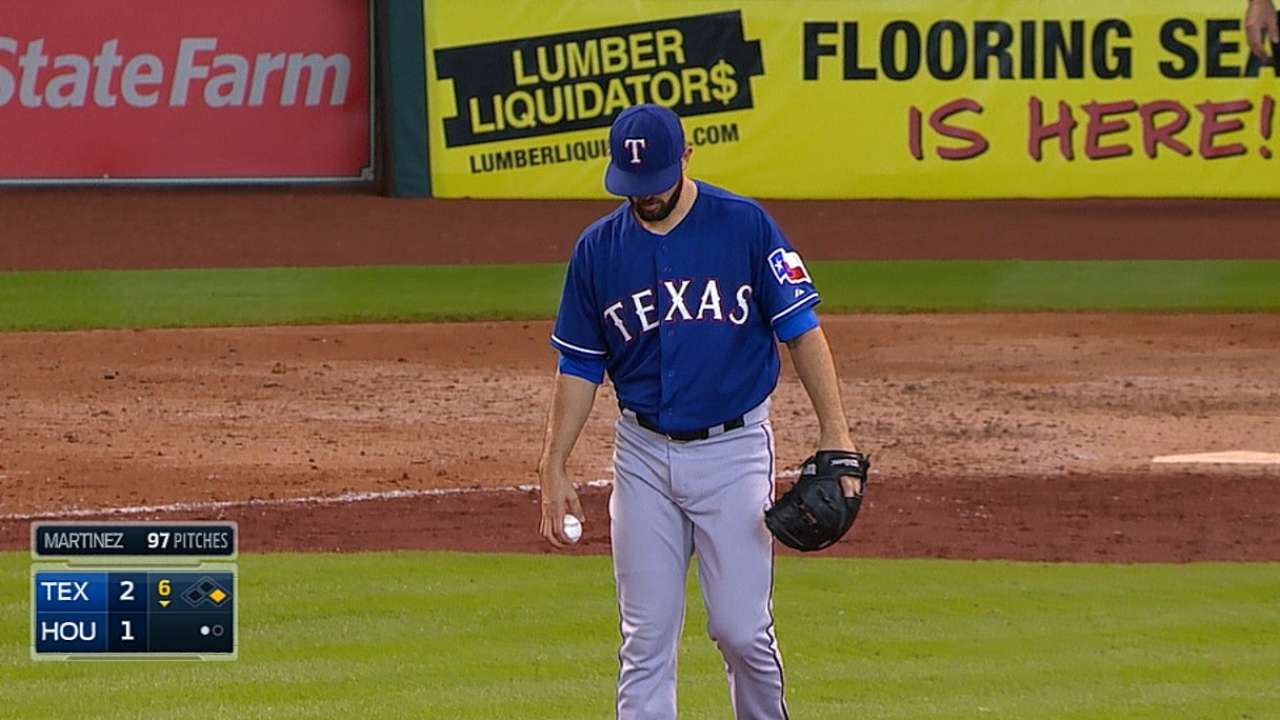 HOUSTON -- Rangers closer Neftali Feliz hadn't pitched since Monday in Seattle. He said that's not a good thing.
"When I have too many days off, I don't feel the same," Feliz said. "It was that way before the [Tommy John] surgery."
The Rangers hadn't had a save opportunity since Monday. They had one on Sunday afternoon but Neal Cotts let it get away before the Rangers could use Feliz. So manager Ron Washington decided a tie game in the bottom of the eighth inning was the next spot.
But Feliz didn't fare any better than Cotts and the Astros scored two runs in the eighth against the Rangers' two veteran relievers, rallying for a 3-2 victory at Minute Maid Park.
"In the end, we had the two best out there and didn't get it done," Washington said.
It's the seventh time this season the Rangers lost a game when leading after seven innings, all on the road. The Rangers lost just three such games last year.
This loss kept Nick Martinez from coming away with his fourth win of the season. He left with a 2-1 lead in the sixth. Roman Mendez and Cotts worked out of jams in the sixth and the seventh, but not the eighth.
"It was a well-fought game, we just didn't come out on top," Martinez said. "There are always positives and negatives you can take from a game like this. I'll study the video and take what I can from this, but it is what it is."
Cotts got the Rangers out of the seventh with one pitch. He entered with two on and two out, getting Jason Castro to pop out to end the inning. The eighth wasn't as easy, although he started the inning by getting Jon Singleton to pop out. But Matt Dominguez came up with one out and smashed a 1-0 fastball over the left-field wall to tie the game.
"Cutter in," Cotts said. "It was in but it wasn't off the plate."
Cotts, after getting ahead 0-2 in the count, then hit Jake Marisnick with a pitch.
"I was ahead 0-2, 1-2 at the time," Cotts said. "He fouled off a couple of good pitches. I tried to come in tight and came in too far. You don't want to give free passes away at that part of the game. It comes back to haunt you."
Marisnick then stole second. After Cotts got Gregorio Petit on a grounder to third, Washington brought Feliz in to face switch-hitter Robbie Grossman.
"He hadn't pitched in five days," Washington said. "Today would have been the sixth. I thought the game was to be saved right there so I brought him in."
Grossman entered the game hitting .212 and was hitless on the day. The guy behind him was leading the league in hitting and already had three hits. Feliz proceeded to walk Grossman to bring up Jose Altuve.
"I tried to throw the ball down and I missed my spots," Feliz said. Feliz threw a strike to Altuve, a 91-mph fastball that was lined into center field for a base hit to drive home the go-ahead run.
"It shouldn't have been [Altuve]," Washington said. "It should have been Grossman. If you're going to get beat, get beat by Grossman, not Altuve."
The Rangers did get Grossman. Chris Carter lined a single to center and Leonys Martin threw out Grossman trying to score. Feliz was out of the inning without retiring any of the three hitters faced.
"He was not as crisp today," Washington said. "He's still trying to figure it out."
Martinez went 5 1/3 innings, allowing one run on six hits, three walks and four strikeouts. It's the third time this season he has left the game with a lead and ultimately didn't get the win. Astros starter Dallas Keuchel got through seven, allowing two runs on hits. He walked two and struck out three.
The Rangers took a 1-0 lead in the first when Alex Rios doubled with two outs and, after Adrian Beltre walked, scored on a single by Ryan Rua. That gave Rua his first RBI since being recalled from Triple-A Round Rock on Friday.
The Astros tied it up in the bottom of the second on a one-out double from Castro and a two-out single by Dominguez. But the Rangers went back in front in the fifth on a leadoff double by Daniel Robertson and a one-out single by Rios.
This is still the 16th time in the last 21 games the Rangers scored three or fewer runs.
"We had some opportunities that we have to take advantage of," Washington said. "But we still had the lead going into the game where we had our two best pitchers out there."
T.R. Sullivan is a reporter for MLB.com. Read his blog, Postcards from Elysian Fields, and follow him on Twitter @Sullivan_Ranger This story was not subject to the approval of Major League Baseball or its clubs.