Altuve's four-hit game helps Astros rally past Rangers
AL hit leader delivers go-ahead RBI single in eighth for series win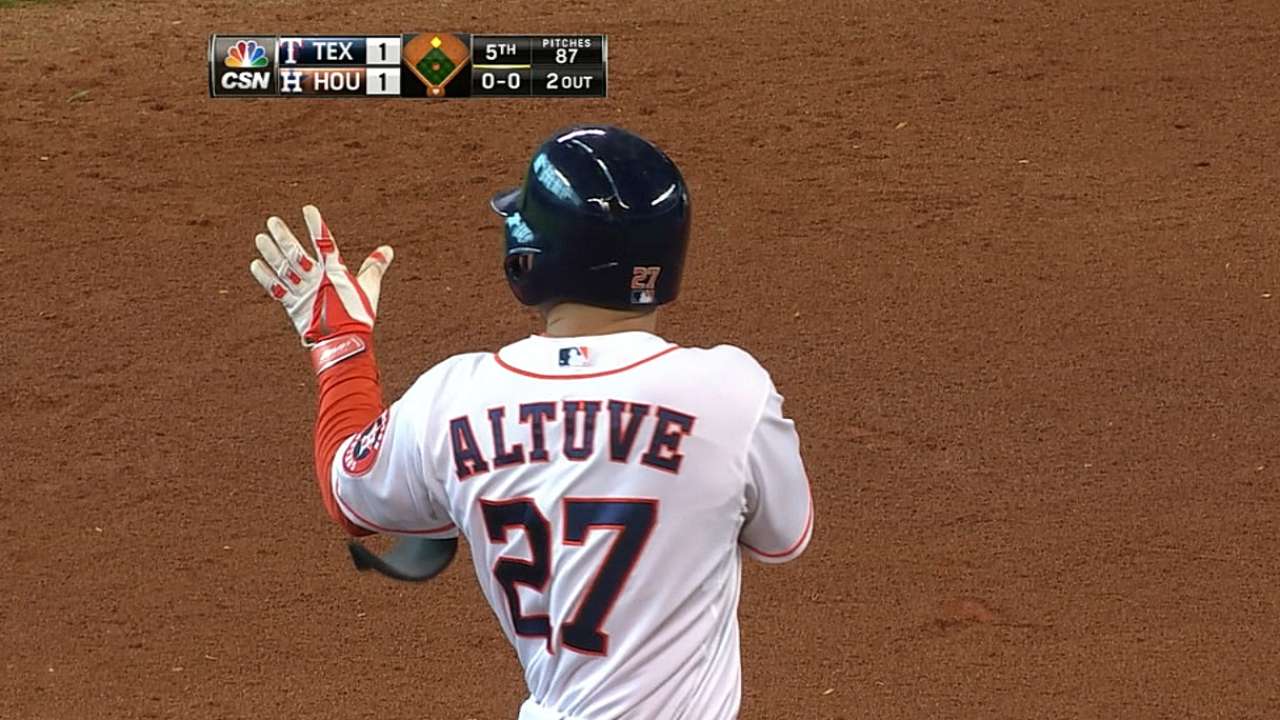 HOUSTON -- Astros second baseman Jose Altuve was asked about his approach when he came to the plate in the eighth inning Sunday afternoon with the tying run at third base and two outs.
"Hit the ball," he said without hesitating.
Altuve is pretty good at that, moving a step closer to becoming the first Astros player in club history to win a batting title by going 4-for-5 and singling in the winning run in the Astros' 3-2 win over the Rangers at Minute Maid Park.
"That there is some kind of game he put together today," Astros manager Bo Porter said. "Obviously the last one was the big one, but what you appreciate about the big guy is that this guy comes to play every day. He doesn't give any at-bats away, and it's great to see him having the type of season in which he's having."
Altuve's four hits tied his career high for the eighth time, including four times this season. He has 21 games of at least three hits this year, which is the most since Craig Biggio (23) and Derek Bell (21) in 1998. Altuve's 189 hits this year are tied with Jose Cruz (1983) for eighth all-time on the Astros' single-season charts.
"He hits everything," Rangers manager Ron Washington said. "You throw him a breaking ball and he stays inside and pulls it. Throw a fastball away and he goes away. He moves the ball around the ballpark. He doesn't try to do anything extra. He tries to make good contact and use the whole field. He's a pretty good hitter. That's why he leads the league."
The Astros finished August with a 15-14 record, giving them their second winning month this season (15-14 in May). The schedule stiffens in September, though, beginning with 11 consecutive games against teams in the playoff hunt, including nine on the road.
"It's a huge credit to our ballclub and you know us as a staff, and that's what we appreciate about the group that we have," Porter said. "These guys, they come to the park every day and they're prepared to play. They enjoy playing the game together and that's a great accomplishment, this time of year, to be able to finish the month of August with a winning month."
The Astros were trailing, 2-1, entering the eighth when Matt Dominguez tied the game with a one-out homer, his 15th of the season. Dominguez drove in the Astros' first run in the second inning for his first RBI in two weeks.
"He's been in a funk and he's been working hard and he got a pitch that he can handle and he put a really good swing on that ball there," Porter said of the homer.
Jake Marisnick followed Dominguez in the eighth and was hit by a pitch. He stole second base and advanced to third on a Gregorio Petit grounder. Rangers reliever Neftali Feliz entered the game and walked Robbie Grossman before Altuve lined the first pitch he saw into center field to score Marisnick and make it 3-2.
"If you're a baseball player and you don't like those situations, you're in the wrong sport," said Altuve, who's hitting .336. "You like to go up like that with men up there with the winning run and try to put the bat on the ball and hit it into center field. I gotta give all the credit to Dallas [Keuchel]. He kept the game right there. He threw another really good game. He's amazing."
Washington lamented the walk to Grossman by Feliz.
"It shouldn't have been [Altuve]," he said. "It should have been Grossman. If you're going to get beat, get beat by Grossman, not Altuve."
Keuchel gave the Astros another quality start without getting a win. He went seven innings and allowed two runs and five hits in seven innings, lowering his ERA to 3.03 ERA. In six starts in August, he went 0-2 despite a 3.21 ERA because the Astros averaged 1.71 runs of support in his outings.
"My only concern when I go out there and pitch is limit the other team to less runs than we score," he said. "In the month of August, I didn't really do my job, and I'm just thankful we got out of there with a win today."
Brian McTaggart is reporter for MLB.com and writes an MLBlog, Tag's Lines. Follow @brianmctaggart on Twitter. This story was not subject to the approval of Major League Baseball or its clubs.