Recker delivers big blow to help Mets win series
Catcher's three-run homer in sixth keeps Phils in NL East basement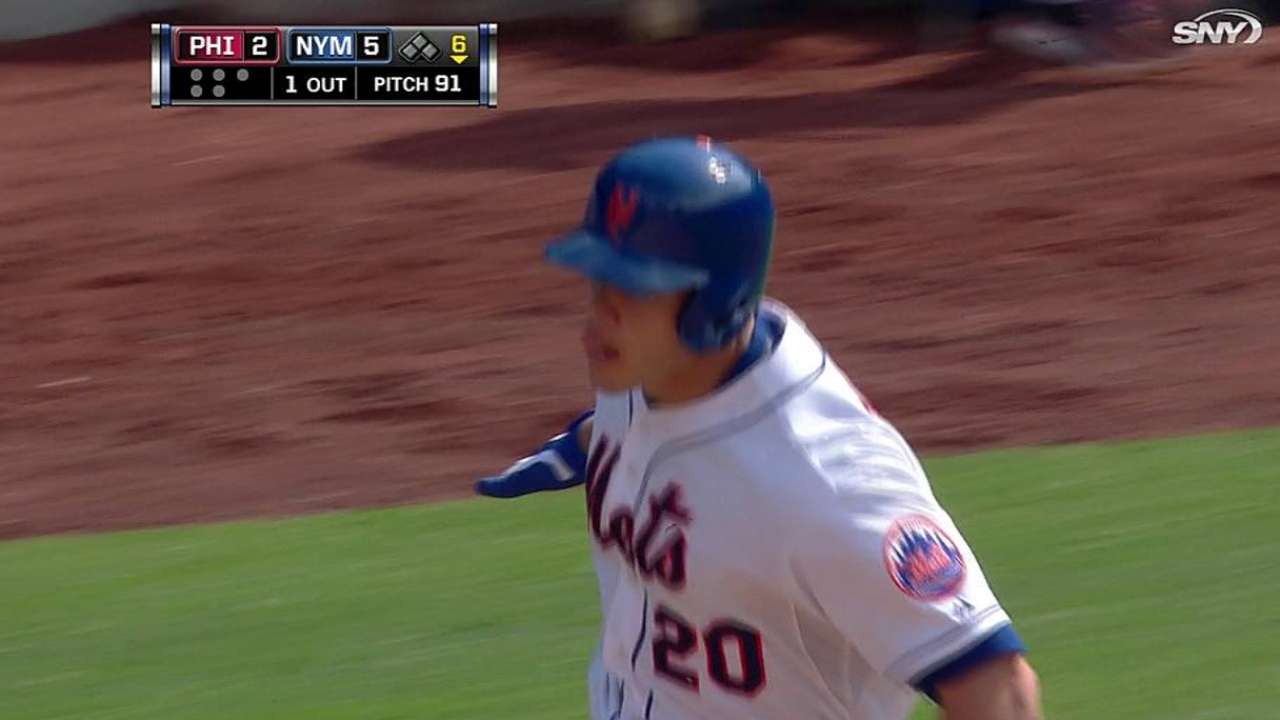 NEW YORK -- For a moment Sunday afternoon at Citi Field -- before the Mets finished off the Phillies, 6-5 -- one Anthony Recker swing in the sixth inning eased the pains of a difficult season in Queens, his bat colliding with an A.J. Burnett breaking ball that never really broke, the ball soaring through the humid August air until it landed a half-dozen rows back in left field.
The Mets waved their rally towels from the dugout. The celebratory Big Apple rose from its outfield dwelling. The 7-Line Army banged their noise sticks in center, and most of the rest of the 27,159 in attendance got out of their seats to cheer as Recker rounded the bases.
It was the sort of long majestic homer that's easy to imagine living long in baseball lore if the weather was a little cooler, the calendar a little later, the crowd a little more electric.
But the Mets won't get that chance this year. Although the win Sunday gave them the series over Philadelphia -- keeping the Mets in fourth place in the National League East -- they fly to Miami on the precipice of another lost September, their goals for which are hardly tangible. Manager Terry Collins spoke this weekend of finishing strong in the hopes of it carrying over into 2015, an objective true for the team as a whole as well as several individuals.
"We haven't played anywhere near like we thought we were going to," Collins said. "But they come into the clubhouse each day with a smile on their face getting ready to play. I don't think there's any other way to go about it."
Sunday's triumph yielded signs of progress. Right-hander Dillon Gee scattered seven hits and three walks over six innings, holding the Phillies to three runs for his second straight quality start -- the beginning of a renewed consistency, maybe, that he has lacked in the second half.
Then there was Wilmer Flores, who is in the midst of a six-week tryout of sorts as a Major League shortstop. He tied his career high with three hits and scored a run, then made a nifty diving stop to end the eighth inning and turned a difficult ninth-inning double play in a crucial spot that started with second baseman Dilson Herrera fielding a Ryan Howard ground ball in shallow right field.
"Very encouraging," Collins said of Flores. "That's a tough angle to turn a double play with, but Wilmer did a nice job, got himself in a good position, and like we've seen, we know he's got the arm strength. It's just a matter of making sure his feet are going where they're supposed to be going."
David Wright, too, gave hints that he's close to emerging from another lengthy slump. He singled twice -- both line drives to center -- for his first multihit game since Aug. 13. One of those hits plated a run, his first RBI in 20 days.
The Mets scored twice in the fifth, once on Matt den Dekker's double and once on a Wright single, to offset Howard's RBI double and solo shot. That set the stage for Recker's go-ahead blast in the sixth.
"[Burnett] had thrown a couple [curveballs] to me my first couple of ABs, first pitch and thereafter," Recker said. "He threw me a lot of them. I thought I just missed one my first at-bat, so I was just glad I was able to put a good part of the bat on it."
The Phillies narrowed the deficit to one with two outs in the ninth, but Jenrry Mejia wound up with his 21st save. Herrera's base knock in the eighth plated Kirk Nieuwenhuis (2-for-4, two stolen bases) -- Herrera's first Major League RBI -- and it stood as the difference.
"I'm sure that's a big thrill for him," Collins said of the 20-year-old rookie. "The more he does things like that, he's going to realize he belongs here."
Added Wright: "He's a little nervous, and he's learning the ropes, but you can tell he's got great tools, and I think he's going to be a really good player."
And so it was a productive day in Flushing -- a series win and a little something for the Mets to take into September.
"The only way we're going to get better and the only way these younger guys are going to feel more comfortable playing every day is to go out there and play and make mistakes and have that kind of experience, on-the-job training," Wright said. "That's kind of what we're going through right now."
Tim Healey is an associate reporter for MLB.com. This story was not subject to the approval of Major League Baseball or its clubs.