Phils unable to overcome Burnett's struggles
Club drops series to Mets, remains in last place in NL East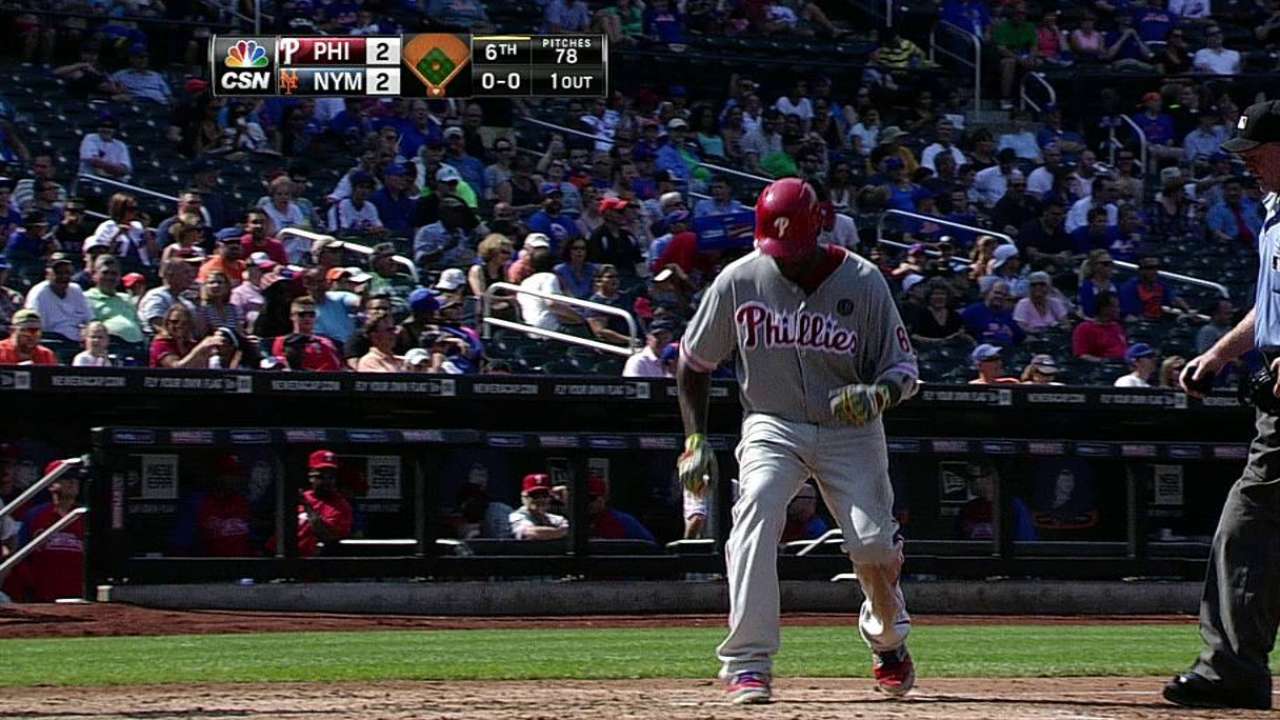 NEW YORK -- A mis-located pitch and a pile of missed opportunities defined the Phillies' 6-5 loss to the Mets on Sunday afternoon at Citi Field. The pitch was an A.J. Burnett hanging curveball that Anthony Recker pounced on for a three-run homer. The opportunities were multiple stranded baserunners over multiple innings, which almost all turned into regrets.
The unredeemed chances made the narrow defeat sting a little more than usual on the last day of August for a team out of contention. A victory would have jumped the Phillies ahead, at least temporarily, of the Mets for fourth place in the National League East, and would have secured a fourth straight series victory to finish August on a high note.
"We had a chance to win our fourth series in a row. [We] could have won today," said manager Ryne Sandberg.
Instead, the Phillies witnessed another loss from Burnett -- this one his 15th -- who began his August in a cloud of frustration, pondering retirement, and ended it in similar fashion, allowing five runs over six innings, all of which came in the fifth and sixth.
Burnett cruised through the first four -- striking out four and quelling some threats -- and it looked as though some of the demons that had plagued him for most of the month had been temporarily dispelled. But with two outs in the fifth inning, the Mets rallied for two runs.
The next inning, Burnett picked up where he left off after Ryan Howard had tied the game with his 20th homer of the season. This time the culprit was Recker, and he rocketed a first-pitch curveball to left with two runners aboard for a three-run lead that got some necessary insurance later on.
"I think it was one pitch," said Burnett, trying to build off his best start of the month Monday. "You can pitch out of jams. You can make pitches. You can walk guys. That hanging deuce there in the sixth was not a good pitch, not in that situation. If you ask me, that boils down the day. I make a better pitch in that situation and we come out on top."
Still, Burnett's midgame collapse might not have felt so large had the Phillies capitalized on any of their healthy scoring chances.
They pounded starter Dillon Gee, who entered with a 6.53 career ERA against them, for seven hits, but few of them did much damage. They loaded the bases with one out in the fourth and put runners on the corners in the sixth, but Gee promptly escaped trouble.
The seventh inning left the most dissatisfaction. In a two-run game in the middle of a rally with runners at second and third and no one out, reliever Dana Eveland got Chase Utley to pop up, sat down Howard on strikes and ended the inning by striking out Grady Sizemore, contributing to the team's disappointing 10 men left on base.
"We had some missed opportunities on the offensive side of things," said Sandberg of his team, which went 4-for-13 with runners in scoring position. "Men on third base, less than two outs, second and third, less than two outs, we weren't able to capitalize on those situations."
For the noticeable silence after the game in the clubhouse, the team's defeat didn't go without its individual merits.
Howard's home run was his 20th of the season, and his record seventh off Gee, the most he has against a right-hander, tied with Tim Hudson.
Jimmy Rollins collected his 657th multihit game, tying Richie Ashburn for the most in franchise history, to which he responded, "I had no idea ... another cool feat along the way."
Domonic Brown collected a career-high four hits, including a solo homer in the eighth, and Ben Revere stole his 40th bag of the year (the first Phillies player since Rollins in 2008 to do so).
But the personal milestones couldn't find a winning cohesion.
"We have been able to drive runners in, which we didn't do today," said Rollins. "[We] had plenty of opportunities. It's like a basketball game if you don't hit your free throws when it is sitting right there in front [of you]."
That the Phillies' bats are improving -- Howard hit four home runs with 23 RBIs in August following a .165 batting average with just 12 RBIs in July -- is encouraging, if not potentially problematic. So is the fact that they finished August with a winning record, their first month above .500 all season.
With the playoffs out of sight and rosters expanding, Sandberg will have to manage the last month of the season navigating between his still battling veterans and unproven rookies, hoping to find the right balance, and escaping more games like this with victories instead of disappointing ends.
"We're doing some things better, so we want to continue with that throughout the month of September, keep building that momentum," said Sandberg. "We'll go on to Atlanta, we'll get some callups on Tuesday and go from there."
Jake Kring-Schreifels is an associate reporter for MLB.com. This story was not subject to the approval of Major League Baseball or its clubs.