Defense lets down Porcello; Tigers fall to White Sox
Three errors in first two innings lead to three unearned runs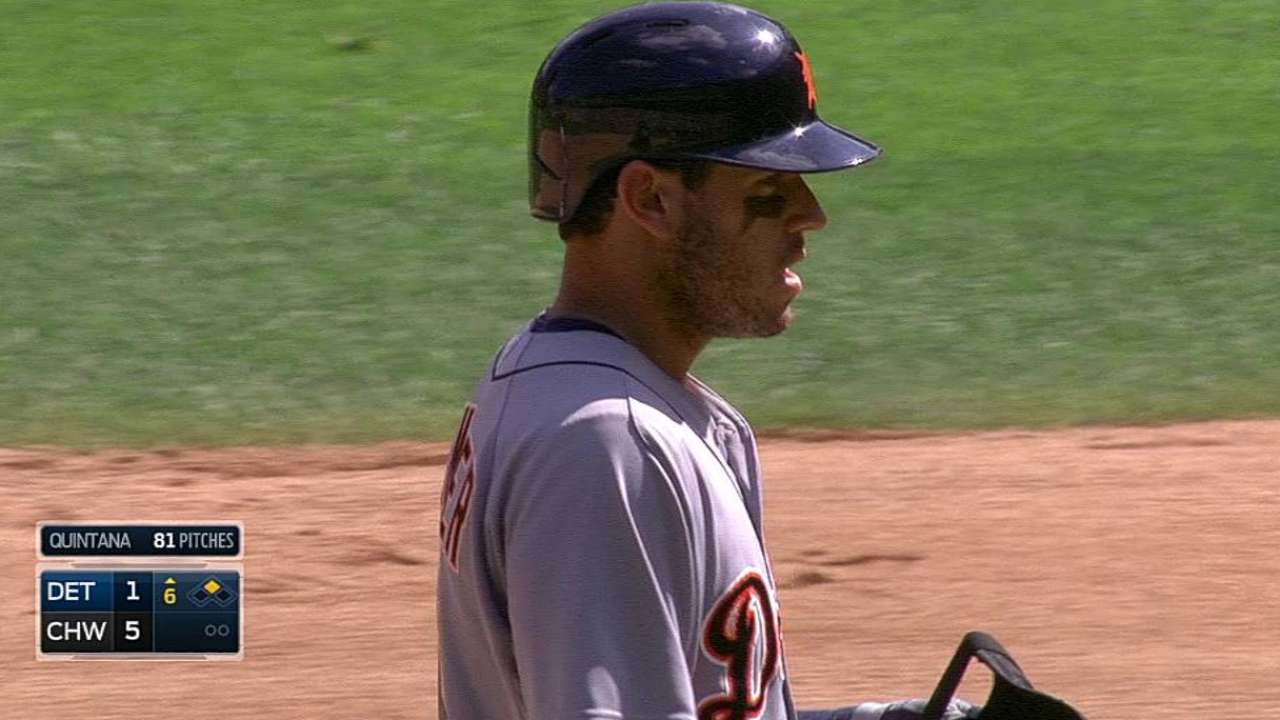 CHICAGO -- The Tigers woke up Sunday morning in the City of Broad Shoulders with a share of first place for the first time in three weeks. They left town Sunday evening with a four-game series split, a disappointed manager and a selection of seemingly small gloves.
"You keep giving Major League hitters extra opportunities, give them extra outs, and they're going to eventually get some hits that are going to cost you," manager Brad Ausmus said of Sunday's 6-2 loss to the White Sox at U.S. Cellular Field. "Errors happen, but that was entirely too sloppy early for us."
The tone did not stop at the manager's office.
"You can have the other team beat you. The thing that's tough is when you beat yourselves," said Don Kelly, one of three Tigers infielders with errors in the first two innings -- and four overall. "That's the thing that eats at you, especially with a guy like Rick [Porcello], who works fast and gets ground balls, gives you a chance to make plays. We just didn't make the plays."
On a day when Porcello had a chance to carry momentum for the Tigers and pick up an AL-high 16th win for himself, he fell victim to a throwback outing, back to the days when Detroit's defense was a hindrance rather than a help. Between three infield errors, a misplay in left field and a ground-ball single, Porcello was saddled for five runs -- just two earned -- in his first two innings.
"We gave them most of their runs," center fielder Rajai Davis said. "They didn't really have to do much to earn them."
With 11 hits allowed over 6 2/3 innings, plus a costly two-out walk in the first, Porcello had a role as well. Two RBI hits, however, came after defensive miscues extended the first and second innings.
He has been here before, and he wasn't about to shrug off blame.
"It's baseball. You pitch through whatever you're going through," Porcello said. "I mean, if I'm out there giving up doubles in the gap, you regroup and keep battling. It's the same thing. It's not always going to go smoothly for us, and we need to find a way to reach down and at the very least show some heart."
He stopped short of calling that an issue Sunday coming off a day-night doubleheader Saturday.
"I don't mean anything like that," Porcello said. "We're in a stretch run. This is what it's all about. I'm not saying that we don't have heart or anything like that. I'm saying that this is crunch time. I mean, we've got 30 days. Let's push hard for 30 days, see where we end up."
They're getting pushed now. With Sunday's loss, Detroit fell out of first, trailing Kansas City by a half-game. The Royals' night game vs. the Indians was suspended because of rain with Kansas City trailing, 4-2, in the bottom of the 10th inning, to be completed on Sept. 22 in Cleveland. Detroit visits Cleveland for a four-game series beginning Monday afternoon that could determine which division team poses the biggest challenge to the Royals heading into the home stretch.
Detroit's starting pitching should play a big role in answering that. In Chicago, however, two Tigers starters who have combined for 30 wins this season ended up with the two losses in the series. A day after Max Scherzer fell to a big inning, giving up four runs in four batters, Porcello fell in part to the defense behind him.
Porcello (15-9) has enjoyed a breakout season this year thanks in no small part to the infielders who make plays behind him, enough that his 3.10 ERA is lower than his Fielding Independent Pitching (FIP) for the first time since his rookie season in 2009.
From the moment Adam Eaton drove Porcello's second pitch of the day to the left-field corner, where it bounced off J.D. Martinez's glove, Porcello was in trouble. Eaton was awarded a double, but errors followed.
Porcello paid for a two-out walk to Avisail Garcia, extending the inning for Conor Gillaspie's RBI ground ball through the left side and under Eugenio Suarez's glove. When replays showed Suarez didn't throw to second base for the force out in time after bobbling Dayan Viciedo's grounder, the lead extended to 2-0.
"Out of the gate, we were very poor," Ausmus said. "That's really the crux of it."
Kelly, whose diving stop in the first inning robbed Jose Abreu of an RBI hit, and Nick Castellanos committed errors trying to handle consecutive ground balls with one out in the second inning. Both plays brought in a run, as did Garcia's blooper into shallow center field.
Porcello had more strikeouts (five) than groundouts (two) through three innings, in large part because less than half of the five playable ground balls he induced in that stretch were converted into outs. He recovered, but the Tigers never gained the lead.
Jason Beck is a reporter for MLB.com. Read Beck's Blog and follow him on Twitter @beckjason. This story was not subject to the approval of Major League Baseball or its clubs.