Breaks turn in Quintana's favor against Tigers
Offense benefits from four Detroit errors; lefty closes month with win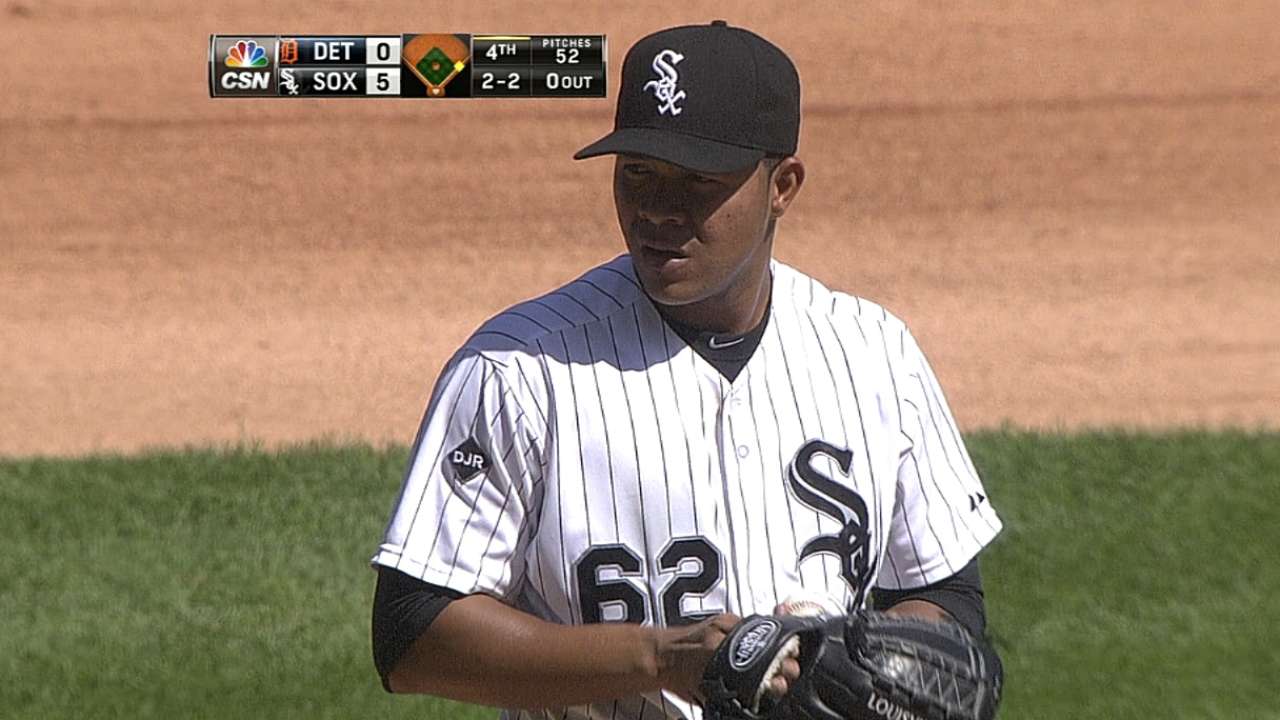 CHICAGO -- Jose Quintana hurdled a horde of roadblocks this August, but couldn't find his way to a win until Sunday's 6-2 victory over the Tigers.
The crafty southpaw cruised through a Detroit lineup that had put up 18 runs through the first three games of the weekend series in front of the 26,336 at U.S. Cellular Field, a venue at which he hadn't been victorious since May 26.
"It happened. The win is back for me," Quintana said with a wide grin. "I'm excited for [the team]. We'll keep going. We want to finish the year pretty strong."
With five runs of support in the first two innings, Quintana began his day with five scoreless frames while allowing just three hits during that span.
Even in a two-run six inning for the Tigers, Quintana overcame two leadoff doubles and struck out J.D. Martinez and Nick Castellanos to end the inning with a runner at second.
"He was able to kind of focus back in and get through the seventh," manager Robin Ventura said of Quintana, who allowed two earned runs on six hits with three strikeouts and a walk in seven innings, his longest outing since July 23.
"Q was sharp today. He was very good," Ventura said. "He came out throwing strikes. I think this is kind of typical of what we expect from him and he expects from himself. I thought he threw a great game. It was hot out there [86 degrees at first pitch] and he withstood it all."
Jose Abreu extended his hitting streak to 12 games, during which he's batting .500 (21-for-42) with two homers, 10 RBIs and nine walks. Abreu went 8-for-13 in the series, playing the final three games as the designated hitter because of soreness in his left leg. He also took a pitch off his left elbow in the eighth.
Abreu brought home his 99th RBI in the third inning on an error -- one of four by the Tigers. The initial mistake came in the first frame and wasn't issued until after an overturned call on a challenge by manager Robin Ventura.
Dayan Viciedo grounded to Tigers shortstop Eugenio Suarez, who bobbled the ball before throwing to second baseman Ian Kinsler. Conor Gillaspie, initially ruled out on a force with two on and two outs, was given second base and Avisail Garcia scored from third.
"Any time errors lead to runs, you should take advantage of it," Ventura said. "We had some guys in scoring position when they did it. Those are freebies, especially against a pitcher like [Rick] Porcello. He's tough."
In the second, back-to-back Detroit errors with two on led to another two runs, then Garcia tacked on a third with an RBI single to center. Garcia later lined a two-out double in the sixth to score Carlos Sanchez in the sixth and extend the White Sox lead to 6-2. Garcia recorded his third multi-hit game in 14 tries since returning from the 60-day disabled list on Aug. 16.
The White Sox denied Porcello a 16th win that would've been a tie for the Major League lead with Clayton Kershaw, Johnny Cueto and Madison Bumgarner.
"I felt my stuff was better than the results," said Porcello, who tossed 6 2/3 innings with six runs, three earned, seven strikeouts, a walk and 11 hits. "That's a lot of hits, that's a lot of baserunners. Left some pitches up. It was just kind of a weird day. I felt good, didn't get the results I was looking for.
Quintana entered Sunday's finale 0-3 in five starts this month with a 5.08 ERA, a 1.44 WHIP and an opposing slash line of .287/.341/.391. He allowed at least four runs in each of the previous three starts, and a total of 14 in 17 2/3 innings.
"I think he's got the demeanor where that kind of stuff doesn't affect him even though he's been the victim so many times of lack of runs," catcher Tyler Flowers said. "But I think he does a nice job of maybe not getting overexcited when you put up five for him. He does a good job of just staying settled down.
"He's a true professional pitcher."
Scott Merkin is a reporter for MLB.com. Read his blog, Merk's Works, and follow him on Twitter @scottmerkin. This story was not subject to the approval of Major League Baseball or its clubs.