MLB.com Columnist
Phil Rogers
Cubs need not look far for Jackson trade partner
Sending right-hander to South Side has potential to be all-out Chicago win-win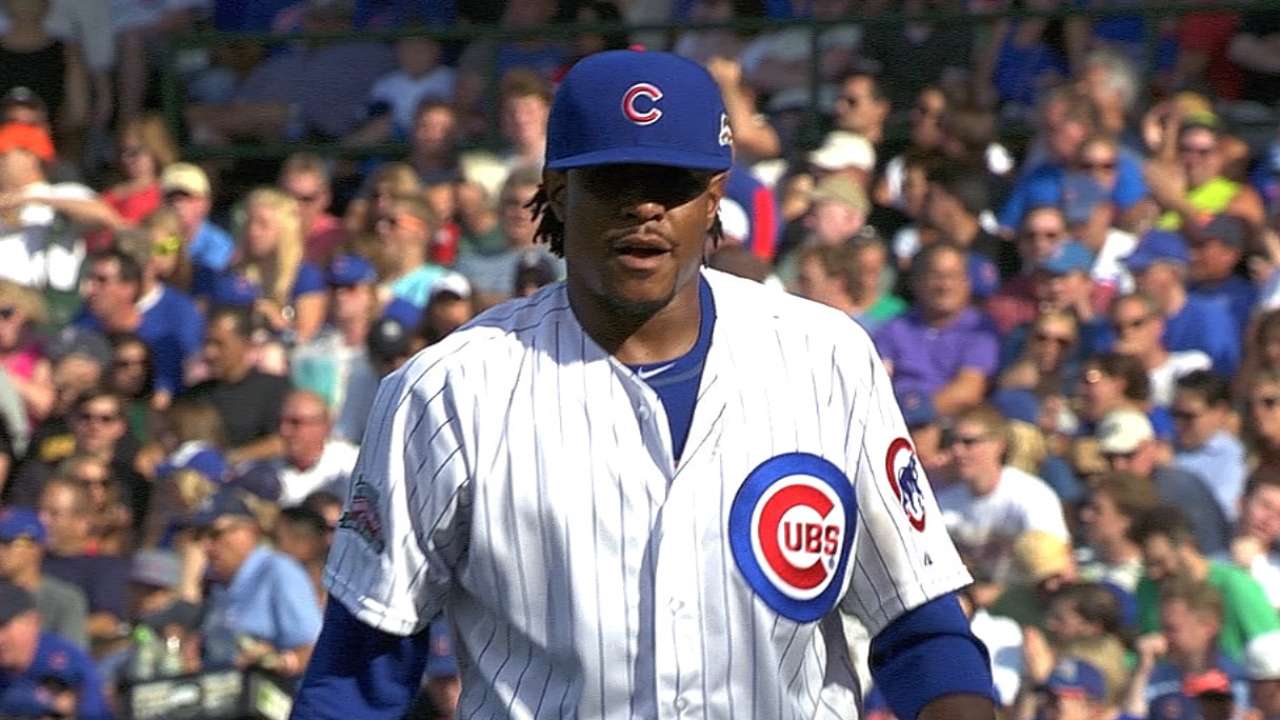 CHICAGO -- There's no pleasure in finding problems. That's always the easy part. The tough part is finding solutions, and that's what brings joy.
So it is that I propose one trade that should happen between now and December, when teams gather together in San Diego for the Winter Meetings. This is a deal that could be made face to face, one general manager to another, at a Starbucks on Michigan Avenue or -- if Theo Epstein and Rick Hahn wanted to channel Bill Veeck -- maybe at the original Billy Goat, on Lower Wacker.
Edwin Jackson, a major disappointment since the Cubs signed him to a four-year, $52 million contract -- a deal that came together quickly when they were on the rebound after Dave Dombrowski had come up with $80 million to keep Anibal Sanchez in Detroit -- is currently stowed away on the disabled list, the result of a strained lat. Jackson will be healthy soon, but will there still be room for him in the Cubs' starting rotation?
Given Jackson's 14-32 record and 5.47 ERA over the last two seasons, maybe not.
As the Cubs head toward a 2015 season when they are one major pitching addition away from being a contender, they have some choices regarding their rotation.
Jake Arrieta has shown enough to be a fit in the middle of the rotation, if not as a No. 2 starter. Travis Wood, who will be arbitration-eligible after earning $3.9 million last year, hasn't been as good in 2014 as the two previous years, but he supplies innings and rugged athleticism (slash line of .250/.291/.462 in 61 plate appearances this year, including seven as a pinch-hitter). Rookie Kyle Hendricks has been a steal from the Rangers in the Ryan Dempster trade two years ago, and he seems capable of 30 solid starts.
Then there are the unknowns. Can Dan Straily, Felix Doubront and Jacob Turner step forward to grab spots? Straily won 10 games for an Oakland playoff team in 2013; Doubront won 11 on Boston's championship team last year. Turner was highly regarded by the Tigers before being the key piece in the Sanchez trade with the Marlins.
How long until lefty C.J. Edwards (also acquired from Texas, him in the Matt Garza trade) or the homegrown Pierce Johnson push their way to Wrigley Field? Can a member of a reasonably deep bullpen -- say Justin Grimm (yet another arm acquired from Texas) -- be transitioned to the rotation?
Where does Jackson fit in this picture? He's still owed almost $24 million, which makes it tough to just release him -- although not impossible, as Arizona demonstrated by cutting ties with Russ Ortiz when it owed him about $22 million in 2006.
Jackson did his best pitching in 2010-11, on the South Side of Chicago. His slider was wicked working with White Sox pitching coach Don Cooper. Jackson commanded his fastball, too, which is why he was 11-9 with a 3.66 ERA in 30 starts before the Sox traded him to the Blue Jays, who flipped him to the Cardinals.
The suggestion here is that Epstein, Hahn, Jed Hoyer and Kenny Williams put their heads together and find a way to send Jackson back to the White Sox for lefty John Danks, who himself is due about another $31 million through 2016.
Danks signed a five-year, $65 million contract before the 2012 season, but he hasn't been able to live up to it, thanks largely to a shoulder injury that required surgery in August '12 and has reduced his velocity. You can't work harder or be a better teammate than Danks, but his 4.96 ERA the last three seasons has contributed to the White Sox going 22-36 with him on the mound.
It's time to try something else, especially since Danks would figure to be the fourth left-hander in the Sox 2015 rotation, behind Chris Sale, Jose Quintana and 2014 first-round pick Carlos Rodon, who could get his feet wet in Chicago in September. As a right-hander, Jackson would be a better fit, and when it's on, his slider can still give fits to quality hitters. Danks would figure to benefit from a chance to face National League lineups on a regular basis. He's 10-7 with a 3.09 ERA in 25 Interleague starts, including a win over the Cubs this year.
One benefit to the deal on both sides of town is that it's always easier to release a player somebody else signed than a deal you did yourself.
There has been some talk of a different bad money-for-bad money deal, this one between the Cubs and Braves. They reportedly talked about a Jackson-for-B.J. Upton deal before the non-waiver Trade Deadline, and those talks could get started again in the offseason.
Upton, signed to a five-year, $75 million deal two years ago, will be owed $45.35 million in 2015-17. The Cubs have the flexibility to take that contract and could put the right-handed-hitting Upton into an outfield platoon.
But the key to this trade from the Cubs' standpoint is that the Braves eat some of the difference between what Upton and Jackson are owed and that they might be able to get pitching in it, with lefty Mike Minor a possibility. That's the kind of arm that Epstein and Hoyer covet, and Minor is a Vanderbilt product who has worked with Derek Johnson, the Cubs' Minor League pitching coordinator. A deal to could be expanded for the Cubs to send position-player prospects to the Braves.
One way or another, something's got to give this winter, doesn't it?
Phil Rogers is a columnist for MLB.com. This story was not subject to the approval of Major League Baseball or its clubs.