McCarthy surrenders lead as Yanks drop finale
Gardner falls short of the cycle; Jeter 1-for-5 in last game in Toronto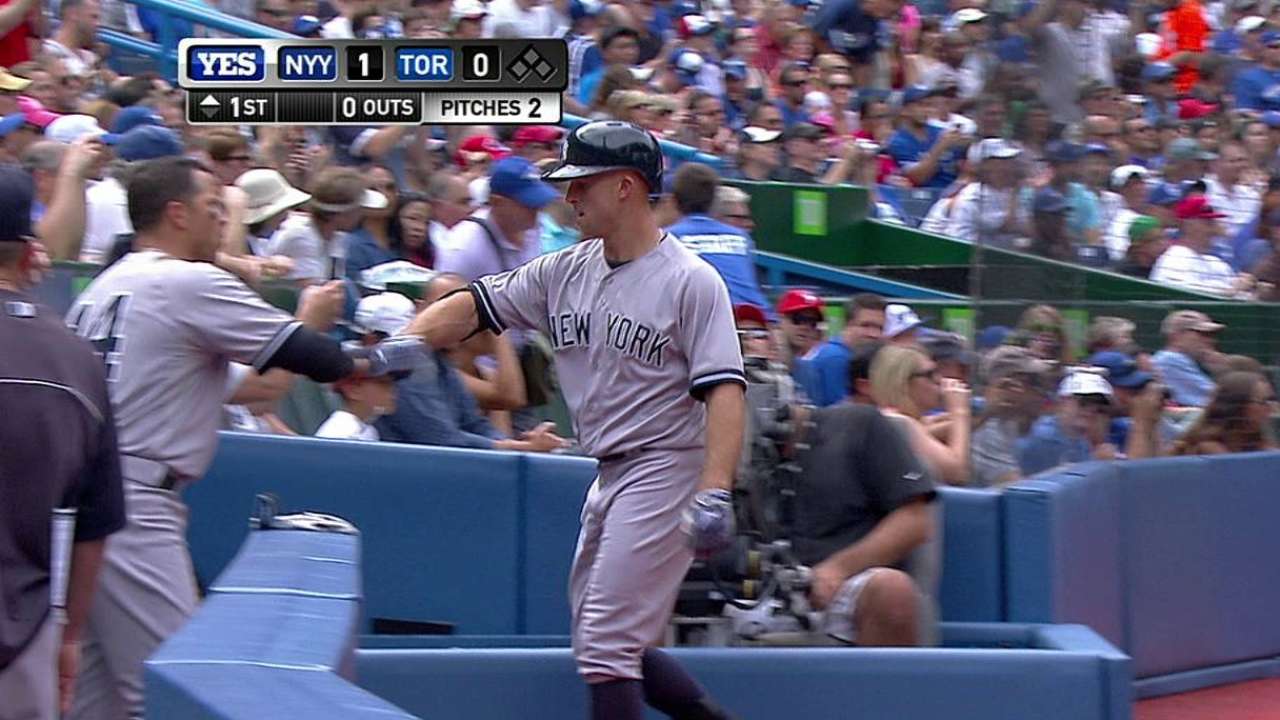 TORONTO -- The stage was set for Derek Jeter to deliver one last signature moment in his final act north of the border. The Yankees' captain stepped to the plate with two down in the ninth, the tying run on second and a packed ballpark chanting his name. Unfortunately, he came up a bit short.
Jeter hit a weak liner to second for the final out, after Brandon McCarthy saw an early advantage evaporate amid a trio of Toronto homers in a 4-3 loss to the Blue Jays in Sunday's series finale at Rogers Centre.
"Those are the fun situations," said Jeter, who went 1-for-5 in his final regular-season game at Rogers Centre. "You want to be in those situations. I always like those positions. It's tough, we only have so many series left."
Jacoby Ellsbury, who didn't start his second consecutive game due to a sore left ankle, entered with one out in the ninth and delivered a pinch-hit double.
After closer Casey Janssen got the second out of the inning, a capacity crowd of 45,678 screamed Jeter's name as he came to the plate.
Jeter looked at a first-pitch strike before making the final out to cap off the Yankees' second straight defeat. New York dropped two of three in the series and finished its seven-game road trip with a 3-4 mark, after losing its final two contests in Toronto.
"I don't think I have had much success against him," Jeter said of Janssen, whom he is 1-for-18 against lifetime. "He was better than me this time."
Janssen, who recorded his 20th save of the season, said he embraced the opportunity to go toe to toe against the Yankees great with the game on the line.
"I could see the little fairy-tale story being written, but got that out of my head real quick and knew I had to attack him," he said. "[Jeter's] an unbelievable competitor. He's as clutch as they come.
"He's had a heck of a career and I'm glad that Toronto people appreciated him like they did, because he's one of a kind."
For much of the game, it appeared the Yankees were set to take the series. New York, behind starter Brandon McCarthy and the bat of Brett Gardner, was cruising. It all started to unravel, however, during the sixth.
McCarthy carried a 3-0 lead into the inning before his shutout bid was snapped after Melky Cabrera and Jose Bautista hit back-to-back homers to make it a one-run game. Bautista has homered in five consecutive games, which is one shy of the Blue Jays' franchise record set by Jose Cruz Jr. in 2001.
The 31-year-old McCarthy's struggles carried into the seventh, as he served up another homer on a 3-2 pitch to Edwin Encarnacion, which tied the game at 3.
McCarthy felt he put Encarnacion away with a 2-2 pitch that was called a ball before he surrendered the game-tying homer.
"That's an at-bat and game-changing pitch, right there, that I need," said McCarthy, who fell to 5-4 with a 2.80 ERA as a member of the Yankees. "I don't even think that's a borderline strike, that's just a strike. It ends an at-bat, you're through the toughest hitters in their lineup and you've got a chance to keep going deeper. That's a pitch you'd like to have."
As much as McCarthy was upset with home-plate umpire Chad Fairchild's call, he put the blame on himself for blowing a three-run lead. He called the full-count offering to Encarnacion "a terrible pitch."
After walking the next batter, Dioner Navarro, McCarthy was lifted in favor of Dellin Betances.
Betances punched out the first two batters he faced, but surrendered an RBI single to No. 9 hitter Munenori Kawasaki that scored pinch-runner Steve Tolleson on a close play at the plate, giving Toronto a 4-3 lead.
McCarthy allowed four runs on five hits over six-plus innings, while walking two and striking out four.
Gardner gave the Yanks an early lead, as he turned on the second pitch of the game and sent a fastball from Toronto starter J.A. Happ over the fence in right field for his 16th homer of the season.
Francisco Cervelli singled home a run in the fourth to put New York up, 2-0, before Gardner struck again.
The speedster added a triple in the fifth and came around to score on a throwing error by Jose Reyes. Toronto's shortstop threw the ball high and to the left of third baseman Danny Valencia, which sailed into the Blue Jays' dugout and allowed Gardner to score. Gardner doubled in the seventh, but fell a single shy of the cycle after grounding out to first in his final at-bat in the ninth inning.
Happ struck out six over seven innings before handing things over to the bullpen, which helped the Blue Jays finish August with a 9-17 record in front of Toronto's 12th sellout of the season.
Bench coach Tony Pena was ejected after the seventh inning for arguing balls and strikes.
The Yankees have an off-day on Monday before beginning a nine-game homestand against the Red Sox on Tuesday.
"You know what's in front of you," Jeter said. "We need to win games."
Chris Toman is a contributor to MLB.com. This story was not subject to the approval of Major League Baseball or its clubs.