Offensive spark missing behind Samardzija
Righty's complete-game loss drops A's four back in AL West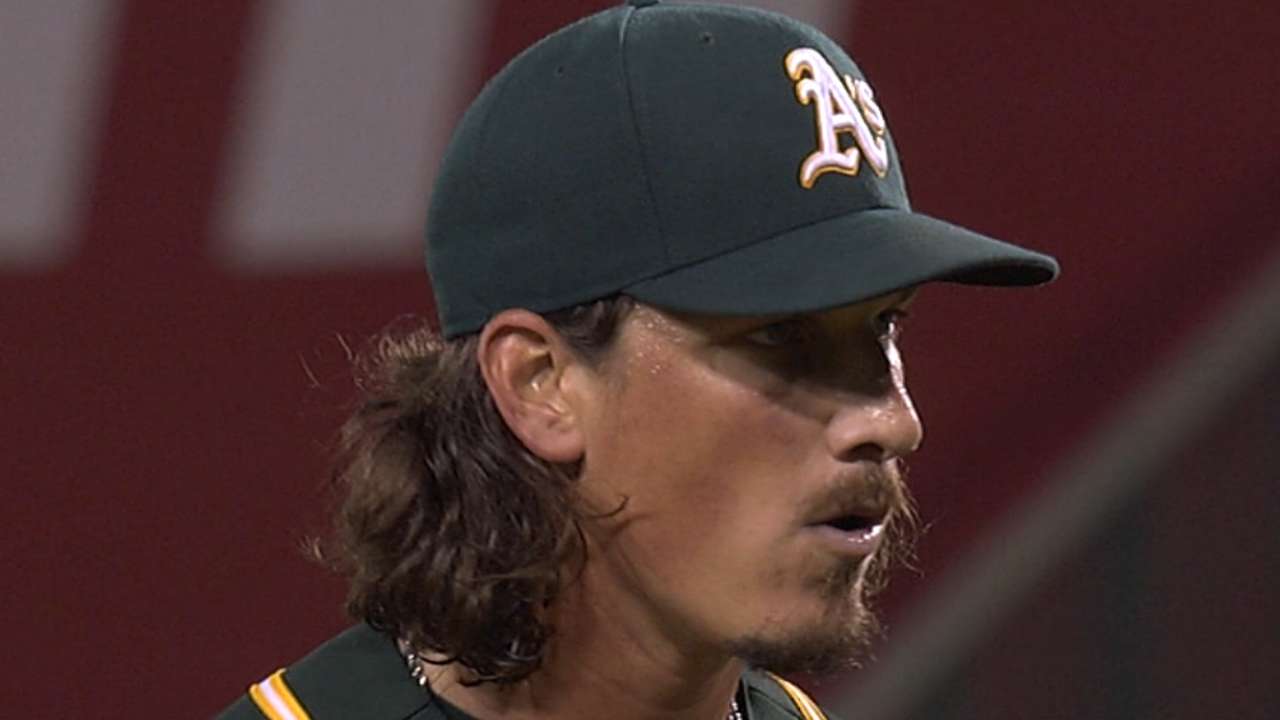 ANAHEIM -- The fourth inning of Oakland's third consecutive loss in Anaheim on Saturday evening was essentially a microcosm of this club's alarming downward spiral.
The A's failed to score in the frame despite putting two runners in scoring position with none out, then proceeded to botch a handful of defensive plays in the bottom half, leading to two Angels runs.
That's all the Halos needed to dispatch the A's, whose 2-0 loss pushed them a season-high four games back of first place in the American League West. Even their lead of the top Wild Card spot is down to a four-game margin.
The A's still lead the Majors in runs but haven't scored in their last 22 innings, with just eight hits totaled in that span. Only three were recorded Saturday against eight Angels relievers, spoiling a terrific eight-inning complete game from Jeff Samardzija, who fanned nine.
Oakland is 6-13 in its last 19 games, 12-16 in August and 19-21 since the All-Star break.
"We're pressing offensively," said manager Bob Melvin. "Guys want to be the guy that gets us out of this thing. We're team-oriented, and what we're good at is passing the baton, and each and every one of these guys want to be the guy and get big hits for us. It's just not happening right now."
The frustration level in the A's clubhouse has grown with each loss, and no one player embodied this more than All-Star third baseman Josh Donaldson, who, when asked to speak of this, replied, "I think everything's probably pretty much been said. I think everyone sees it."
Pressed further on the morale of the club, he said, "I think it's pretty obvious."
Donaldson was responsible for two of the A's three hits and is 10-for-20 on the road trip, batting .309 overall since the All-Star break after hitting .238 before it. But even as one of the few players in the lineup hitting, he offered little perspective on the struggles elsewhere: "If I had the answer, we wouldn't be struggling."
Finally, when asked about the outlook of the final month of the season, Donaldson remained blunt and brief with his words, saying, "I don't know. We'll see."
Brandon Moss, presented with the same question, was more forthcoming.
"I feel great about this team," said Moss. "Look, we lost, 2-0. I came up twice with a runner on third. Once I came up with a runner on second and nobody out. Just put the ball in play. Something to just make something happen. ... I know that we're more than capable of winning these games, it's just that right now, it's one of those times where we're not getting results as an offense."
"I'm not in anyone else's head, but I know, personally, you want to do so much for a club, especially when you get an opportunity to come through in an RBI situation or a big situation," said Derek Norris. "You try to hit the ball 900 feet instead of just barreling it, and I think there are a few guys who have fallen into the same trap as myself. It seems like every ball we do hit hard, it's right at somebody, too. It just all piles up."
Norris and Moss' struggles are magnified in the middle of the lineup, particularly without Yoenis Cespedes around to pick them up. Both are striking out at an excessive rate this month, with Moss fanning three times Saturday. One came in the fateful fourth, with runners on second and third and none out, and another in the ninth that stranded Sam Fuld on third to end the game.
"Speaking for myself, I'm trying way too hard," said Moss. "When you're struggling, you feel the anxiety, the urgency."
The top of the fourth ended when Jonny Gomes, pinch-hitting for Josh Reddick, hit into a double play, and yet things worsened on the other side of the ball.
Eric Sogard, struggling at shortstop in Jed Lowrie's stead, committed his second throwing error in as many days ahead of an RBI single from Erick Aybar. Samardzija then struck out David Freese but not before unleashing a wild pitch. Norris appeared to have plenty time to get Howie Kendrick at the plate but instead threw it over Samardzija's head, turning a one-run game into an overwhelming two-run deficit for these anemic A's.
"We're still the same team," said Moss. "I think we've all played baseball long enough to know you're going to go through tough spells, some tougher than others, and this one obviously has not been very fun. I know that we're capable of winning these games, right now is just one of those times we're not getting results."
Melvin maintains they still have the personnel to do it, even without Cespedes.
"As it looks right now, we're pressing and we're not near as good offensively as we've been all year," he said. "Any time you struggle like that, it's going to look like you don't have enough, but I'm confident in the guys we have, and I think we're going to come out of it."
Jane Lee is a reporter for MLB.com. This story was not subject to the approval of Major League Baseball or its clubs.