Mix and match: Eight-man effort shuts out A's
Angels up lead to four games, blank Oakland for second straight night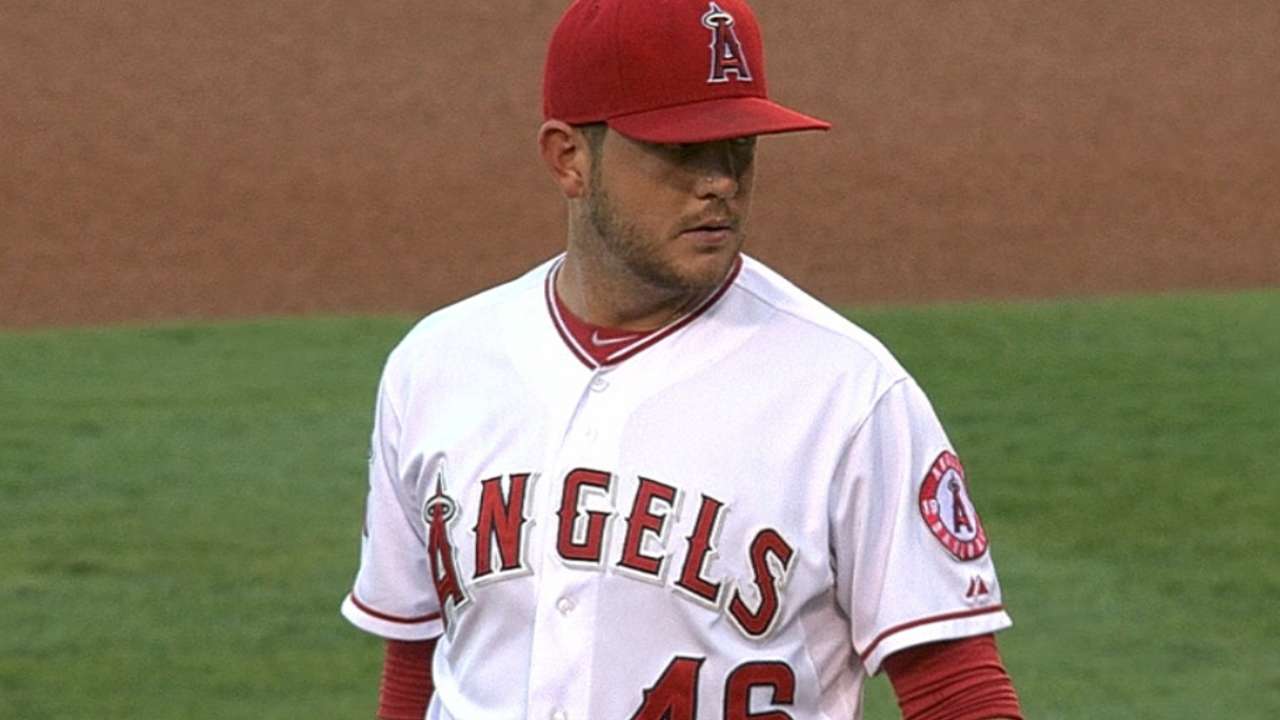 ANAHEIM -- The Angels introduced a new pitcher on Saturday night.
He had no name, no number, no locker in the clubhouse. He didn't come from free agency or the draft, via a trade or waivers. He threw from the windup, from the stretch and sidearm. He was a right-handed seasoned veteran and a left-handed youthful rookie, a spot starter and a shutdown closer.
Who was this new hurler?
It was eight different pitchers, combining for a 2-0 victory over Oakland at Angel Stadium and pushing the Angels a season-high four games ahead of the A's atop the American League West.
"Is that all we used was eight?" said manager Mike Scioscia, whose Angels collected their fifth straight win.
Reliever turned starter Cory Rasmus struck out six in the first three innings and Michael Roth, Yoslan Herrera, Fernando Salas, Jason Grilli, Kevin Jepsen, Joe Smith and Huston Street yielded just two hits over the next six as Oakland was shut out for the second straight night.
It was the first time in franchise history the Angels used eight pitchers in a nine-inning game.
"Our bullpen has evolved from a question mark to an exclamation point," Scioscia said.
The Athletics, meanwhile, haven't scored a run in their last 22 innings and were shut out on back-to-back nights for the first time in more than two years.
"There are periods of time where you're not going to be as good and you're going to press, and that's where we are right now," A's manager Bob Melvin said. "Over a 162-game period, you're not going to be as good as other times, and right now is a low point for us."
In his first Major League start, Rasmus was smooth, striking out five batters in a row at one point and tying a career-high with three innings pitched. Rasmus had thrown 40-plus pitches in just two of his first 23 appearances this season but has done so in back-to-back outings.
"[Starting is] exciting, you got some nerves going, because you never know what to expect in that situation," Rasmus said. "At the end of the day, it's all about getting outs and fortunately, today was good for us."
Street said Rasmus' six-strikeout performance "set the tone" for the rest of the Angels relievers, but it may have been Street who delivered the biggest message on Saturday.
Street had pitched in each of the last three days and hadn't pitched four consecutive days since July 2010, four years and two teams ago. Despite Street's potentially tired arm, Scioscia said the All-Star closer was "adamant" that he was available to pitch.
"I felt like if there's ever a time to push it, this is the time to push it," Street said.
He allowed a leadoff single to Sam Fuld in the ninth but retired the next three batters to lock down his 11th save as an Angel.
Street's 17-pitch ninth capped the Angels' fourth straight win over Oakland and clinched their first back-to-back shutouts of the A's since 2006. The Angels tied a Major League record for number of pitchers used in a shutout.
"We look as ourselves as a unit, as a team within a team and we're all just trying to pitch our inning," Street said of the bullpen. "As you can see, in this type of baseball, every pitch, every inning matters."
One pitch, though, seemed to matter more than the rest.
With the bases loaded and one out in the top of the fourth, Scioscia called on Herrera to face pinch-hitter Jonny Gomes, get the Angels out of a jam and keep the game scoreless. Herrera got ahead 1-2 and threw a 95-mph fastball that Gomes floated over Herrera's head and towards second base.
Howie Kendrick scooped up the ball, and, in one silky motion, touched second and fired to first to end the inning and the threat.
"It changed the whole game, that play," Hank Conger said.
After that play, 12 consecutive A's recorded outs and Oakland mustered only one baserunner -- Fuld in the ninth. The fourth inning was their only inning with multiple baserunners.
The Angels didn't have much luck against starter Jeff Samardzija -- but they had some. Behind two hits, an error and a wild pitch in the bottom of the fourth, the Angels pushed across two runs as Samardzija suffered his second complete-game loss of the season.
While Samardzija gave the Oakland bullpen a night off, Scioscia and the Angels nearly exhausted theirs in their search for a fifth rotation member.
"We've got that spot coming up five more times and we're going to have to fill it," Scioscia said. "If it's a mix-and-match day, so be it. If it's one guy that steps up, we'll go with that."
Chances are that one guy won't be the same nameless, faceless, numberless pitcher that appeared on Saturday night.
Matthew DeFranks is an associate reporter for MLB.com. This story was not subject to the approval of Major League Baseball or its clubs.