Brewers escape no-hitter but lose division ground
Reynolds' single in eighth ends Peavy's bid; Fiers takes loss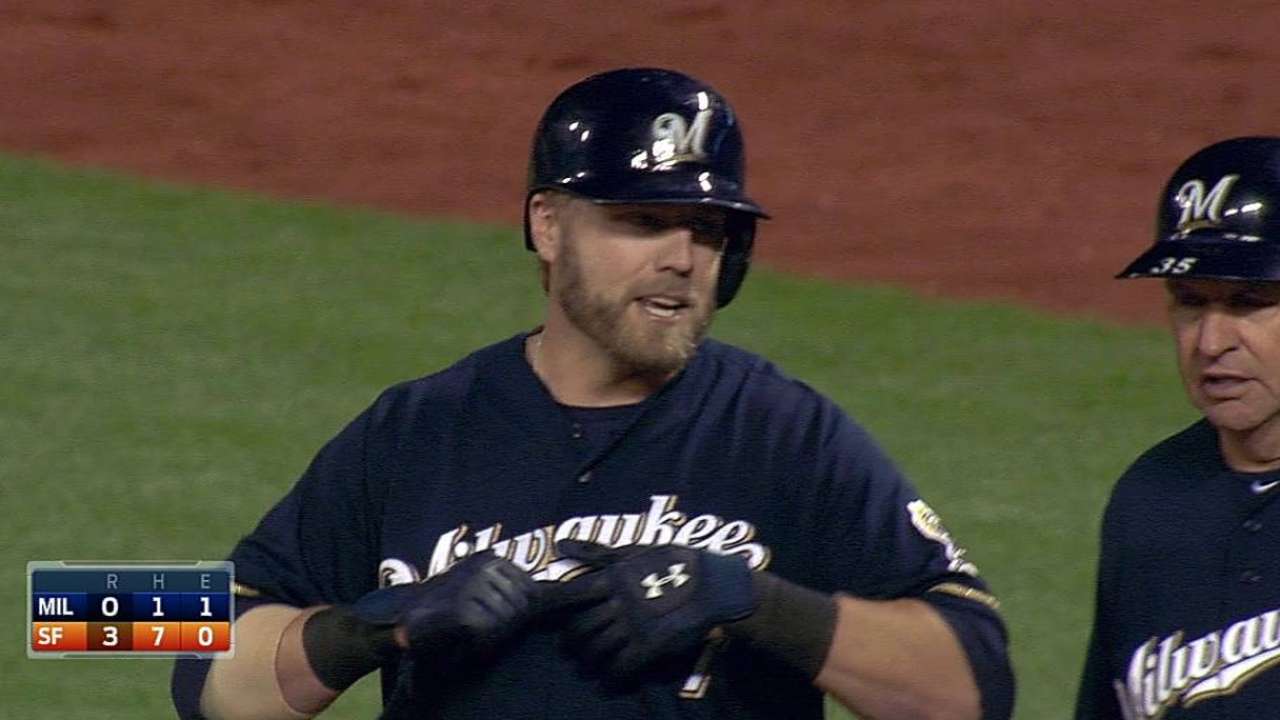 SAN FRANCISCO -- Two weeks ago in California, the Brewers found the emotional, if not mathematical, high point of their season. A three-game sweep of the first-place Dodgers boosted the Brewers 15 games over .500 and three games up on the rest of the National League Central, prompting All-Star catcher Jonathan Lucroy to speculate aloud about a rematch in the playoffs.
On Saturday, in the midst of a dismal return to the Golden State, that day seemed a distant memory.
Hitless before Mark Reynolds flared a broken-bat single over second base with one out in the eighth inning, the Brewers fell to Jake Peavy and the Giants' bullpen, 3-1, at AT&T Park. Fans bundled in orange and black hoping to see the Giants' second no-hitter this season settled instead for watching the home team hand Milwaukee a fourth consecutive loss.
The Brewers threatened in the ninth, getting a run on Ryan Braun's RBI single and bringing the go-ahead run to the plate, but their lead in the NL Central shrunk to one game over the Cardinals and two games over the Pirates.
"We've got one game left here and then we head back and play the Central pretty much the rest of the way," Reynolds said. "Pitchers we're real familiar with, ballparks we're real familiar with. These teams aren't going to give it to us. We've got to keep playing good baseball."
That means they need to start hitting again. During the four-game losing streak, the Brewers have scored six runs, batted .165 (20-for-121) and struck out 38 times.
Are they pressing?
"We're not there yet," manager Ron Roenicke said.
It gets no easier for Milwaukee on Sunday against Madison Bumgarner, the Giants' left-handed ace who took a perfect game into the eighth inning against the Rockies in his last start and settled for a one-hit shutout.
Peavy proved just as formidable. In 7 2/3 innings, he allowed three walks, one hit and a hit batsman. He struck out eight batters and carried a no-hitter past the seventh inning for the first time in 13 Major League seasons thanks in part to some sensational defense.
The best play came from shortstop Brandon Crawford in the seventh. With Peavy's pitch count climbing and Scooter Gennett batting, Crawford went to his left, diving to stop a single from rolling into center field and then flipping the baseball to second baseman Joe Panik for the first half of an inning-ending double play.
Asked whether he thought Crawford had any chance to get there, Gennett said, "If I didn't know him, no, but that guy can pick it. ... I can't say I was happy to see it."
In the eighth, third baseman Pablo Sandoval fielded a bouncer along the third-base line and made a long throw to retire Khris Davis. But Reynolds followed by getting just enough of a 1-and-2 fastball high in the strike zone to bloop it into right field for Milwaukee's first hit.
That rally fizzled, and the Brewers were able to muster their only run in the ninth.
"Any time you beat a team that's in first place and as good as the Brewers, you feel good about your night," Peavy said. "You really have to set the tone against that team, with the energy they play with, thanks to guys like Carlos Gomez. They get on base early and it creates for a long night if they catch their rhythm."
Peavy prevented that in a crafty way. Roenicke and others noticed that he threw a high percentage of sliders in the early innings, when the hitting background was still splashed in sunlight. Peavy struck out six of the first nine batters he faced, including the 2,000th strikeout of his career.
The Brewers reckoned those sliders were part of a plan.
"Oh, for sure," Reynolds said. "They know where they're at. With the sun in the backdrop, all you see is just a black ball coming at you. You can't see laces, you can't see spin. I think their hits in the first couple innings were on fastballs, too. So if it's straight, you've got a chance. That's just the way it is."
Brewers starter Mike Fiers (4-2) took his first loss as a big league starter this season after allowing three runs on seven hits in seven innings. It marked the third consecutive start that Fiers delivered seven full innings, but he was defeated by a three-run Giants rally in the fourth inning that began with three successive hits including Michael Morse's two-run double.
Fiers has pitched at least seven innings in four of five starts since rejoining the team in early August in the wake of Matt Garza's rib-cage strain. Each of those outings has met the definition of a quality start.
"[Peavy] just outpitched me, he beat me, and it's tough to say but I have to be better in that situation, in a game like this," Fiers said. "Yeah, the line score shows I pitched all right, but I just have to be better."
Gennett stopped short of calling Saturday's near no-hitter a low point of the season.
"I wouldn't say that," said Gennett, pointing to a lull in May as worse. "We're still hitting the ball, we're just not finding too many holes. I think when you lose a few games in a row, you want to go out there and put up four in the first inning. You're pressing a little bit. Once we let the game come to us and relax and play our normal game, we should be fine."
Adam McCalvy is a reporter for MLB.com. Read his blog, Brew Beat, and follow him on Twitter at @AdamMcCalvy. This story was not subject to the approval of Major League Baseball or its clubs.