Peavy flirts with no-hitter in besting Brewers
Righty allows single with one out in eighth; Crawford delivers gems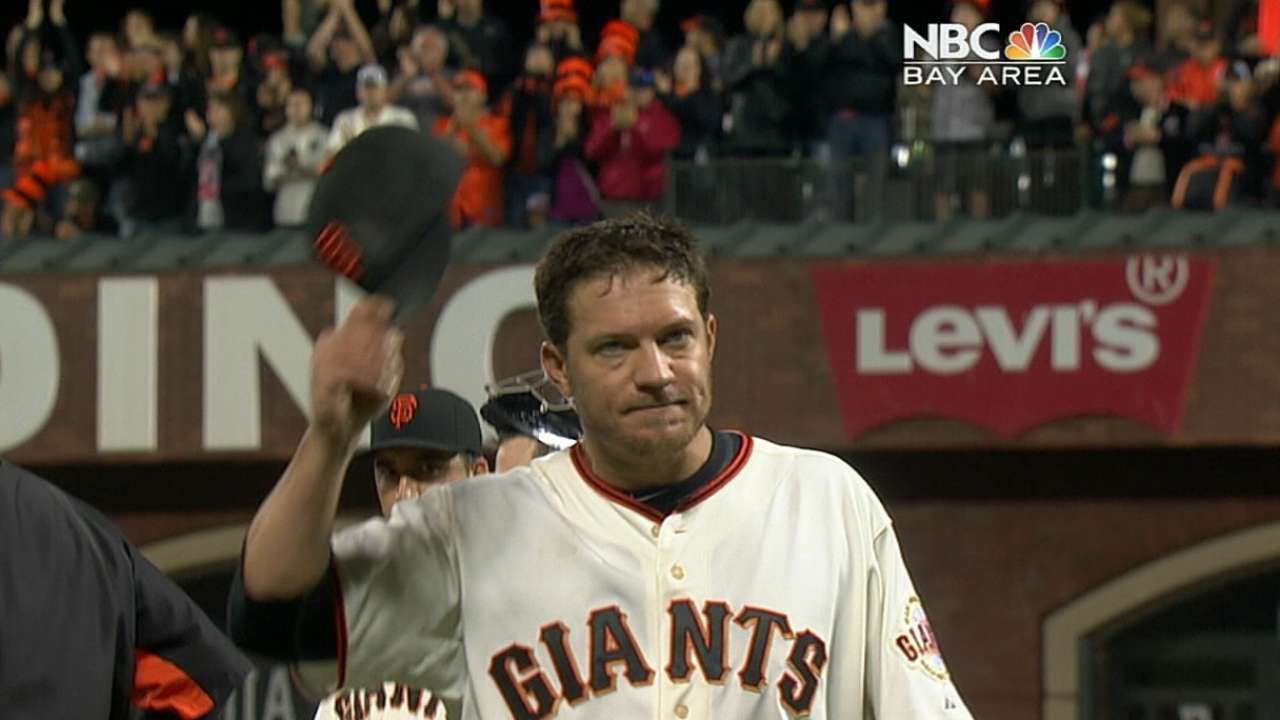 SAN FRANCISCO -- When the Giants acquired Jake Peavy in late July, the move didn't exactly generate a lot of excitement in the Bay Area. The team with holes at second base and a lack of outfield depth appeared to be bringing in a getting-up-there-in-age pitcher with a history of injuries and awful 2014 stats.
The thing with numbers, though, is that they can be deceiving.
Manager Bruce Bochy and the organization's brass saw a feisty competitor still capable of success who'd been hamstrung by bad luck on a last-place team. The once underwhelming trade looks shrewder after each time Peavy takes the mound for the Giants. Never has it looked better than it did Saturday night.
Peavy was five outs away from a no-hitter and the Giants won their fifth consecutive game, 3-1, against the Brewers. The victory, coupled with the Padres beating the Dodgers, pulled the Giants within 2 1/2 games of the National League West-leading Dodgers (their slimmest deficit since Aug. 6) and secured the Giants' first series victory against a team with a winning record since taking three of four from the Cardinals from May 29-June 1.
"He was throwing the ball well. His record was not indicative of how well he was throwing the ball, but the stuff was there," Bochy said when asked what attracted the Giants to Peavy. "I know personally how competitive this guy is and he's just so competitive, so that was a no-brainer for us."
So it's appeared. After recording the win after striking out eight and allowing one hit in 7 2/3 innings, Peavy improved to 3-4 with a 2.66 ERA with the Giants, a night-and-day difference from the 4.72 ERA he posted with the Red Sox.
"I've found a groove over here with Rags [pitching coach Dave Righetti], [bullpen catcher] Billy Hayes and Gardy [bullpen coach Mark Gardner]," said Peavy when asked what's led to his improvements. "These guys saw me when I was young and have been able to throw some of those remarks and coaching tips back at me.
"We've found a rhythm here."
Brandon Crawford gets a major assist for keeping everything in sync Saturday night with a pair of web gems.
With one out in the top of the seventh and Aramis Ramirez on first, Scooter Gennett drilled a grounder to the right of Peavy. Crawford, fully extended, snagged the ball and from his knees flipped it with his glove to Joe Panik, who completed the inning-ending double play.
"I was just happy I got there," said Crawford, whose troublesome right shoulder was wrapped. "I knew if I got there we'd have a play at second, even if we don't turn the double play. The more important thing at that time was just keeping the ball in the infield."
Crawford's first highlight-reel-worthy play came in the fifth inning, when he ranged to his right and fired a dart across the infield in time to retire Ramirez. Unbeknownst to him at the time, he had just preserved a no-hit bid.
Peavy lost his no-hitter with one out in the top of the eighth when Mark Reynolds flared a single to right.
"I knew he didn't hit the ball hard, but it's so difficult to get all the balls hit at somebody," said Peavy, who's good friends with Reynolds.
Peavy also issued a trio of walks and grazed Ramirez's arm with a pitch, so as tremendous as his outing was, it wasn't quite as dominant as Madison Bumgarner's bid for a perfect game Tuesday. But unlike Bumgarner, he didn't have to wait too long for run support to arrive.
Pablo Sandoval and Hunter Pence led off the fourth with back-to-back singles, and they each scored when Michael Morse doubled to deep right-center. There may have been an issue if the basepaths were 10 feet longer, though, since Pence nearly caught up to Sandoval between third and home. A Crawford single scored Morse and pushed the lead to 3-0. Aside from a run the Brewers scratched across against Santiago Casilla in the ninth, everything clicked again for the Giants.
"It feels like playoff baseball again right now," Crawford said. "We're playing against a good team and our pitchers are pitching their butts off."
The hitters have been hitting and the fielders fielding, too.
A night after blasting a season-high 13 runs, the suddenly deep lineup flourished thanks to contributions throughout. The starting rotation recorded its sixth consecutive impressive start. Once-embattled reliever Sergio Romo's unfair slider is unfair again.
"We seem to be running out a pretty consistent lineup and we understand that in each one of these games, our lives are on the line," Peavy said. "We're starting to find an identity as a team. It's exciting to be here; it was exciting to come to work today.
"I knew what San Francisco fans were about, but tonight I think I really got a taste of that to feed off the energy of the crowd. If you watch the way all nine guys on the field responded, we owe the fans that as bad as we played when I first got over here."
Ryan Hood is an associate reporter for MLB.com. Follow him on Twitter @ryanhood19. This story was not subject to the approval of Major League Baseball or its clubs.