Homers hurt Cubs in nightcap vs. Cards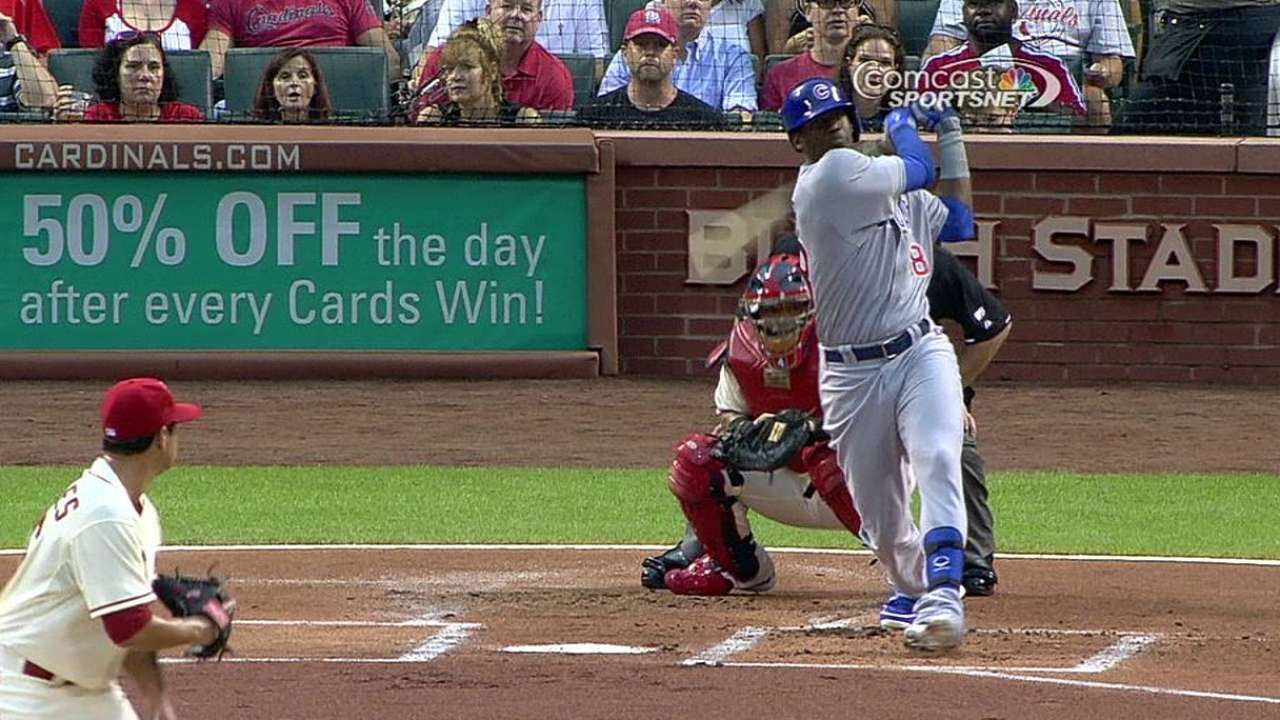 ST. LOUIS -- The Cubs belted seven home runs in the first two games of their weekend series against the Cardinals, who needed two on Saturday night, both from Matt Holliday, for the win.
Holliday smacked a three-run homer in the fifth inning, his first this season with runners in scoring position, and added a leadoff blast in the eighth to power the Cardinals to a lopsided 13-2 victory and a split of the day-night doubleheader.
The 13 runs -- nine of which came in the eighth inning off Cubs relievers -- were a season high for the Cardinals.
Chicago belted four home runs in the first game to back Felix Doubront and win, 5-1.
Left-hander Tsuyoshi Wada took the loss in the nightcap, ending a personal three-game win streak. He gave up four runs -- three earned -- on five hits over six innings.
"I thought [Wada] kept us in the ballgame," manager Rick Renteria said. "It wasn't a badly played game -- it just got away from us at the end."
Wada held opponents to two runs or fewer in each of his last six starts before Saturday's game.
"These are the games that count, and I think the home run [by Holliday] changed the flow of the game," Wada said. "It was not a very good game for me. Next time out I have to have games that I won't regret and have a different result."
The Cubs scored first, in the first. They had runners at first and third with one out against Marco Gonzales when Jorge Soler lined an RBI double to left. Per Elias, Soler is the first player since the RBI became an official stat in 1920 with an extra-base hit and an RBI in each of his first four big league games.
But the Cardinals tied the score in their half. Wada walked two batters with one out, and Matt Adams hit a grounder to second baseman Javier Baez, who threw to Starlin Castro for the force at second. Castro's throw to first pulled Chris Valaika off the bag, and a runner scored on the error.
Daniel Descalso singled to lead off the St. Louis fifth, and one out later, Matt Carpenter walked. Pitching coach Chris Bosio had a chat with Wada, who got Kolten Wong to pop up to third baseman Luis Valbuena, but Holliday followed with his 14th home run.
"Now, when you look back, it's all about the results," Wada said of his approach to Holliday. "That's a pitch that [catcher Welington] Castillo and I communicated about, and we went with that pitch, but the result wasn't there. When the next time comes when I face him, I have to set up another game plan."
Holliday then led off the eighth with a home run off Kyuji Fujikawa, and the Cardinals didn't stop, totaling seven runs before the first out was recorded, on a sacrifice fly by Adams in his second at-bat of the inning. St. Louis finished the frame with nine runs, a season high against Chicago.
Fujikawa had only been scored upon in one of his seven relief appearances prior to this one.
"That's a rare occurrence from our bullpen," Renteria said. "We were trying to minimize pitchers so we'd have guys for [Sunday]."
Carrie Muskat is a reporter for MLB.com. She writes a blog, Muskat Ramblings, and you can follow her on Twitter @CarrieMuskat. This story was not subject to the approval of Major League Baseball or its clubs.